Apple TV Reported to Retain Name, Updated Products Not Shipping Immediately?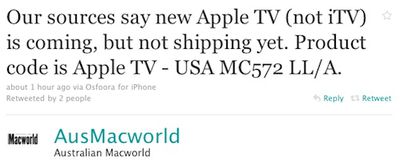 According to a pair of tweets from
Australian Macworld
, a revised Apple TV should be introduced today with its current name rather than being rebranded as "iTV," and none of the products set for introduction today will see immediate availability.
The first tweet offers a model number of MC572LL/A for the U.S. version of the new Apple TV and claims that it will not ship immediately.
Our sources say new Apple TV (not iTV) is coming, but not shipping yet. Product code is Apple TV - USA MC572 LL/A.
The second tweet claims confirmation that a revised iPod touch will debut today but that none of the new products are expected to ship immediately.
The source also said that it doesn't look like anything will be shipping immediately, and 4th gen touches are definitely coming too.
No word on when Apple plans to begin shipping the new products is given, although the company has been known to pre-announce products by anywhere from a few days to several weeks or more.
Australian Macworld correctly predicted the date of the most recent MacBook Pro refresh in April. A month later, the site also shared information from the same source offering a model number for an expected MacBook Air refresh, although the site hedged a bit on firm identification of the product associated with the model number by suggesting that it could be an LCD display. While the source's model number information did turn out to be correct, it was in fact a revised MacBook that was released the following week.