'MobileMe iDisk' Music Streaming Functionality Gaining Renewed Attention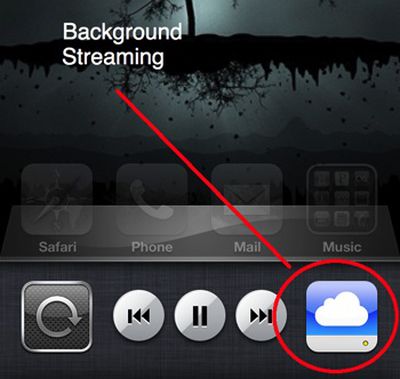 In what seems to be a bit of a time warp, a number of sites are reporting on the ability of Apple's
MobileMe iDisk
application for iOS devices to stream music from a user's iDisk, including support for background audio via multitasking. The feature was introduced and plainly noted by Apple as part of a broader update to the application
released
nearly a month ago.
Today's publicity appears to have been sparked by a blog post by MP3.com founder Michael Robertson discussing the feature, which was then picked up and made into an "iTunes in the cloud" story by a number of other sites. Robertson is clear, however, that while this is a minor first step toward some sort of streaming capabilities, it is not in any way a proper music streaming service.
This is not "iTunes in the cloud" but it is definitely moving the Cupertino company in that direction. First off there is no automated way to get all your iTunes music to your iDisk account. To load files to iDisk you have to select individual files and upload them from your browser. (Apple does let you sync Calendars, Contacts, Bookmarks, etc directly from OSX but excludes music files.) Secondly there's no support for playlists so your iTunes playlist do not work in iDisk. There seems to be no way to play a list of files. Cover art is not supported as well. And while iDisk will cache other files, it will not cache music files. Still it's not hard to see how Apple is adding features to enable it to support audio in it's cloud storage business.
Macworld also brings a sense of reason to the excitement over the feature:
In a nutshell, streaming media in the background with its MobileMe iDisk app is a marginally useful feature that Apple added (and mentioned) in July. But it isn't quite time to break out the credit cards and bubbly in celebration of "iTunes in the cloud" yet.
Apple has reportedly been working to develop a service that would allow users to store their purchased iTunes libraries on Apple's servers and stream them to a broad array of Internet-connected devices. The company has been rumored to be scaling back its music streaming plans, however, as it continues to seek licensing deals with major labels to permit the functionality. The streaming capabilities of MobileMe iDisk would also appear to be forbidden under current music label licensing deals, but the labels have not yet publicly addressed any concerns over this limited functionality.