'MobileMe iDisk' Updated With iPad and Multitasking Support, 'iMovie' for iPhone 4 Receives Bug Fixes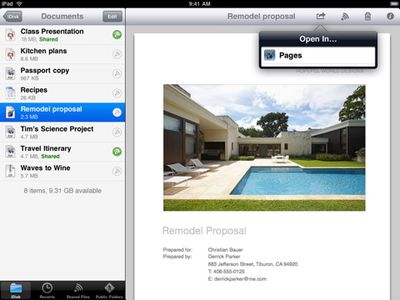 Apple has updated its
MobileMe iDisk
application with a number of significant enhancements, most notably including a shift to a universal application to support both the iPhone/iPod touch and the iPad. In addition, the update brings multitasking support for devices running iOS 4, as well as integration of outside applications for opening documents and sharing enhancements.
- Designed for both iPhone and iPad
- Multitasking support for iPhone 4 and iPhone 3GS (iOS 4 required).
* Quickly switch to another app and back to iDisk
* Play audio from your iDisk while using another app
- When app is opened, the last file or directory viewed is displayed
- Open to open iDisk documents in compatible apps such as iBooks
- When sharing a file, an email can be sent from any configured email account
- The URL for a shared file can be copied and pasted
- Various stability improvements
MobileMe iDisk was released for the iPhone and iPod touch nearly a year ago and received its first significant update in December.
Apple's iMovie application for iPhone 4 [App Store, $4.99] has also received a minor update, delivering improved reliability during exporting and a fix for an issue with music playback within a project, as well as other miscellaneous performance and reliability enhancements.