Macworld San Francisco 2010 Best of Show and Day One Impressions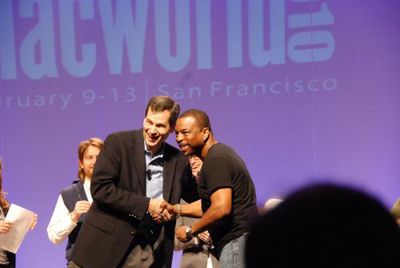 Macworld Expo San Francisco 2010 kicked off yesterday with a
presentation
by
The New York Times'
David Pogue and guest appearance by actor
LeVar Burton
. While the Pogue keynote was a huge departure from Steve Jobs' traditional keynotes, it was infused with music, humor, theatre, and even an interview with the team behind
AutoTuneTheNews
(who happen to use Macs).
Here's a short clip of the beginning of Pogue's presentation which mocks Microsoft CEO Steve Ballmer:
Best of Show
Also new in this year's Macworld was a Best of Show DEMO session held immediately prior to the opening of the show floor featuring six of the best products at Macworld Expo.
The video embedded below shows off Ten One Design's Mac software which allows you to use the MacBook, MacBook Pro and MacBook Air's multi-touch trackpad as a pressure sensitive trackpad when using a Pogo Stylus:
The full list of "Best of Show" DEMO products are listed here:
- Ten One Design's Inklet- use your multi-touch trackpad as a drawing tablet
- Microvision SHOWWX Laser Pico Projector - Laser-power pico projector
- Canson's Papershow - Take hand written notes that appear on the screen in real time
- Carina's Skyfi and Sky Voyager - Spot stars in the sky with your iPhone and control your telescope with a Wi-Fi to serial adapter.
- Quickoffice Connect Mobile Suite - Access, view, edit and share Microsoft Office documents on your iPhone
- Yapper - Easily build an iPhone App based on an RSS feed.
Impressions
The Macworld show floor was contained in a smaller space this year, but the early foot traffic seemed particularly busy on opening day. It was genuinely difficult to make your way through portions of the hall due to the number of attendees.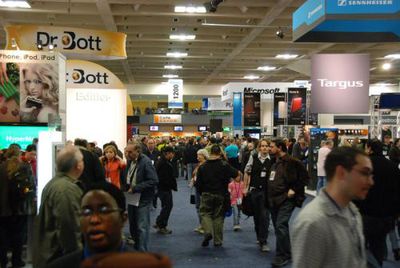 Impressions from both vendors and long time attendees were quite positive, given the number of visitors.
Virtualization developer VMWare was present showing off version 3 of Fusion which was released in October. Version 3 had brought Windows 7 support, Snow Leopard optimizations, and more to Fusion. VMWare Director of Personal Desktop Products Pat Lee seemed optimistic about the strong early showing at the event.
Macworld continues on Friday and Saturday, and dates for next year's Macworld Expo have been set for January 25th-29th, 2011.