Apple Watch
Apple's long rumored wearable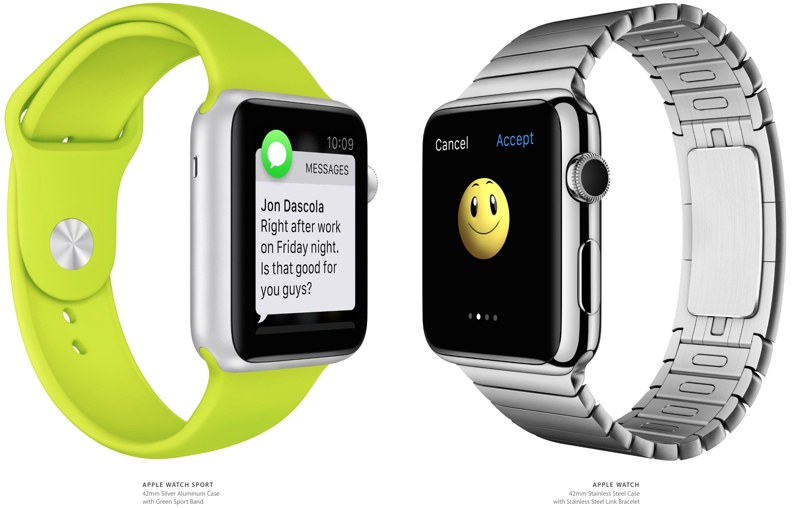 At a Glance
Apple's Watch is designed to be both fashionable and functional, available in an array of different color and materials with six different types of watch straps that are easily interchangeable. Prices for the device, which will be available for pre-order and in-store previews on April 10 ahead of an April 24 launch, start at $349 and go as high as $17,000.
Specs
Two sizes: 38mm and 42mm
Options: Stainless Steel, Silver Aluminum, 18-Karat Yellow Gold, Space Black Stainless Steel, Space Gray Aluminum, and 18-Karat Rose Gold
S1 processor
Starting at $349 for Watch Sport, $549 for Watch, and $10,000 for Watch Edition
April 24 Launch
Apple's New Watch
On September 9, 2014, Apple finally unveiled its long-rumored wearable device, the Apple Watch, aka Watch. While many expected the wearable to be called the "iWatch," Apple actually opted to use the Apple symbol () followed by "Watch" for the device's name. According to Apple's head of design Jony Ive, Apple has been working on the device for three years. Apple CEO Tim Cook has said that Apple's objective with the watch is to "change the way you live your life."
The Apple Watch is designed to be both functional and fashionable, available in two sizes of 38mm and 42mm (1.5 and 1.7 inches), with six different casing materials and six separate interchangeable band options in a variety of colors. Organized into three separate collections, from the simple "Sport" to the high-end luxury "Edition," the Apple Watch has been created to appeal to a wide range of tastes.
Prices for the device, which will be available launch in the first nine countries on April 24, 2015, start at $349 for the aluminum Watch Sport collection. The stainless steel Watch collection starts at $549, while the the gold Watch Edition collection starts at $10,000 and goes as high as $17,000.
Designed with either an ion-strengthened or flexible sapphire display (depending on model), all of the Apple Watches include an HD Retina screen, sapphire-covered sensors built into the zirconia backing, and an NFC chip to allow the devices to work with Apple's Apple Pay mobile payment service.
The Apple Watch interface, much like its exterior, has been created with end-user customization in mind. Apple has designed several unique watch faces that users can choose from, featuring traditional watch designs, whimsical characters, animated images, and more, all of which are "extensively customizable." According to Apple, one Apple Watch can have millions of different appearances. Apps on the device are organized into a unique cluster design for quick and easy access.
As with all of its products, Apple has carefully considered the way people will interact with and use the Apple Watch, developing both a unique operating system (WatchOS) and unique input methods for the device. While it does allow for touch input, Apple Watch also includes a "Digital Crown" located on the right side of the body, which lets users zoom, scroll, and select elements on the Watch without covering the screen. The Digital Crown also serves as a home button.
A second physical button below the Digital Crown allows users to bring up a list of contacts and then communicate with friends by sending quick drawings, messages, animated emoji, and a heart beat, drawn directly from the watch's included sensors.
Apple Watch takes advantage of new pressure-sensing technology called "Force Touch" and is able to determine the difference between a tap and a press, enabling a range of contextually specific controls. A unique notification system allows notifications to be relayed in a subtle way through gentle vibrations using the "Taptic Engine."

There are several different sensors built into the Apple Watch, which allow it to measure metrics like steps taken, calories burned, and pulse rate. Movement information is relayed to two separate fitness-related apps, giving users an overall picture of their daily activity.
Apple's Watch is designed to be a companion device to the iPhone, and as such, it requires an iPhone to function. The Watch is not a standalone device because it relies on the iPhone for many features like relaying notifications and messages. In fact, initial Apple Watch apps will be entirely powered by the iPhone to preserve battery. The Apple Watch will last for 18 hours per charge with mixed usage and up to 72 hours in Power Reserve Mode, which limits functionality.
On February 26, Apple announced plans for a March 9 media event where the company shared new information on the Apple Watch, detailing pricing, battery life, and a launch date - April 24.
How to Buy
Apple will begin accepting pre-orders for the Apple Watch on Friday, April 10, both online and in its retail stores. At that time, the company will also set up Apple Watch displays in its retail locations, allowing users to experience and try on the Apple Watch in person before opting to pre-order a device.
Apple will let people schedule appointments to view the Apple Watch at a retail store and several other pop up shops around the world will have the high-end Gold Edition Apple Watch on display.
Beginning on April 24, the official launch date of the watch, customers will be able to purchase an Apple Watch online or make a reservation for an Apple Watch in store, which will allow them to select a model online and try it on at the store before making the purchase. Apple retail employees will provide Personal Setup to help buyers customize their devices and pair it with an iPhone.
At launch, the Apple Watch will be available in Australia, Canada, China, France, Germany, Hong Kong, Japan, the United Kingdom, and the United States, with availability in other countries to follow later.
There's been a questionable rumor suggesting Apple Watch supplies might be low due to challenges making displays for the device, but at this point in time, we don't have enough information to have a clear estimate on what stock levels will be like.
Apple Watch Pricing
Because it's designed to suit a wide range of customer tastes, Apple Watch pricing varies wildly. It starts at $349 on the low end for the aluminum Sport, but goes all the way up to $17,000 for the 18-karat gold Edition.
Pricing for each Apple Watch is determined by three factors: the material the case is made from (stainless steel, aluminum, or gold), size, and band choice. Across the board, 42mm Apple Watch models are priced $50 higher than smaller 38mm models, and band prices range from $49 to $449.
For the Watch Sport collection, Apple has ten different models available, consisting of five different colors each available in 38mm and 42mm casing sizes. All 38mm models are priced a $349, while the 42mm models are priced at $399. The silver aluminum casing is available with a choice of white, blue, green, and pink fluoroelastomer sport bands, while a black band option is paired with a special Space Gray casing. Sport Watch purchases come with two bands, in both S/M and M/L sizes.

The two prices of the Sport Collection
A complete list of Apple Watch Sport models is available here, with prices and links to Apple's Online Store.
The stainless steel Watch lineup is a bit more complicated, with twenty different models available, 10 each in 38mm and 42mm sizes, at prices ranging from $549 to $1,099. At the low end of this tier are stainless steel Apple Watches combined with Sport Bands in black and white, with the 38mm models priced at $549 and the 42mm models at $599. Several other watch-band combinations such as the Milanese Loop ($649-$699) and Link Bracelet ($949-$999) are available with the same $50 premium for larger casings.
Not all bands are available for both 38mm and 42mm models, however, with a Modern Buckle available only for 38mm models at $749 with black, midnight blue, soft pink, and brown color options. Unique to the 42mm models is a Leather Loop band available in black, bright blue, stone, and light brown, with those combinations prices at $699. Finally, at the high end of the Watch collection is a unique Space Black casing paired with a Space Black stainless steel Link Bracelet, priced at $1,049 for the 38 mm model and $1,099 for the 42mm model.

The lowest and highest-priced watches in the Apple Watch collection
A complete list of standard Apple Watch models is available here, with prices and links to Apple's Online Store.
For those looking for an 18-karat gold watch, the Apple Watch Edition collection, ranging from $10,000 to $17,000, is the place to be. At the low end of this range are the black and white sport bands paired with either a rose gold or yellow gold casing. The 38mm casings are priced at $10,000 in these combinations, with the 42mm models priced at $12,000.
For $15,000, customers can opt for the 42mm Apple Watch in yellow gold and either a black or midnight blue Classic Buckle. And the lineup tops out at $17,000 with the 38mm casing available with in rose gold with a rose gray Modern Buckle or in yellow gold with a bright red Modern Buckle. All Watch Edition watches will be available in limited quantities.

The lowest and highest-priced watches in the Apple Watch Edition collection.
A complete list of Apple Watch Edition models is available here, with prices and links to Apple's Online Store.
Band Options
Along with various Apple Watch sets that come with bands included, Apple is also selling most of its watch bands on a standalone basis, letting customers pick up an additional band to go with their watches. Pricing starts at $49 for a two-pack of Sport Bands, one each in small/medium and medium/large to ensure a good fit.

Other bands include the Milanese Loop, Leather Loop (42 mm only - in Stone, Light Brown, Black, and Bright Blue), or Classic Buckle (in black only), which are available for $149, and the Modern Buckle (38mm only - in Brown, Black, Soft Pink, and Midnight Blue), available for $249. The Link Bracelet is the most expensive Apple Watch band available, priced at $449.

While bands like the Milanese Loop and the Link Bracelet come in a single size that's designed to fit a wide range of wrist sizes, the Modern Buckle, Leather Loop, and Sport Band come in multiple sizes ranging from small to large. Apple has made a fit guide for each of the bands to help users choose the best band. [PDF]
All bands will be able to be purchased from Apple's Online Store beginning on April 10.
Apple Watch Design
According to Apple designer Jony Ive, the Apple Watch is "one of the most difficult projects" he has worked on, and a ton of time went into the design and creation of the device. Apple consulted with several watch historians and Ive himself delved into horological history, studying clocks and watches throughout time while designing the product.
Apple Watch features a rounded, rectangular body in two separate sizes (38mm and 42mm) that is able to snap easily into an array of interchangeable bands. There are only two "buttons" on the device, including the Digital Crown that offers several control options and the Friends button that brings up a list of contacts.
Aiming to create watches that would please a wide range of tastes, Apple designed the Apple Watch with four different custom alloys of stainless steel and aluminum in two finishes, along with two formulations of 18-karat yellow and rose gold that are designed to stand up to daily wear.
In total, there are six different body options: Stainless Steel, Space Black Stainless Steel, Silver Aluminum, Space Gray Aluminum, 18-karat gold, and 18-karat rose gold.

Along with six separate body options, Apple has also designed six types of custom bands for the Apple Watch: Link Bracelet, which is stainless steel and resembles a traditional watch band; Sport Band, made of a flexible and lightweight fluoroelastomer; Leather Loop, a wraparound band constructed from handcrafted leather; Modern Buckle, made from Granada leather and sporting a magnetic buckle; Classic Buckle, made from Dutch leather with a traditional buckle closure; and the Milanese Loop, a flexible metal mesh band designed to wraparound the wrist.

Apple has organized its various watch casings and bands into three separate collections: Apple Watch, Apple Watch Sport, and Apple Watch Edition, each of which group casings and bands that Apple says "work particularly well together."

Apple Watch Collection
The Apple Watch collection includes Apple's stainless steel casings in both a highly polished silver color and space black. These watches feature a durable, scratch-resistant sapphire crystal display and are combined with several of the six available bands in 20 configurations that can be purchased from Apple.

A selection of watches from the Apple Watch Collection
According to Apple, its stainless steel is made from a cold-forging process designed to make the 316L steel 40 percent harder and more resistant to nicks and corrosion. The black version is coated in a diamond-like carbon layer to achieve its color.
Apple Watch Sport Collection
The Apple Sport collection is the watch collection with the lowest price tag. Aimed at fitness enthusiasts, the Sport watches do not have a sapphire display, instead featuring a lightweight strengthened alumina-silicate Ion-X glass that's "especially resistant to scratches and impact."
Apple's Sport collection also features a lightweight anodized aluminum casing in either silver or space gray. According to Apple, the aluminum used in the Apple Sport Watch is a new alloy (7000 Series aluminum) that's 60 percent stronger than standard alloys. With the Ion-X glass and the aluminum casing, the Sport collection watches are 30 percent lighter than stainless steel models.

A selection of watches from the Apple Sport Collection
Sport watches come with a high-performance fluoroelastomer band that's durable and strong, but soft. Apple says it is more flexible than rubber traditionally used in watch bands, for a smooth drape across the wrist, with a pin-and-tuck closure for a close fit. The Sport collection also features the most vibrant colors, with bands in white, blue, green, pink, and black.
Apple Watch Edition Collection
The Edition collection is Apple's high-end luxury lineup, featuring casings crafted from 18-karat yellow or rose gold. Apple metallurgists have designed the gold in the Edition watches to be up to twice as hard as standard gold, which will help keep it free from nicks and scratches.

18-karat yellow gold Edition Apple Watch with red Modern Buckle Band
Like the Apple Watch collection, the Edition collection features a polished sapphire crystal display that's highly durable and scratch-resistant. The Edition collection's gold casings are paired with the Modern Buckle, the Sport Band, and the Classic Buckle, creating six different options.

18-karat rose gold Edition Apple Watch with white Sport Band
The Apple Watch Edition will be purchased in luxury stores and it will ship with a jewelry box that's able to double as a charger. The back of the box is equipped with a Lightning connector, and the magnetic charging pad rests inside. Users can charge the watch simply by returning it to its case at night.
Features
The Apple Watch was created to be a companion device to the iPhone, and as such, it displays notifications when a user receives a phone call, a message, or an app alert. It offers apps, time keeping abilities, social features, and a unique interface that takes advantage of a vibration-based feedback system and the iPod-style "Digital Crown" scroll wheel.

Digital Crown and Contacts Button
Though designed as a companion to the iPhone, the Apple Watch will have a limited number of offline capabilities including the ability to make Apple Pay payments, play music over Bluetooth, track activity, and display some built-in Apple apps.
Apple Watch has a water resistance rating of IPX7, so it is splash and water resistant, but it is not waterproof. It can be worn during exercise, in the rain, and while washing your hands, but it should not be submerged. Many of the Apple Watch bands, like the Modern Buckle and the Leather Loop, should also be kept out of the water.
The watch has a built-in speaker and a microphone, so it is able to place and receive phone calls. It was created to function as a health and fitness device, offering movement tracking capabilities combined with intuitive apps that encourage users to be more active.
Apple custom designed a special S1 processor chip for the Apple Watch, which integrates several different subsystems into a single module. The S1 chip is said to be similar in power to the A5 processor in the iPad 2 and the iPhone 4s. It houses a gyroscope and an accelerometer to measure activity, and a sensor that detects heart rate. The heart rate sensor consists of four sapphire lenses built into the zirconia backing of the watch that detect pulse rate (via infrared, visible-light LEDs, and photodiodes), and the device also integrates the GPS and Wi-Fi capabilities of the iPhone into several of its tracking abilities, using the phone's GPS system to determine distance traveled.
Battery Life
Apple Watch battery life remained a mystery for many months following the device's September introduction, but during its recent March 9 media event, Apple finally released new information on how long we can expect our Apple Watch devices to last before needing to be charged.
According to a dedicated battery section on the Apple Watch site, the Apple Watch will last for approximately 18 hours with mixed usage, which the company refers to as "all-day battery life." Mixed usage is defined as 90 time checks, 90 notifications, 45 minutes of app use, and a 30-minute workout with music playback, all over the course of 18 hours.
The Apple Watch will last for up to three hours when it is being used to make phone calls, up to 6.5 hours during an active workout session, and up to 6.5 hours when playing audio. When used as a watch, the device will last for up to 48 hours, and in Power Reserve mode, the battery will last for up to 72 hours.
Power Reserve Mode, which can be enabled at any time, shuts down most of the functions of the watch that drain power, allowing it to continue to offer its most basic function -- time telling -- even when the Apple Watch battery is low.
>As Apple notes, battery life will vary by use, configuration, and other factors, so real world results may vary. According to Apple, the 42mm Apple Watch "typically" experiences longer battery life than the smaller 38mm version.
It takes 1.5 hours for the Apple Watch to be charged from 0 percent to 80 percent using the included MagSafe inductive charger, and it takes 2.5 hours for the device to get to a full 100 percent charge.
The Apple Watch battery is replaceable, but users will need to send the device in to Apple to get a replacement installed.
Display
The Apple Watch comes in two separate sizes, 38mm and 42mm, both of which are equipped with a Retina display. According to Apple, the "incredibly high pixel density" of the Apple Watch display makes numbers and text easy to read at a glance, even while moving."
Apple has not provided specific details on the resolution of the Apple Watch in its marketing materials, but the resolution is listed in theWatchKit SDK. The smaller 38mm Apple Watch has a resolution of 272 x 340, while the larger 42mm Apple Watch has a resolution of 312 x 390.
Apple describes the display as "extremely energy efficient" and says that it has "remarkable sharpness and contrast." On the Apple Watch and the Apple Watch Edition, the display is laminated to a machined and polished sapphire crystal. On the Apple Watch Sport, the display is protected by Ion-X glass, which is lighter than sapphire but less scratch resistant.
Time
According to Apple, the Apple Watch was designed to be an "incredibly accurate timepiece" that has a margin of error within 50 milliseconds. It checks against the definitive global time standard on a regular basis, adjusting the time accordingly during daylight savings time or when a user travels from one time zone to another.
Apple's focus on time has also led it to develop a variety of watch faces, offering a range of designs from a standard analog clock to Mickey Mouse to a galaxy theme that includes moon phases and a look at the solar system. Each custom watch face includes several additional customization options, letting users change colors and the information that's displayed.

A few watch face examples
Customizable features included with each Watch Face are called "Complications," and are specialized functions that offer information like moon phases, sunrise and sunset times, alarms, and weather.

Apple Watch's accelerometer senses when a user raises his or her wrist, at which point the watch face is displayed. When not activated, the screen remains blank to conserve battery life.
Force Touch
Pressure-sensing technology called "Force Touch" has been built into the Apple Watch, allowing it to determine the difference between a tap and a press. This functionality allows for a new range of contextually specific controls, almost similar to the different abilities enabled by left clicking and right clicking on a mouse button.
Taptic Engine
Along with pressure-sensing technology, the Apple Watch has a unique haptic feedback vibration engine that's designed to deliver alerts in a subtle, gentle way, letting users feel and hear the design of the user interface. Tactile sensations will be different for each kind of notification and combined with audio cues for a feedback system that's unlike anything available on the Mac or iPhone.
NFC and Apple Pay
Apple Watch includes support for NFC, which allows it to integrate with Apple's new mobile payment initiative, Apple Pay. When paired with an iPhone, the Apple Watch will be able to be used to make payments at retailers that accept Apple Pay.
With its NFC capabilities, the Apple Watch will allow iPhone users with an iPhone 5, 5s, or 5c to use Apple Pay for the first time. Currently, Apple Pay is limited to iPhone 6 and iPhone 6 Plus users as those are the only iPhones with NFC.
The built-in heart rate monitor will be used to ensure secure payments through skin contact. When the Apple Watch is first put on the wrist, a user enters a PIN code to authorize Apple Pay. After that point, the watch monitors skin contact and if removed from a wrist (in the event of a theft, for example) the device is no longer able to make payments until the PIN is re-entered.
Charging
The Apple Watch uses inductive charging, taking advantage of a Magsafe-style magnetic charger that snaps easily onto the back of the device. The Apple Watch charges from 0 to 80 percent in about an hour and a half, with an additional hour required to reach full charge.
Watch OS
Watch OS is the operating system that's installed on the Apple Watch. Though WatchOS has taken design cues from iOS 7 and iOS 8, it's been designed from the ground up for the Apple Watch with features that take advantage of all of the hardware in the device.
By default, the Apple Watch will remain black and blank when a user's arm is down to save battery. When a user raises up his or her wrist, the watch face with the time and other user-selected information is displayed.

The WatchOS home screen can be accessed by pressing on the Digital Crown. The home screen displays all available apps in a cluster format (or "app neighborhood") that can be navigated with swipes or with the Digital Crown control. Apps are accessed with a touch.
Apps that run on the Apple Watch are extensions of existing iPhone apps, powered by the iPhone and with a user interface that extends to the watch. Developers have limited access to Apple Watch features and are unable to access the gyroscope, accelerometer, NFC, built-in speaker and microphone, and the Taptic Engine of the device. Developers cannot create full apps that run on the watch itself at this point in time, but that functionality may be available in the future.
Though prevented from creating full apps, developers can still create multiple types of content for the Apple Watch, including apps powered by the iPhone, Glances, and Actionable Notifications. Glances, which are accessible via a swipe on the watch face, are designed to give users quick read-only information at a glance, like weather, news, and sports scores.
Actionable Notifications let users take an action or respond to a notification, such as turning off lights of a connected device or accessing flight information from an email. Notifications are only received when the watch is on the wrist and in contact with skin.
There are two types of notifications on the Apple Watch: a "Short Look" where a notification is only briefly visible and a "Long Look" activated when a user raises their wrist. "Long Look" notifications are equivalent to Actionable Notifications, letting users respond to an incoming notification. For example, a user might receive a Short Look notification from Instagram when a new photo is posted, which morphs into a Long Look notification where an action like a comment or a like can be taken.
Apps on the Apple Watch are similar to apps available for the iPhone, but are far more limited. A comprehensive list of Apple-made apps and third-party apps for the Apple Watch is available below, as is information on some of the Apple Watch's more advanced features.
Digital Touch
Social interaction is a cornerstone of Watch OS, and the various sensors and technological capabilities built into the Apple Watch allow for new ways of communication between users, mainly through a set of features Apple's named "Digital Touch."
With Digital Touch, users can send taps to each other or take advantage of the touch screen to draw and send simple sketches. Apple Watch has specially designed animated emoji, plus a list of pre-determined response messages (which improve over time based on user input) that can be used as text message replies. It's also possible to use the built-in heart rate monitor to send an actual heartbeat to another user, which is relayed through vibrations and a heart on the watch display, and there's a "Walkie-Talkie" feature for sending quick sound bites to friends.

Fitness
There are two separate fitness apps installed on the Watch, each designed to track different fitness elements. The Activity app gives users an overview of their daily fitness levels, with three "rings" representing calories burned, exercise completed, and how often a break is taken from sitting. Fitness has a companion iPhone app to let users track trends over time.

A second Workout app displays real-time stats like time spent exercising, distance traveled, calories burned, and pace when working out. It encourages users to set, meet, and beat fitness goals, and over time, it is able to suggest new, attainable fitness goals and act as a digital personal trainer.
Health and fitness was one of Apple's main focal points when developing the Apple Watch. The company has a secret testing facility where it has been gathering health and fitness data from Apple employees for years to develop the Apple Watch.
Employees are outfitted with a wide array of sensors and wear masks that measure statistics like changes in breathing. Volunteers were subjected to widely varying workout regimens including rowing, yoga, and running, to collect data for the Apple Watch. Apple collected more than 18,000 hours of data for the Apple Watch, both indoors in special rooms that featured different climates, and in various locations around the world.
Siri
As might be expected from a device with limited space for user input, the Apple Watch includes Siri integration. Users will be able to ask Siri to perform many of the tasks the personal assistant is able to perform on the iPhone, such as sending messages, getting directions, or looking up information.
Siri can be activated by holding down the Digital Crown or raising a wrist and using the "Hey Siri" command.
Other Apps
For the most part, apps that have been shown off so far have been more limited versions of some of the apps available on iOS and OS X. For example, the included Messages app lets users dictate messages or select quick responses from pre-set options.
The Phone app, meanwhile, lets users conduct quick conversations that can be transferred to the iPhone, a car's speakerphone, or a Bluetooth headset, if desired. Incoming phone alerts can be silenced by covering the Apple Watch with a hand.

Phone, Mail, and Messages
Mail, another app present on Watch OS, will display incoming email messages. Users can read a message, flag it, mark it read/unread, or move it to trash, but will need to transfer to an iPhone to type a response. Other built-in apps:
- Calendar: Displays what's coming up next in a user's day, sends meeting reminders and allows users to accept calendar invitations.
- Maps: Lets users view current location and get turn-by-turn directions. Maps takes advantage of Taptic Feedback, delivering different vibrations for a left or right turn.
- Passbook: Like on the iPhone, Passbook stores boarding passes, tickets, loyalty cards, and credit cards. It's an integral part of Apple Pay.
- Music: Users will be able to control the music on their iPhones via Apple Watch and Apple Watch can also play music directly.
- Apple TV, iTunes: Apple Watch can serve as a remote control for both iTunes and the Apple TV, letting users navigate the interface with the watch.
- Camera/Photos: Apple Watch serves as a remote shutter for the iPhone's camera. It can display a live preview of what the iPhone sees, and snap the picture. Apple Watch also displays photos that are favorited on the iPhone in its Photos app.
- Clock: Similar to the iPhone's clock app, Apple Watch will have stopwatch, timer, and alarm functionality built in, along with a world clock.
- Weather: Apple Watch will allow users to see the weather in their immediate location or anywhere in the world. The app displays a detailed daily report and a weekly forecast.
- Settings: A Settings app serves as a hub to enable and disable various Apple Watch features, including Bluetooth, Do Not Disturb, and Mute. This app also lets users ping their iPhones to determine its location should it become lost.
Apple Watch will support third-party apps, allowing developers to create three distinct types of software for the device: "Actionable Notifications" that are essentially interactive third-party app notifications sent from the iPhone, Glances, which display quick bits of info, and full on apps that run either on the iPhone or on the Apple Watch itself.

Example of Actionable Notifications, Glances, and Apps
Continuity
Watch OS, like OS X Yosemite and iOS 8, will support Apple's new Continuity features that allow the operating systems to integrate with each other in innovative ways. With Handoff, for example, users are able to shift tasks from one device to another with ease, so a phone call, message, or email can be transferred from the Apple Watch to a Mac or iOS device.
iPhone Companion App
iOS 8.2 includes a pre-installed iPhone app called just "Apple Watch," which serves as a companion to the upcoming device. It's not functional because no one has an Apple Watch to pair with it, but it will serve as a place for Apple Watch owners to control settings on the device and download apps.
An iPhone will pair with an Apple Watch using the companion app, though the iPhone's camera. A pairing menu available now asks users to hold their Apple Watch devices up to the camera to initiate a connection.

The Apple Watch app for the iPhone is not accessible until an Apple Watch has been paired with the iPhone, but screenshots of the app have been unearthed ahead of the Apple Watch's release, giving us hints at what the iPhone companion app will be able to do.

There are menus for configuring the app layout on the Apple Watch (rearranging the home screen cluster), toggling on notifications and glances, choosing brightness and text size, and controlling sounds and haptic feedback (the gentle vibrations you get with notifications). One neat haptic feature is the ability to cover the watch display with a hand to mute it.
You can use the iPhone app to toggle on Airplane Mode, turn on Do Not Disturb, and set a passcode. There are controls for individual app settings, and it's possible to choose the orientation of the Apple Watch display to left wrist or right wrist. You can also toggle on "Wrist Detection," which activates the watch display whenever the wrist is raised and shows the time.
There's a friends list available to add friends to communicate with (by sending heartbeats and drawings), and there are options to control Activity alerts, manage music, and manage photos.
iPhone Activity App
Along with an Apple Watch companion app, the iPhone will also get an "Activity" app that's installed on the device after it is paired with an Apple Watch. The Activity app provides a comprehensive overview of your daily activity and workout history.
A main History section lets you view your activity rings on a calendar to track how much walking, standing, and exercise you have done over the course of the day, month, or year. An Achievements section shows a grid of achievements that are earned by reaching fitness goals, with more than a dozen achievements that can be earned.

Third-Party Apps
Apple has created a dedicated page on its website for interesting Apple Watch apps, each with different capabilities. With the SPG Hotel app, Starwood hotel visitors can use the Apple Watch to unlock their rooms, and with the American Airlines app, Apple Watch owners can get their boarding passes right on their wrists.
The Nike+ Running app displays distance, duration, and pace on the Apple Watch, while the Instagram app allows users to browse their feeds, like photos, and leave emoji comments. Shazam will identify songs, Dark Sky will let users know the chances of rain or snow, and the NYTimes Apple Watch app will offer headlines and breaking news.

Airlines have been embracing the Apple Watch, and at launch, multiple airlines will have Apple Watch apps available, including United Airlines, British Airways, Delta, and American Airlines. These apps will provide at-a-glance access to flight information, deliver notifications when a flight has a status change, offer access to boarding passes, and more.
Apple CEO Tim Cook has said that he is "super excited" about the third-party apps being developed for the Apple Watch. "I think everyone's going to have their favorite thing, just like when the App Store came out," he said. "Remember the saying 'there's an app for that? There's an enormous number of things it will do."
Hands-On First Impressions
After the September 9 event where Apple debuted its new Apple Watch, attendees were invited to go hands-on with the device, giving an overall picture of the look, feel, and function of the device.
While most models on display were not running the actual WatchOS software, Jared Nelson from our sister site TouchArcade was able to get a hands-on walkthrough of a device working from an employee, as seen in the video below.
Initial impressions of the Apple Watch were highly positive, with The Verge saying the smaller watch model felt "very solid and surprisingly light," and the wrist strap was "supple" and comfortable to wear.

Engadget said that the bands for the watch had an "impeccable" build quality and were "comfy," while Gizmodo said that the device felt "significantly more premium" than competing watches from LG and Samsung. The site also praised the Digital Crown, saying "it feels like you're wearing a watch that just happens to be digital."

Members of the media got a second chance to go hands-on with the Apple Watch at Apple's March 9 event, and this was the first time that people were able to play with an Apple Watch that had fully functional software.
TechnoBuffalo's Jon Rettinger tested the aluminum Apple Watch Sport, Apple's most affordable watch, giving a demo of the device's software. A hard press on the screen brings up different watch faces, each of which can be customized, as Tim Cook described during today's event.
Mashable's Lance Ulanoff said all of the different Apple Watch versions "feel good to the touch" and that there's not much difference in the display between the Apple Watch Sport with Ion-X glass and the Apple Watch with sapphire crystal. He also has good information on the fit, which is comfortable despite its protruding back.
Apple Watch is not curved to your wrist. In fact, the back bulges out over so slightly to make sure the sensors touch the wrist. This didn't look like it would be comfortable, but it was -- completely. I also got to try a number of different bands. I think the rubbery sports bands are fine, but not my favorite -- they certainly make sense for the more active set. I like leather and metal options, most of which employ some sort of magnet to clasp and even adjust sizing.
TechCrunch
's Darrell Etherington said that the Apple Watch system software is "expectedly intuitive." The Digital Crown takes a bit of time to adjust to, but ultimately, it "makes as much sense" navigation wise as the iPod's clickwheel. Touch input is "fast and responsive."
Marketing Efforts
In mid-February, Apple began inviting some developers to Cupertino to help them put the finishing touches on their apps to have content to show off both for marketing purposes and for the company's recently announced March 9 event.
The Apple Watch made its magazine cover debut in the United States in the March issue of Self magazine, gracing the wrist of model and Victoria's Secret Angel Candice Swanepoel. Along with being the first magazine in the U.S. to feature the Apple Watch, Self's Apple Watch cover and accompanying story mark Apple's first efforts to market the device to fitness enthusiasts.
Apple's new wearable was also featured in the U.S. version of Vogue Magazine, shown off in a 12-page spread that highlighted some of the various casing and band options, and it was seen in U.K. magazine Style.

In Hong Kong, the Apple Watch is being featured on the cover of fashion magazine East Touch and in a multi-page spread inside the magazine. The feature depicts a model wearing several different versions of the Apple Watch.

Apple Watch feature in East Touch magazine
In March, Elle became the first magazine in Australia to feature the Apple Watch, in a multi-page spread that covered various ways to style the device.
Ahead of Apple's February and March marketing efforts, the Apple Watch had only been shown off as a fashion accessory. In September, it was debuted at high-end French fashion boutique Colette, and in October, it was featured on the cover of Vogue China on the wrist of Chinese model Liu Wen.
In addition to marketing the Apple Watch heavily in magazines, Apple is also preparing for the launch of several Apple Watch pop-up stores that will showcase the device, and there are plans in place to revamp many of its existing Apple Stores to accommodate the watch.
Apple is planning to build a dedicated pop-up shop for the Apple Watch within high-end department store Selfridges in London, where it will be shown off amid other luxury jewelry and watch options.

Selfridges luxury watch and jewelry section where the Apple Watch will be displayed
Apple is also working on an Apple Watch shop at Galeries Lafayette, a high-end department store in Paris. Construction on the stand has been ongoing since February, and is being done in secret under tarps. The Apple Watch stand is replacing a small food court and it spans four balconies within the Galeries Lafayette, near Celine Saint Laurent and Miu Miu.

Tarps covering rumored Apple Watch pop-up shop in Galeries Lafayette in Paris.
Apple Watch How-Tos
Future Updates
According to a report from The Wall Street Journal, Apple experimented with many health sensors that didn't end up in the first iteration of the Apple Watch due to problems with consistency.
Apple planned to include sensors that measured things like the conductivity of the skin and blood pressure, but the company was unable to get consistent results with the sensors and ultimately decided to scrap the technology. Regulatory problems were also a concern -- the more the Apple Watch can do, the more the U.S. Food and Drug Administration and other regulatory bodies will get involved in its production.
The health sensors that did not make it into the Apple Watch have not been abandoned. Apple may be planning to include these features in future versions of the device, and Financial Times says Apple is indeed targeting 2016 for the launch of the second-generation Apple Watch.
According to KGI Securities analyst Ming-Chi Kuo Apple may release up to three new casing options for the Apple Watch later in the year with the aim of boosting holiday sales of the device.