Apple Watch
Apple's wearable device. A second-generation version is expected this fall.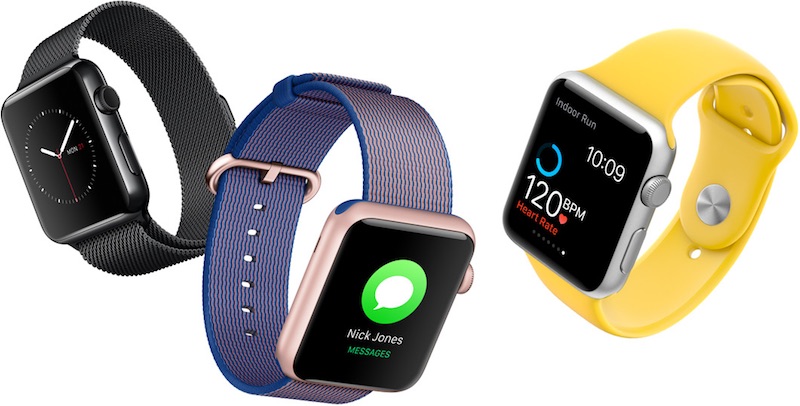 At a Glance
Apple's Watch is designed to be both fashionable and functional, available in an array of different color and materials different watch straps that are easily interchangeable. An Apple Watch 2 is coming this fall with expected features like a faster processor, better waterproofing, GPS, and more.
Apple Watch 2 - What We Expect
Two sizes: 38mm and 42mm
Faster processor
Better waterproofing
GPS
Better battery life
Barometer
Same form factor
What's Next for Apple Watch
Apple is expected to introduce a second-generation Apple Watch model in the fall of 2016, with features that include an improved processor, a larger battery, better waterproofing, GPS, and a barometer, but form factor changes are not expected. Major changes to the design of the Apple Watch could instead come in 2017, including cellular connectivity. Apple reportedly wanted to add a cellular connection to the Apple Watch in 2016, but was unable to compensate for the increased battery drain.
The flagship feature of the second-generation Apple Watch may be its GPS chip, which will improve fitness and health tracking and navigation.
Information on a second-generation Apple Watch has been limited, with most details about the device coming from KGI Securities analyst Ming-Chi Kuo. According to Kuo, Apple may actually introduce a new Apple Watch 2 and an upgraded original Apple Watch that features both an improved processor and better waterproofing without including any of the other features expected for the second-generation device.
It makes little sense for Apple to upgrade the processor and introduce better waterproofing in a "first-generation" device, so though Kuo calls this second model an upgraded original Apple Watch, it's possible both could be branded as the "Apple Watch 2." It is also possible certain features like GPS, a barometer, and better battery life could be limited to certain versions of the Apple Watch to keep the lower-end Apple Watch Sport affordable.
In this scenario, Apple could perhaps introduce an upgraded Apple Watch Sport with a new processor and better waterproofing, but without GPS and other functions included in the standard stainless Steel Apple Watch. Given that we have so little information on the Apple Watch 2, however, and no secondary source besides Kuo, this is just speculation.
The Apple Watch 2 may use a new "One Glass Solution" display (OGS) instead of a Glass/Glass (G/G) display. A OGS display eliminates one of the layers of glass from a traditional G/G display that features two pieces of glass, replacing one layer with a thinner material. Making the switch from G/G, used in the current Apple Watch, to OGS could potentially allow Apple to save a small amount of internal space in the Apple Watch 2 and make slight reductions in the weight of the device.
Ming-Chi Kuo believes the Apple Watch will see an update in the fall of 2016, putting it on the same upgrade cycle as the iPhone. A fall release date has also been reported by DigiTimes, citing supply chain sources. That rumor said Apple will launch the second-generation Apple Watch in September or October, which lines up with previous information we've heard.
A rumor out of the Asian supply chain has also suggested work on the next-generation Apple Watch is underway as of late 2015, with Quanta working with Apple on the development of the device. Trial production on Apple Watch 2 is rumored to have started in January, and full production was said to have started in mid-2016 in preparation for a fall launch alongside the iPhone 7.
Apple is said to have stepped up procurement of chips and components for the second-generation Apple Watch ahead of a planned late 2016 launch.
Early Apple Watch 2 rumors said Apple is continuing its work on various health-related sensors that did not make it into the original Apple Watch due to performance problems and inconsistent results. These sensors may be incorporated into future versions of the Apple Watch following further refinement.
Apple planned to include sensors that measured things like the conductivity of the skin, blood oxygen level, and blood pressure, but the company was unable to get solid results with the sensors, ultimately deciding to scrap the technology for the first-generation Apple Watch. We could perhaps see some of these sensors in the second-generation Apple Watch, likely launching in late in 2016, but Apple may also wait for a future version of the watch to add these features.
Apple has been making additional health-related hires in recent months, possibly to accelerate work on a next-generation device.
In 2017 or later, Apple may be planning to switch to micro-LED displays for the Apple Watch. Micro-LED displays can be thinner and lighter with improved color gamut, increased brightness, and higher resolutions.
Current Apple Watch
On September 9, 2014, Apple unveiled its long-rumored wearable device, the Apple Watch. While many expected the wearable to be called the "iWatch," Apple actually opted to use the Apple symbol () followed by "Watch" for the device's name. According to Apple's head of design Jony Ive, Apple worked on the device for three years before it launched. Apple CEO Tim Cook has said that Apple's objective with the watch is to "change the way you live your life." Steve Jobs own desire to improve the healthcare system indirectly inspired development of the Apple Watch.
The Apple Watch is designed to be both functional and fashionable, available in two sizes of 38mm and 42mm (1.5 and 1.7 inches), with eight different casing materials and dozens of interchangeable band options in a variety of colors. Organized into three separate collections, from the simple "Sport" to the high-end luxury "Edition," the Apple Watch has been created to appeal to a wide range of tastes.

To keep the Apple Watch fresh and to give consumers a mix of style options, Apple refreshes its Apple Watch lineup with new bands every six months or so, introducing new colors and styles. The most recent update came on March 21, 2016, introducing new spring colors in yellows, blues, and pinks, along with new Nylon Apple Watch bands.
Prices for the Apple Watch are designed for a wide range of budgets. The Apple Watch Sport Collection, available in Gold, Rose Gold, Silver, and Space Gray aluminum, starts at $299. The stainless steel Watch collection, in Silver and Space Black, starts at $549, while the the Gold and Rose Gold Apple Watch Edition collection starts at $10,000 and goes as high as $17,000.
Made with either an ion-strengthened or flexible sapphire display (depending on model), all of the Apple Watches include an HD Retina screen, sapphire-covered sensors built into the zirconia backing, and an NFC chip to allow the devices to work with Apple's Apple Pay mobile payment service.
The Apple Watch interface, much like its exterior, has been created with end-user customization in mind. Apple has designed several unique watch faces that users can choose from, featuring traditional watch designs, whimsical characters, animated images, and more, all of which are "extensively customizable." According to Apple, one Apple Watch can have millions of different appearances. Apps on the device are organized into a unique cluster design for quick and easy access.
As with all of its products, Apple has carefully considered the way people interact with and use the Apple Watch, developing both a unique operating system (watchOS) and unique input methods for the device. While it does allow for touch input, Apple Watch also includes a "Digital Crown" located on the right side of the body, which lets users zoom, scroll, and select elements on the Watch without covering the screen. The Digital Crown also serves as a home button.
A second physical button below the Digital Crown allows users to bring up a list of contacts and then communicate with friends by sending quick drawings, messages, animated emoji, and a heart beat, drawn directly from the watch's included sensors.

Apple Watch takes advantage of pressure-sensing technology called "Force Touch" and is able to determine the difference between a tap and a press, enabling a range of contextually specific controls. A unique notification system allows notifications to be relayed in a subtle way through gentle vibrations using the "Taptic Engine."
There are several sensors built into the Apple Watch, which allow it to measure metrics like steps taken, calories burned, and pulse rate. Movement information is relayed to two separate fitness-related apps, giving users an overall picture of their daily activity.

Apple's Watch is designed to be a companion device to the iPhone, and as such, it requires an iPhone to function. The Watch is not a standalone device because it relies on the iPhone for many features like relaying notifications and messages. The Apple Watch lasts for approximately 18 hours per charge with mixed usage and up to 72 hours in Power Reserve Mode, which limits functionality.
Though dependent on the iPhone, the Apple Watch is able to connect to known Wi-Fi networks without an iPhone, letting it perform some basic functions like sending and receiving texts, querying Siri, and sending and receiving drawings.
The Apple Watch officially launched on Friday, April 24, 2015 and became available for in-store purchase on June 16, 2015 after a better supply/demand balance was achieved. In August of 2015, the Apple Watch also became available at Best Buy in the United States and Canada, and from there, it expanded to dozens of other retail locations around the world.
How to Buy
The Apple Watch can be ordered from Apple's online store or purchased from Apple retail locations. Pricing for the Apple Watch starts at $299 for the 38mm Apple Watch Sport, following a $50 price drop introduced in March of 2016.
Pricing for the 42mm Apple Watch Sport starts at $349, while the cheapest 38 and 42mm Stainless Steel Apple Watches are available for $549 and $599, respectively. Pricing on the Apple Watch Edition, made of gold, starts at $10,000, and those watches are sold in a limited number of retail stores.

The Apple Watch Sport, Stainless Steel Apple Watch, Apple Watch Edition, and Apple Watch Hermès
For all models, pricing varies based on size and band. 42mm models are $50 more expensive than 38mm models, and bands vary in price from $49 to $549. Apple offers more than 40 Apple Watch and band configurations, which it has changed every six months or so with the introduction of new bands.
Apple has also partnered with Hermès for a line of Apple Watches paired with Hermès leather bands, with prices that start at $1,100, but the Apple Watch Hermès can only be purchased in a limited number of locations.
The Apple Watch is now available in more than 35 countries around the world, and Apple is gradually expanding Apple Watch sales to additional countries. A list of countries where the Apple Watch can be purchased and when it became available is below.
April 24: Australia, Canada, China, France, Germany, Hong Kong, Japan, UK, and United States.

June 26: Italy, Mexico, Singapore, South Korea, Spain, Switzerland, and Taiwan

July 17: The Netherlands, Sweden, and Thailand

July 31: New Zealand, Russia, and Turkey

September 25: Austria, Denmark, and Ireland

October 9: Belgium, Finland, Norway, Luxembourg, and Poland

October 16: Brazil and Colombia

October 22: Saudi Arabia and United Arab Emirates

October 23: Chile, Philippines, and South Africa

October 30: India

January 5: Malaysia

January 29: Czech Republic, Hungary, and Portugal

February 11: Bahrain, Israel, Kuwait, Oman, and Qatar

February 12: Greece
In addition to being available online and in retail Apple Stores, the Apple Watch is also available at Best Buy, B&H Photo, Target, and Walmart in the United States and in dozens of other shops and boutiques around the world.
Apple Watch Buyer's Guide
Need help deciding which Apple Watch might be right for you? Check out our Apple Watch Buyer's Guide, which walks you through all of the available options and some things you might want to consider when choosing an Apple Watch.
Current Apple Watch Collection
Apple changes its Apple Watch collection and updates available bands on a regular basis, and thus far, new products have been introduced in September of 2015 and March of 2016. When new bands are released, Apple offers the Apple Watch in new combinations, retiring older watch and band combinations in favor of new looks. Band combinations, watch faces, and casing materials can be paired together using Apple's interactive Apple Watch Gallery prior to purchasing.

38mm Apple Watch Sport collection, minus plain white band
In the current collection, the Apple Watch Sport is offered in 11 configurations in both 38 and 42mm sizes. Band options range from the basic Black and White Sport Bands to new colors in Yellow, Apricot, and Royal Blue.

42mm Apple Watch Sport collection, minus plain white band
There are also configurations that include the new Woven Nylon bands, with different colors paired with each aluminum casing from Rose Gold and Gold to Silver and Space Gray. Prices range from $299 to $349.
The Stainless Steel Apple Watch is offered in 20 configurations, featuring classic bands like the Milanese Loop and the Link Bracelet to the Leather Loop, Classic Buckle, and Modern Buckle in new spring colors like Marigold, Blue Jay, Red, and Marine Blue.

38mm Stainless Steel Apple Watch collection
There is a single configuration featuring a Woven Nylon band, pairing the Silver Stainless Steel watch with a Pearl Woven Nylon Band. Pricing on the Stainless Steel Apple Watch starts at $549 and goes up to $1,099.

42mm Stainless Steel Apple Watch collection
Apple's spring collection did not include new bands for the Apple Watch Edition, which continues to be sold in eight configurations at prices that start at $10,000.

Major Product Updates
In September of 2015, Apple introduced the Apple Watch Sport in new Gold and Rose Gold colors, selling them alongside the standard silver aluminum color at the same price points. Existing bands were updated with muted fall colors.

In March of 2016, Apple debuted new Woven Nylon bands, introducing two-tone bands with a fabric-like feel. A Black Milanese loop was included in the update, as were a range of new spring colors for existing bands.

Standalone Band Options
Along with various Apple Watch sets that come with bands included, Apple is also selling watch bands on a standalone basis, letting customers pick up additional bands to go with their watches. Apple updates its band offerings on a seasonal basis, offering new fall colors in September of 2015 and new spring colors in March of 2016.
Pricing starts at $49 for the fluoroelastomer Sport Bands, which come with three pieces to adjust the size. At launch, Apple only offered Sport Bands in S/M and M/L size options. Customers requested larger sizing options and four months later, Apple introduced an L/XL option for the 42mm Apple Watch Sport band, able to fit wrist sizes up to 245mm.

The Apple Watch Sport Band is available in 22 colors: White, Stone, Yellow, Apricot, Light Pink, Antique White, Midnight Blue, Lavender, Lilac, Royal Blue, Mint, Black (with Silver or Space Black Pin), Walnut, Blue, Fog, Turquoise, Vintage Rose, Green, Pink, Orange, and Red.

Apple's Woven Nylon Band, made from more than 500 threads woven together, was introduced in March of 2016. Priced at $49, the 38mm Woven Nylon band fits wrists sized 125 to 195mm and the 42mm Woven Nylon band fits wrists sized 145 to 215mm. The band comes in seven colors: Gold/Red, Gold/Royal Blue, Royal Blue, Pink, Pearl, Scuba Blue, and Black.

The stainless steel mesh Milanese Loop, available in 38mm and 42mm sizes, is available in Silver ($149) and Space Black ($199) to match the finishes of the Stainless Steel Apple Watch. The 38mm model fits wrists sized 130 to 180mm, while the 42mm model fits wrists sized 150 to 200mm.
The 316L stainless steel alloy Link Bracelet, available in 38mm and 42mm sizes, is also available in Silver ($449) and Space Black ($549). The 38mm model fits wrists sized 135 to 195mm while the 42mm model fits wrists sized 140 to 205mm. A 6 link add on kit expands its size from 205mm to 245mm for an additional $49.

Made from calf leather, the $149 Classic Buckle is available in 38 and 42mm sizes. The 38mm model fits wrists sized 130 to 195mm wrists and the 42mm model fits wrists sized 150 to 215mm. It comes in Saddle Brown, White, Marigold, Blue Jay, Midnight Blue, Storm Gray, Marine Blue, Black, and Red.

The Leather Loop, made from quilted Venezia leather, is priced at $149 and is only available for 42mm watches. It fits wrists sized 150mm to 210mm and is available in White, Light Brown, Stone, Midnight Blue, Storm Gray, and Black.

Its counterpart is the $249 Modern Buckle, only available for 38mm Apple Watches. The Modern Buckle fits wrists sized 135mm to 180mm and is available in Marigold, Blue Jay, Midnight Blue, Brown, Black, Soft Pink, and Red.

In April of 2016, Apple started selling Hermès leather bands on a standalone basis. The Hermès bands are available in an assortment of colors, including sapphire blue, tin gray, deer brown, fire orange, black, and white, and in three styles.

The Single Tour, a standard leather band, is available for 38 and 42mm Apple watches and is priced at $340. The 42mm model comes in sapphire blue, deer brown, fire orange, and black, while the 38mm model comes in seven colors.
The Double Tour, a leather band that wraps twice around the wrist, is available for the 38mm Apple Watch and retails for $490. It is available in eight colors including white, peacock blue, sapphire blue, tin gray, deer brown, and fire orange. The Double Tour is available in Small/Medium and Medium/Large, but the larger band is available in fewer colors.
The Cuff, a thick leather band available only for the 42mm Apple Watch and only in deer brown, is priced at $690.

Apple sells all bands on a standalone basis both online and in its retail stores.
Limited Edition Bands
For the 2016 Olympics, Apple created a selection of 14 limited edition country-specific Apple Watch bands for the U.S., Great Britain, the Netherlands, South Africa, New Zealand, Mexico, Japan, Jamaica, Canada, China, Brazil, Australia, Germany, and France. The bands can only be purchased at the VillageMall Apple Store in Barra da Tijuca, Rio de Janeiro, Brazil.

Third-Party Band Options
Shortly after the Apple Watch launched, Apple introduced a "Made for Apple Watch" program letting the company certify third-party Apple Watch bands for use with the Apple Watch. Manufacturers must follow a detailed list of rules and guidelines to gain Apple's approval and to make sure bands work properly with the device. Made for Apple Watch is similar to Apple's existing "Made for iPhone" accessory program. Apple provides accessory manufacturers with official lugs for use in Apple-sanctioned bands.
Manufacturers also sell unofficial Apple Watch adapters and bands, and there are hundreds of third-party Apple Watch bands on the market at a range of price points.
AppleCare+

AppleCare+ is available for the Apple Watch, and is priced at $49 for the Sport models, $69 for the stainless steel models, and $1,500 for the gold Apple Watch Edition models.
AppleCare+ service fees for accidental damage are priced at $69 for the Apple Watch Sport, $79 for the stainless steel Apple Watch, and $1,000 for the Apple Watch Edition. Apple has outlined what types of damage considers to be eligible for a warranty replacement and what types of damage are the fault of the user, requiring an out-of-warranty fix.
Out-of-warranty service fees for the Apple Watch are priced at $199 for the aluminum Sport model, $329 for the stainless steel and Hermès models, and $2,800 for the gold Edition model. An out-of-warranty battery replacement service is also available for $79.
Apple is also offering a free Express Replacement service for Apple Watch customers who purchase AppleCare+.
Apple Watch Issues
Tattoos
Few of Apple's new products launch without some kind of issue or controversy popping up, and the Apple Watch is no exception. Shortly after the device began showing up on doorsteps on April 24, some users with heavy tattooing on their arms noticed that the Apple Watch was not functioning properly.
Based on user testing, it appears that tattoos with dark ink interfere with the Apple Watch's heart rate sensor and skin contact registration, resulting in problems getting an accurate heart rate measurement and using the device's passcode feature, for both locking it in the event of theft and Apple Pay.
Apple Watch tattoo problems seem to vary based on the color and ink saturation of the tattoo, and dark colors cause the most interference. Users can toggle off Wrist Detection to avoid needing to enter a passcode, but this disables Apple Pay.
There seems to be no solution for people who have tattoos on their wrists that fully fixes the problem, so these individuals might want to opt out of purchasing an Apple Watch, or return their devices within the 14-day return window. Apple has acknowledged the tattoo problem in a support document, and says the only way to resolve the problem is to connect the Apple Watch to an external heart rate monitor.
"Sticky" Digital Crown
Some Apple Watch owners have complained about a sticky digital crown that becomes difficult to turn. While Apple is replacing devices brought into Apple Stores with this issue for the time being, there may be a simpler fix -- water. Apple has a support document detailing what to do if the digital crown becomes hard to turn because of dirt or debris and solving the issue requires running the Apple Watch's digital crown under water for 10 to 15 seconds.

Band Locking
A few Apple Watch users have run into issues with their bands not locking into place as they should, possibly due to a faulty locking mechanism. Apple appears to be replacing watches that have this issue with new devices.
Heart Rate Data Inconsistencies
After the Apple Watch received its first software update, some users began noticing a problem concerning the frequency with which the Apple Watch sends heart rate data to the iPhone. Prior to the update, the Apple Watch sent heart rate information to the iPhone's Health app every 10 minutes, but after the update, data is sent at far more inconsistent times with some users seeing no data reported for hours at a time. It later turned out this was an intentional change -- the Apple Watch now only collects heart rate data when a user is stationary.
Apple Watch Design
According to Apple designer Jony Ive, the Apple Watch is "one of the most difficult projects" he has worked on, and a ton of time went into the design and creation of the device. Apple consulted with several watch historians and Ive himself delved into horological history, studying clocks and watches throughout time while designing the product.
An incredible amount of work went into every minute detail of the Apple Watch, and some of the thought that was put into the device has been shared in a series of interviews published by Wired. One example cited in the interviews pertains to the images displayed on some of the Apple Watch faces. One of the faces displays different flowers blooming, and to develop that face, Apple put in 285 hours and took more than 24,000 photographs.
The Apple Watch features a rounded, rectangular body in two sizes (38mm and 42mm) that is able to snap easily into an array of interchangeable bands. There are only two "buttons" on the device -- the Digital Crown that offers several control options and the Friends button that brings up a list of contacts for quick communication.
Aiming to create watches to please a wide range of tastes, Apple designed the Apple Watch with four different custom alloys of stainless steel and aluminum in four finishes, along with two formulations of 18-karat yellow and rose gold that are designed to stand up to daily wear.
In total, there are eight different body options: Stainless Steel, Space Black Stainless Steel, Silver Aluminum, Space Gray Aluminum, Gold Aluminum, Rose Gold Aluminum, 18-karat Gold, and 18-karat Rose Gold.

Along with six separate body options, Apple has also designed seven types of custom bands for the Apple Watch: Link Bracelet, which is stainless steel and resembles a traditional watch band; Sport Band, made of a flexible and lightweight fluoroelastomer; Leather Loop, a wraparound band constructed from handcrafted leather; Modern Buckle, made from Granada leather and sporting a magnetic buckle; Classic Buckle, made from Dutch leather with a traditional buckle closure; Woven Nylon, made from 500 threads of woven fabric; and the Milanese Loop, a flexible metal mesh band designed to wrap around the wrist.

Apple has organized its various watch casings and bands into four separate collections: Apple Watch, Apple Watch Sport, Apple Watch Edition, and Apple Watch Hermès, each of which group casings and bands that Apple says "work particularly well together."

Apple Watch Collection
The Apple Watch collection includes Apple's stainless steel casings in both a highly polished silver color and space black. These watches feature a durable, scratch-resistant sapphire crystal display and are combined with several of the seven available bands in 20 configurations that can be purchased from Apple.

A selection of watches from the Apple Watch Collection
According to Apple, its stainless steel is made from a cold-forging process designed to make the 316L steel 40 percent harder and more resistant to nicks and corrosion. The black version is coated in a diamond-like carbon layer to achieve its color.
Apple Watch Sport Collection
The Apple Sport collection is the watch collection with the lowest price tag. Aimed at fitness enthusiasts, the Sport watches do not have a sapphire display, instead featuring a lightweight strengthened alumina-silicate Ion-X glass that's "especially resistant to scratches and impact."
Apple's Sport collection also features a lightweight anodized aluminum casing in either Silver or Space Gray, and in September of 2015, Apple also introduced Apple Watch Sport models in Rose Gold and Gold anodized finishes. According to Apple, the aluminum used in the Apple Sport Watch is a new alloy (7000 Series aluminum) that's 60 percent stronger than standard alloys. With the Ion-X glass and the aluminum casing, the Sport collection watches are 30 percent lighter than stainless steel models.

A selection of watches from the Apple Sport Collection
Sport watches come with a high-performance fluoroelastomer band that's durable and strong, but soft. Apple says it is more flexible than rubber traditionally used in watch bands, for a smooth drape across the wrist, with a pin-and-tuck closure for a close fit.
Apple Watch Edition Collection
The Edition collection is Apple's high-end luxury lineup, featuring casings crafted from 18-karat yellow or rose gold. Apple metallurgists have designed the gold in the Edition watches to be up to twice as hard as standard gold, which keeps it free from nicks and scratches.

18-karat yellow gold Edition Apple Watch with red Modern Buckle Band
Like the Apple Watch collection, the Edition collection features a polished sapphire crystal display that's highly durable and scratch-resistant. The Edition collection's gold casings are paired with the Modern Buckle, the Sport Band, and the Classic Buckle, creating eight different options.
The Apple Watch Edition can be purchased in select Apple Stores and a limited number of luxury stores. It ships with a special jewelry box that's able to double as a charger, unlike the less expensive watches, which come with a standard box. The back of the Edition box is equipped with a Lightning connector, and the magnetic charging pad rests inside. Users can charge the watch simply by returning it to its case at night.
Apple Watch Hermès Collection
Based on the stainless steel Apple Watch hardware, the Hermès collection developed in partnership with the French fashion accessory company offers special leather band options and a unique Hermès watch face.

The Apple Watch Hermès collection was initially available only in select retail stores, but in January of 2016 Apple made it available for online purchase. Single Tour, Double Tour, and Cuff models are available in a total of ten different style, color, and size combinations, with prices ranging from $1,100 to $1,500.
Features
The Apple Watch was created to be a companion device to the iPhone, and as such, it displays notifications when a user receives a phone call, a message, or an app alert. It offers apps, time keeping abilities, social features, and a unique interface that takes advantage of a vibration-based feedback system and the iPod-style "Digital Crown" scroll wheel.

Digital Crown and Contacts Button
Though designed as a companion to the iPhone, the Apple Watch has a limited number of offline capabilities including the ability to make Apple Pay payments, play music over Bluetooth, track activity, and display some built-in Apple apps.
Apple Watch has a water resistance rating of IPX7, so it is splash and water resistant, but it is not waterproof. It can be worn during exercise, in the rain, and while washing your hands, but it should not be submerged. Many of the Apple Watch bands, like the Modern Buckle and the Leather Loop, should also be kept out of the water. Splash tests and swim tests conducted on the Apple Watch suggest it might be more water resistant than Apple claims. It was able to survive a 1,200 meter swim workout, depth tests, and a 10 meter high dive, but users should follow Apple's guidelines and avoid submersion.
The Apple Watch may be more waterproof than suggested, but tests by one developer suggest that it's not really suitable for tracking water-based workouts because when wet, the screen can't be controlled. People wondering how it performs in water should check out his detailed report on his experimentation with the device.
The watch has a built-in speaker and a microphone, so it is able to place and receive phone calls. It was created to function as a health and fitness device, offering movement tracking capabilities combined with intuitive apps that encourage users to be more active.

Apple custom designed a special S1 package for the Apple Watch, which integrates several different subsystems into a single module. The S1's 28-nanometer processor is said to be similar in power to the A5 processor in the iPad 2 and the iPhone 4s, and according to a recent teardown, it has 512MB of RAM.
It houses a gyroscope and an accelerometer to measure activity, and a sensor that detects heart rate. The heart rate sensor consists of four sapphire lenses built into the zirconia backing of the watch that detect pulse rate (via infrared, visible-light LEDs, and photodiodes), and the device also integrates the GPS and Wi-Fi capabilities of the iPhone into several of its tracking abilities, using the phone's GPS system to determine distance traveled.
The Apple Watch has a covered diagnostic port beneath the band that's used for diagnostic purposes, but there has been some speculation that it could, in the future, enable accessories like smart bands. Third-party accessory makers have proven that the diagnostic port is also able to charge the device, but as of watchOS 2.0.1, third-party accessories are not able to interface with the Apple Watch's diagnostic port.

Image via iFixit
Battery Life
According to a dedicated battery section on the Apple Watch site, the Apple Watch lasts for approximately 18 hours with mixed usage, which the company refers to as "all-day battery life." Mixed usage is defined as 90 time checks, 90 notifications, 45 minutes of app use, and a 30-minute workout with music playback, all over the course of 18 hours. A teardown of the Apple Watch revealed a rather small 205mAh battery, just a fraction of the capacity of the battery found in the iPhone 6.

The Apple Watch lasts for up to three hours when it is being used to make phone calls, up to 6.5 hours during an active workout session, and up to 6.5 hours when playing audio. When used as a watch, the device lasts for up to 48 hours, and in Power Reserve mode, the battery lasts for up to 72 hours.
Power Reserve Mode, which can be enabled at any time, shuts down most of the functions of the watch that drain power, allowing it to continue to offer its most basic function -- time telling -- even when the Apple Watch battery is low.
As Apple notes, battery life varies by use, configuration, and other factors, so real world results may vary. According to Apple, the 42mm Apple Watch "typically" experiences longer battery life than the smaller 38mm version.
It takes 1.5 hours for the Apple Watch to be charged from 0 percent to 80 percent using the included MagSafe inductive charger, and it takes 2.5 hours for the device to get to a full 100 percent charge. The Apple Watch battery is replaceable, but users need to send the device in to Apple to get a replacement installed.
Display
The Apple Watch comes in two separate sizes, 38mm and 42mm, both of which are equipped with a Retina display. According to Apple, the "incredibly high pixel density" of the Apple Watch display makes numbers and text easy to read at a glance, even while moving."
Apple has not provided specific details on the resolution of the Apple Watch in its marketing materials, but the resolution is listed in the WatchKit SDK. The smaller 38mm Apple Watch has a resolution of 272 x 340, while the larger 42mm Apple Watch has a resolution of 312 x 390.

Apple describes the display as "extremely energy efficient" and says that it has "remarkable sharpness and contrast." On the Apple Watch and the Apple Watch Edition, the display is laminated to a machined and polished sapphire crystal. On the Apple Watch Sport, the display is protected by Ion-X glass, which is lighter than sapphire but less scratch resistant.
In a scratch test, the sapphire display of the Apple Watch proved to be highly resistant to damage, even when scratching was attempted with a drill. A scratch test conducted on the Ion-X glass display of the Apple Watch Sport suggested it is less resilient than the sapphire display of the more expensive Apple Watches, but it should still hold up well to daily wear and tear.
According to testing conducted by DisplayMate, the Apple Watch has an "excellent smart watch display" with accurate colors and picture quality. A side-by-side comparison with the iPhone 6's display suggested Apple has taken measures to ensure the Apple Watch display has the same colors, color calibration, and color accuracy as the larger smartphone screen.

Photo comparing Ion-X glass (left) and sapphire crystal (right) taken at 2,000 lux, which equates to moderate outdoor lighting
According to a series of display tests, though the Ion-X glass used in the Apple Watch Sport is more prone to scratching, it's less reflective than the sapphire used in more expensive models and is easier to see in bright lighting.
Time
According to Apple, the Apple Watch was designed to be an "incredibly accurate timepiece" that has a margin of error within 50 milliseconds. It checks against the definitive global time standard on a regular basis, adjusting the time accordingly during daylight savings time or when a user travels from one time zone to another.
Apple's focus on time has also led it to develop a variety of watch faces, offering a range of designs from a standard analog clock to Mickey Mouse to a galaxy theme that includes moon phases and a look at the solar system. Each custom watch face includes several additional customization options, letting users change colors and the information that's displayed.

A few watch face examples
Customizable features included with each Watch Face are called "Complications," and are specialized functions that offer information like moon phases, sunrise and sunset times, alarms, and weather.

Apple Watch complications, shown in the corners of the Apple Watch face
Apple Watch's accelerometer senses when a user raises his or her wrist, at which point the watch face is displayed. When not activated, the screen remains blank to conserve battery life.
Force Touch
Pressure-sensing technology called "Force Touch" has been built into the Apple Watch, allowing it to determine the difference between a tap and a press. This functionality allows for a new range of contextually specific controls, almost similar to the different abilities enabled by left clicking and right clicking on a mouse button.
Taptic Engine
Along with pressure-sensing technology, the Apple Watch has a unique haptic feedback vibration engine that's designed to deliver alerts in a subtle, gentle way, letting users feel and hear the design of the user interface. Tactile sensations are different for each kind of notification and combine with audio cues for a feedback system that's unlike anything available on the Mac or iPhone.
NFC and Apple Pay

Apple Watch includes support for NFC, which allows it to integrate with Apple's new mobile payment initiative, Apple Pay. When paired with an iPhone, the Apple Watch can be used to make payments at retailers that accept Apple Pay.
With its NFC capabilities, the Apple Watch allows iPhone users with an iPhone 5, 5s, or 5c to use Apple Pay for the first time. Without the watch, Apple Pay is limited to iPhone 6, 6s, 6 Plus, 6s Plus, and SE users as those are the only iPhones with NFC.
The built-in heart rate monitor in the Apple Watch is used to ensure secure payments through skin contact. When the Apple Watch is first put on the wrist, a user enters a PIN code to authorize Apple Pay. After that point, the watch monitors skin contact and if removed from a wrist (in the event of a theft, for example) the device is no longer able to make payments until the PIN is re-entered.
Charging
The Apple Watch uses inductive charging, taking advantage of a Magsafe-style magnetic charger that snaps easily onto the back of the device. The Apple Watch charges from 0 to 80 percent in about an hour and a half, with an additional hour required to reach full charge.
watchOS
watchOS is the operating system that's installed on the Apple Watch. Though watchOS has taken design cues from iOS 7, iOS 8, and iOS 9, it's been designed from the ground up for the Apple Watch with features that take advantage of all of the hardware in the device. Details on the current version of watchOS, watchOS 2.2.1, can be found in our watchOS roundup, as can details on the next version of watchOS, 2.2.2.
Details on new features coming to the Apple Watch this fall with watchOS 3 can be found in our dedicated watchOS 3 roundup. watchOS 3 is currently available to developers and is in the beta testing phase. Six betas have been seeded so far.
The watchOS home screen is accessed by pressing on the Digital Crown. The home screen displays all available apps in a cluster format (or "app neighborhood") that can be navigated with swipes or with the Digital Crown control. Apps are opened with a tap or by pressing down on the Digital Crown.

Apps that run on the Apple Watch are extensions of existing iPhone apps, powered by the iPhone and with a user interface that extends to the watch. When the Apple Watch launched, there were no native apps, but native app functionality was introduced with watchOS 2 and as of June 2016, all Apple Watch apps must be native. Developers also originally had limited access to Apple Watch features and were unable to access the gyroscope, accelerometer, NFC, built-in speaker and microphone, and the Taptic Engine of the device, but that all changed with watchOS 2 and watchOS 3. Apple Watch apps can now take advantage of all of the hardware the device.
Apple Watch How-Tos and Tips