Apple Watch
Apple's first wearable device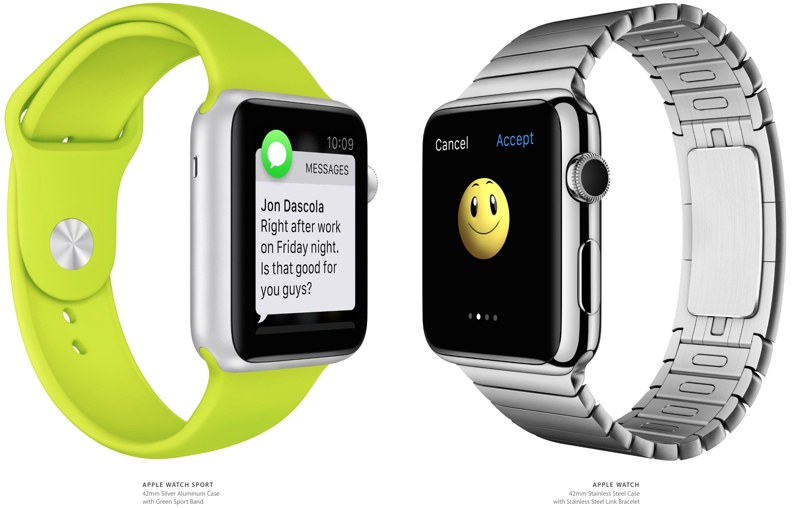 At a Glance
Apple's Watch is designed to be both fashionable and functional, available in an array of different color and materials with six different types of watch straps that are easily interchangeable. Prices for the device, which launched on April 24, start at $349 and go as high as $17,000.
Specs
Two sizes: 38mm and 42mm
Options: Stainless/Space Black Stainless Steel, Silver/Space Gray/Gold/Rose Gold Aluminum, 18-Karat Yellow Gold/Rose Gold
S1 processor
Starting at $349 for Watch Sport, $549 for Watch, and $10,000 for Watch Edition
Launched April 24
What's Next for the Apple Watch
Apple is said to be continuing its work on various health-related sensors that did not make it into the original Apple Watch due to performance problems and inconsistent results. These sensors may be incorporated into future versions of the Apple Watch following further refinement.
Apple planned to include sensors that measured things like the conductivity of the skin, blood oxygen level, and blood pressure, but the company was unable to get solid results with the sensors, ultimately deciding to scrap the technology for the first-generation Apple Watch. We could perhaps see some of these sensors in the second-generation Apple Watch, launching sometime in 2016.
Rumors initially suggested Apple would introduce the second-generation Apple Watch at an event to be held in March 2016, with shipments of the device set to begin in April 2016, but a conflicting report confirmed the Apple Watch 2 is not ready for a spring launch. Instead, a second-generation device will likely launch later in the year.
Apple is expected to hold an event on March 15, where Apple Watch bands in new designs and colors may be unveiled, including new Sport bands and a Black Milanese Loop first spotted on the Czech Apple Store. watchOS 2.2 may also launch at this event.
A rumor out of the Asian supply chain has suggested work on the next-generation Apple Watch is already underway, with Quanta working with Apple on the development of the device. Apple is rumored to be seeking an additional supplier for the device and is in talks with Inventec, Wistron, and Foxconn Electronics about manufacturing the next Apple Watch alongside Quanta. The Apple Watch 2 could potentially go into production in mid-2016, perhaps for a launch alongside the iPhone 7.
Apple has also been making additional health-related hires in recent months, possibly to accelerate work on a next-generation device.
Rumors and analyst predictions have suggested the second-generation Apple Watch could be thinner and include features like a front-facing FaceTime camera to allow Apple Watch users to make and receive FaceTime calls and a new Wi-Fi chip that may allow the Apple Watch to do more without an iPhone.
A questionable rumor from a source without a proven track record has suggested Apple is also working on next-generation Apple watch bands that will be equipped with various health sensors. Said to plug into the Apple Watch's diagnostic port, the rumor says the sensors could detect blood oxygen levels, respiratory rate, blood pressure, and body temperature.
Current Apple Watch
On September 9, 2014, Apple finally unveiled its long-rumored wearable device, the Apple Watch. While many expected the wearable to be called the "iWatch," Apple actually opted to use the Apple symbol () followed by "Watch" for the device's name. According to Apple's head of design Jony Ive, Apple has been working on the device for three years. Apple CEO Tim Cook has said that Apple's objective with the watch is to "change the way you live your life."
The Apple Watch is designed to be both functional and fashionable, available in two sizes of 38mm and 42mm (1.5 and 1.7 inches), with eight different casing materials and six separate interchangeable band options in a variety of colors. Organized into three separate collections, from the simple "Sport" to the high-end luxury "Edition," the Apple Watch has been created to appeal to a wide range of tastes.
Prices for the device start at $349 for the aluminum Watch Sport collection. The stainless steel Watch collection starts at $549, while the the gold Watch Edition collection starts at $10,000 and goes as high as $17,000.
On September 9, 2015, Apple refreshed its Apple Watch lineup with the addition of two new Sport models in Rose Gold aluminum and Gold aluminum, along with a range of new bands. Pricing for the Gold and Rose Gold models continues to start at $349.
Designed with either an ion-strengthened or flexible sapphire display (depending on model), all of the Apple Watches include an HD Retina screen, sapphire-covered sensors built into the zirconia backing, and an NFC chip to allow the devices to work with Apple's Apple Pay mobile payment service.
The Apple Watch interface, much like its exterior, has been created with end-user customization in mind. Apple has designed several unique watch faces that users can choose from, featuring traditional watch designs, whimsical characters, animated images, and more, all of which are "extensively customizable." According to Apple, one Apple Watch can have millions of different appearances. Apps on the device are organized into a unique cluster design for quick and easy access.
As with all of its products, Apple has carefully considered the way people interact with and use the Apple Watch, developing both a unique operating system (WatchOS) and unique input methods for the device. While it does allow for touch input, Apple Watch also includes a "Digital Crown" located on the right side of the body, which lets users zoom, scroll, and select elements on the Watch without covering the screen. The Digital Crown also serves as a home button.
A second physical button below the Digital Crown allows users to bring up a list of contacts and then communicate with friends by sending quick drawings, messages, animated emoji, and a heart beat, drawn directly from the watch's included sensors.
Apple Watch takes advantage of new pressure-sensing technology called "Force Touch" and is able to determine the difference between a tap and a press, enabling a range of contextually specific controls. A unique notification system allows notifications to be relayed in a subtle way through gentle vibrations using the "Taptic Engine."
There are several different sensors built into the Apple Watch, which allow it to measure metrics like steps taken, calories burned, and pulse rate. Movement information is relayed to two separate fitness-related apps, giving users an overall picture of their daily activity.

Apple's Watch is designed to be a companion device to the iPhone, and as such, it requires an iPhone to function. The Watch is not a standalone device because it relies on the iPhone for many features like relaying notifications and messages. The Apple Watch lasts for 18 hours per charge with mixed usage and up to 72 hours in Power Reserve Mode, which limits functionality.
Though dependent on the iPhone, the Apple Watch is able to connect to known Wi-Fi networks without an iPhone, letting it perform some basic functions like sending and receiving texts, querying Siri, and sending and receiving drawings.
The Apple Watch officially launched on Friday, April 24, 2015 and became available for in-store purchase on June 16 after a better supply/demand balance was achieved. In August, the Apple Watch also became available at Best Buy in the United States and Canada, and from there, it expanded to dozens of other retail locations around the world.
How to Buy
The Apple Watch can be ordered from Apple's online store or purchased from Apple retail locations The most expensive Apple Watch model, the Edition, is only available in a limited number of Apple Stores.
The Apple Watch is now available in more than 35 countries around the world, and Apple is gradually expanding Apple Watch sales to additional countries. A list of countries where the Apple Watch can be purchased and when it became available in those countries is below.
April 24: Australia, Canada, China, France, Germany, Hong Kong, Japan, UK, and United States.

June 26: Italy, Mexico, Singapore, South Korea, Spain, Switzerland, and Taiwan

July 17: The Netherlands, Sweden, and Thailand

July 31: New Zealand, Russia, and Turkey

September 25: Austria, Denmark, and Ireland

October 9: Belgium, Finland, Norway, Luxembourg, and Poland

October 16: Brazil and Colombia

October 22: Saudi Arabia and United Arab Emirates

October 23: Chile, Philippines, and South Africa

October 30: India

January 5: Malaysia

January 29: Czech Republic, Hungary, and Portugal

February 11: Bahrain, Israel, Kuwait, Oman, and Qatar

February 12: Greece
In addition to being available online and in retail Apple Stores, the Apple Watch is also available at Best Buy, B&H Photo, Target, and Walmart in the United States and in dozens of other shops and boutiques around the world.
Apple Watch Buyer's Guide
Need help deciding which Apple Watch might be right for you? Check out our Apple Watch Buyer's Guide, which walks you through all of the available options and some things you might want to consider when choosing an Apple Watch.
Apple Watch Pricing
Because it's designed to suit a wide range of customer tastes, Apple Watch pricing varies wildly. It starts at $349 on the low end for the aluminum Sport, but goes all the way up to $17,000 for the 18-karat gold Edition.
Pricing for each Apple Watch is determined by three factors: the material the case is made from (stainless steel, aluminum, or gold), size, and band choice. Across the board, 42mm Apple Watch models are priced $50 higher than smaller 38mm models, and band prices range from $49 to $449.
For the Watch Sport collection, Apple has 12 different models available, consisting of six different colors each available in 38mm and 42mm casing sizes. All 38mm models are priced a $349, while the 42mm models are priced at $399. The Silver aluminum casing is available with white, orange, and blue, fluoroelastomer sport bands.
The Space Gray aluminum Apple Watch Sport is available with a black band, while the 38mm Rose Gold Apple Watch Sport is available with a lavender band and the 42mm Rose Gold version is available with stone sport band. The 38mm Gold Apple Watch Sport is available with either an antique white band or a midnight blue band.
Apple originally offered its Apple Watch lineup with different bands, but appears to be changing the available color options on a seasonal basis. Prior to September 9, the Apple Watch Sport was sold with bands in bright spring colors of blue, pink, and green.

The two prices of the Sport Collection
The stainless steel Watch lineup is a bit more complicated, with 20 twenty different models available, 10 each in 38mm and 42mm sizes, at prices ranging from $549 to $1,099. At the low end of this tier are stainless steel Apple Watches combined with Sport Bands in black, white, and (Product) RED colors, with the 38mm models priced at $549 and the 42mm models at $599. Several other watch-band combinations such as the Milanese Loop ($649-$699) and Link Bracelet ($949-$999) are available with the same $50 premium for larger casings.
Not all bands are available for both 38mm and 42mm models, however, with a Modern Buckle available only for 38mm models at $749 with midnight blue and soft pink color options. Unique to the 42mm models is a Leather Loop band available in midnight blue and stone, with those combinations prices at $699. Finally, at the high end of the Watch collection is a unique Space Black casing paired with a Space Black stainless steel Link Bracelet, priced at $1,049 for the 38 mm model and $1,099 for the 42mm model. The Space Black stainless steel Apple Watch is also available with a black Sport Band for $549/$599.

The lowest and highest-priced watches in the Apple Watch collection
For those looking for an 18-karat gold watch, the Apple Watch Edition collection, ranging from $10,000 to $17,000, is the place to be. At the low end of this range are the black and white sport bands paired with either a rose gold or yellow gold casing. The 38mm casings are priced at $10,000 in these combinations, with the 42mm models priced at $12,000.
For $15,000, customers can opt for the 42mm Apple Watch in yellow gold with a black Classic Buckle or rose gold with a midnight blue Classic Buckle. The lineup tops out at $17,000 with the 38mm casing available with in rose gold with a rose gray Modern Buckle or in yellow gold with a bright red Modern Buckle. All Watch Edition watches are available in limited quantities.

The lowest and highest-priced watches in the Apple Watch Edition collection.
Apple is also partnering with some third-party companies to create bands for the Apple Watch. The company's first collaboration is with luxury brand Hermès, with Apple selling complete Apple Watch sets outfitted with Hermès bands. There are three varieties: the Double Tour, the Single Tour, and the Cuff, all of which became available in select retail stores in October of 2015. In January of 2016, the Hermès Apple Watch collection also became available for purchase from the online Apple Store and the Hermès website.
Priced at $1,250, the leather Double Tour includes a 38mm stainless steel watch case. It's available in four colors: Fauve, Etain, Capucine, and Bleu Jean, and is called the Double Tour because it wraps twice around the wrist. The Single Tour is a more classic design that includes a 38 or 42mm stainless steel Apple Watch at prices that start at $1,100. It too comes in several colors, including Fauve, Noir, and Capucine.

The Cuff, priced at $1,500, ships with a 42mm stainless steel Apple watch and is available only in Fauve. It's a thicker cuff-style band that's been specially designed to let the heart rate sensor stay in contact with the wrist. Apple does not sell the Hermés bands on their own without an included watch, likely due to the special watch face that's included.
Band Options
Along with various Apple Watch sets that come with bands included, Apple is also selling watch bands on a standalone basis, letting customers pick up additional bands to go with their watches. Apple may be updating its band collection on a seasonal basis, as it began offering new fall colors in September of 2015.
Pricing starts at $49 for the Sport Bands, which come with three pieces to adjust the size. At launch, Apple only offered Sport Bands in S/M and M/L size options. Customers requested larger sizing options and four months later, Apple introduced an L/XL option for the 42mm Apple Watch Sport band, able to fit wrist sizes up to 245mm.
In September, Apple introduced Sport Bands in a widely expanded range of colors. There are now 16 different color options ranging from gray to turquoise to pink to orange.
Other bands include the Milanese Loop, Leather Loop (42 mm only - in Stone, Black, Brown, and Midnight Blue), or Classic Buckle (in Black or Saddle Brown), which are available for $149, and the Modern Buckle (38mm only - in Blue, Brown, Black, and Pink), available for $249. The Link Bracelet is the most expensive Apple Watch band available, priced starting at $449. The Link Bracelet, available in Silver and Space Black (which is $549), also has an add-on 6 Link Kit that expands its size from 205mm to 245mm for an additional $49.

While bands like the Milanese Loop and the Link Bracelet come in a single size that's designed to fit a wide range of wrist sizes, the Modern Buckle, Leather Loop, and Sport Band come in multiple sizes ranging from small to extra large. Apple has made a fit guide for each of the bands to help users choose the best band. [PDF]
Apple sells all bands on a standalone basis both online and in its retail stores. Most Apple Watch bands have been available since the Apple Watch launched with the exception of the Modern Buckle, which became available for purchase in August of 2015.
Third-Party Band Options
In early May, Apple introduced a "Made for Apple Watch" program letting the company certify third-party Apple Watch bands for use with the Apple Watch. Manufacturers must follow a detailed list of rules and guidelines to gain Apple's approval and to make sure bands work properly with the device. Made for Apple Watch is similar to Apple's existing "Made for iPhone" accessory program, and in October, Apple began providing accessory manufacturers with official lugs for use in Apple-sanctioned bands.
While there are no official third-party bands available for purchase, Apple Watch users have discovered that the Modern and Classic Buckle bands can be disassembled, allowing the parts from the watches to be used with standard 22mm watch bands. A demonstration of the process is available in the video below.
Manufacturers have also begun selling unofficial Apple Watch adapters and bands, some of which are quite nice. Our forum members have been experimenting with different band options for the Apple Watch, and we've created a list highlighting some of the best third-party bands available.
AppleCare+
AppleCare+ is available for the Apple Watch, and is priced at $49 for the Sport models, $69 for the stainless steel models, and $1,500 for the gold Apple Watch Edition models. There's also a combined AppleCare+ option for the iPhone and the Apple Watch, priced at $149 for Apple Watch Sport, $169 for the stainless steel Apple Watch, and $1,600 for the gold Apple Watch Edition. Combined AppleCare+ can be purchased up to six months after an iPhone purchase.
AppleCare+ service fees for accidental damage are priced at $69 for the Apple Watch Sport, $79 for the stainless steel Apple Watch, and $1,000 for the Apple Watch Edition. Apple has outlined what types of damage considers to be eligible for a warranty replacement and what types of damage are the fault of the user, requiring an out-of-warranty fix.
Out-of-warranty service fees for the Apple Watch are priced at $229 for the aluminum Sport model, $329 for the stainless steel model, and $2,800 for the gold Edition model. An out-of-warranty battery replacement service is also available for $79.
Apple is also offering a free Express Replacement service for Apple Watch customers that purchase AppleCare+.
Apple Watch How-Tos and Tips
Apple Watch Issues
Tattoos
Few of Apple's new products launch without some kind of issue or controversy popping up, and the Apple Watch is no exception. Shortly after the device began showing up on doorsteps on April 24, some users with heavy tattooing on their arms noticed that the Apple Watch was not functioning properly.
Based on user testing, it appears that tattoos with dark ink interfere with the Apple Watch's heart rate sensor and skin contact registration, resulting in problems getting an accurate heart rate measurement and using the device's passcode feature, for both locking it in the event of theft and Apple Pay.
Apple Watch tattoo problems seem to vary based on the color and ink saturation of the tattoo, and dark colors cause the most interference. Users can toggle off Wrist Detection to avoid needing to enter a passcode, but this disables Apple Pay.
There seems to be no solution for people who have tattoos on their wrists that fully fixes the problem, so these individuals might want to opt out of purchasing an Apple Watch, or return their devices within the 14-day return window. Apple has acknowledged the tattoo problem in a support document, and says the only way to resolve the problem is to connect the Apple Watch to an external heart rate monitor.
Taptic Sensor Production
The Apple Watch has been in short supply since pre-orders for the device launched on April 10, and towards the end of the month, a report from The Wall Street Journal shed some light on what might have caused supply shortages.
Apple had two suppliers for the Taptic Engine in the Apple Watch and early on in production, it was discovered that Taptic Engine components from one of the suppliers were faulty. Apple was unable to use those Taptic Engine components, potentially leading to delays in production.
The Taptic Engine is an integral part of the Apple Watch, powering the gentle taps that users receive for notifications, heartbeats, and more. Apple caught the Taptic Engine problem early on, so Apple Watch buyers do not need to worry about receiving a device with a faulty Taptic Engine.
Qantas Airlines Boarding Pass Scanner
A problem that Qantas airlines ran into has given an interesting look at some of the pitfalls that occur when features are promised before a device is available for testing. The Apple Watch works with Passbook, allowing it to load boarding passes from participating airlines like Qantas.
As it turns out, an Apple Watch attached to a wrist does not fit under the Qantas airline's gate scanner for boarding passes, being too thick for something that was originally meant to scan a piece of paper.
"Sticky" Digital Crown
Some Apple Watch owners have complained about a sticky digital crown that becomes difficult to turn. While Apple is replacing devices brought into Apple Stores with this issue for the time being, there may be a simpler fix -- water. Apple has a support document detailing what to do if the digital crown becomes hard to turn because of dirt or debris and solving the issue requires running the Apple Watch's digital crown under water for 10 to 15 seconds.

Band Locking
A few Apple Watch users have run into issues with their bands not locking into place as they should, possibly due to a faulty locking mechanism. Apple appears to be replacing watches that have this issue with new devices.
Activation Lock
The iPhone's Activation Lock does not extend to the Apple Watch, so there is nothing preventing a lost or stolen Apple Watch from being wiped and registered to a new device. The Apple Watch has a passcode, but it can be removed through a reset, which Apple highlights as a feature.
Watches don't generally come with anti-theft mechanisms, but if the Apple Watch follows in the footsteps of the iPhone, it could become a target for thieves due to its resale value and its high desirability. iPhone theft caused crime to rise in major cities like San Francisco and New York, leading to lawmakers to call for security features that led to the introduction of Activation Lock. Activation Lock was later added with watchOS 2.
Heart Rate Data Inconsistencies
After the Apple Watch received its first software update, some users began noticing a problem concerning the frequency with which the Apple Watch sends heart rate data to the iPhone. Prior to the update, the Apple Watch sent heart rate information to the iPhone's Health app every 10 minutes, but after the update, data is sent at far more inconsistent times with some users seeing no data reported for hours at a time. It later turned out this was an intentional change -- the Apple Watch now only collects heart rate data when a user is stationary.
Apple Watch Design
According to Apple designer Jony Ive, the Apple Watch is "one of the most difficult projects" he has worked on, and a ton of time went into the design and creation of the device. Apple consulted with several watch historians and Ive himself delved into horological history, studying clocks and watches throughout time while designing the product.
An incredible amount of work went into every minute detail of the Apple Watch, and some of the thought that was put into the device has been shared in a series of interviews published by Wired. One example cited in the interviews pertains to the images displayed on some of the Apple Watch faces. One of the faces displays different flowers blooming, and to develop that face, Apple put in 285 hours and took more than 24,000 photographs.
Apple Watch features a rounded, rectangular body in two separate sizes (38mm and 42mm) that is able to snap easily into an array of interchangeable bands. There are only two "buttons" on the device, including the Digital Crown that offers several control options and the Friends button that brings up a list of contacts.
Aiming to create watches to please a wide range of tastes, Apple designed the Apple Watch with four different custom alloys of stainless steel and aluminum in four finishes, along with two formulations of 18-karat yellow and rose gold that are designed to stand up to daily wear.
In total, there are eight different body options: Stainless Steel, Space Black Stainless Steel, Silver Aluminum, Space Gray Aluminum, Gold Aluminum, Rose Gold Aluminum, 18-karat Gold, and 18-karat Rose Gold.

Along with six separate body options, Apple has also designed six types of custom bands for the Apple Watch: Link Bracelet, which is stainless steel and resembles a traditional watch band; Sport Band, made of a flexible and lightweight fluoroelastomer; Leather Loop, a wraparound band constructed from handcrafted leather; Modern Buckle, made from Granada leather and sporting a magnetic buckle; Classic Buckle, made from Dutch leather with a traditional buckle closure; and the Milanese Loop, a flexible metal mesh band designed to wraparound the wrist.

Apple has organized its various watch casings and bands into three separate collections: Apple Watch, Apple Watch Sport, and Apple Watch Edition, each of which group casings and bands that Apple says "work particularly well together."

Apple Watch Collection
The Apple Watch collection includes Apple's stainless steel casings in both a highly polished silver color and space black. These watches feature a durable, scratch-resistant sapphire crystal display and are combined with several of the six available bands in 20 configurations that can be purchased from Apple.

A selection of watches from the Apple Watch Collection
According to Apple, its stainless steel is made from a cold-forging process designed to make the 316L steel 40 percent harder and more resistant to nicks and corrosion. The black version is coated in a diamond-like carbon layer to achieve its color.
Apple Watch Sport Collection
The Apple Sport collection is the watch collection with the lowest price tag. Aimed at fitness enthusiasts, the Sport watches do not have a sapphire display, instead featuring a lightweight strengthened alumina-silicate Ion-X glass that's "especially resistant to scratches and impact."
Apple's Sport collection also features a lightweight anodized aluminum casing in either Silver or Space Gray, and in September of 2015, Apple also introduced Apple Watch Sport models in Rose Gold and Gold anodized finishes. According to Apple, the aluminum used in the Apple Sport Watch is a new alloy (7000 Series aluminum) that's 60 percent stronger than standard alloys. With the Ion-X glass and the aluminum casing, the Sport collection watches are 30 percent lighter than stainless steel models.

A selection of watches from the Apple Sport Collection
Sport watches come with a high-performance fluoroelastomer band that's durable and strong, but soft. Apple says it is more flexible than rubber traditionally used in watch bands, for a smooth drape across the wrist, with a pin-and-tuck closure for a close fit
Apple Watch Edition Collection
The Edition collection is Apple's high-end luxury lineup, featuring casings crafted from 18-karat yellow or rose gold. Apple metallurgists have designed the gold in the Edition watches to be up to twice as hard as standard gold, which keeps it free from nicks and scratches.

18-karat yellow gold Edition Apple Watch with red Modern Buckle Band
Like the Apple Watch collection, the Edition collection features a polished sapphire crystal display that's highly durable and scratch-resistant. The Edition collection's gold casings are paired with the Modern Buckle, the Sport Band, and the Classic Buckle, creating eight different options.

18-karat rose gold Edition Apple Watch with white Sport Band
The Apple Watch Edition can be purchased in select Apple Stores and a limited number of luxury stores. It ships with a special jewelry box that's able to double as a charger, unlike the less expensive watches, which come with a standard box. The back of the Edition box is equipped with a Lightning connector, and the magnetic charging pad rests inside. Users can charge the watch simply by returning it to its case at night.
Features
The Apple Watch was created to be a companion device to the iPhone, and as such, it displays notifications when a user receives a phone call, a message, or an app alert. It offers apps, time keeping abilities, social features, and a unique interface that takes advantage of a vibration-based feedback system and the iPod-style "Digital Crown" scroll wheel.

Digital Crown and Contacts Button
Though designed as a companion to the iPhone, the Apple Watch has a limited number of offline capabilities including the ability to make Apple Pay payments, play music over Bluetooth, track activity, and display some built-in Apple apps.
Apple Watch has a water resistance rating of IPX7, so it is splash and water resistant, but it is not waterproof. It can be worn during exercise, in the rain, and while washing your hands, but it should not be submerged. Many of the Apple Watch bands, like the Modern Buckle and the Leather Loop, should also be kept out of the water. Splash tests and swim tests conducted on the Apple Watch suggest it might be more water resistant than Apple claims. It was able to survive a 1,200 meter swim workout, depth tests, and a 10 meter high dive, but users should follow Apple's guidelines and avoid submersion.
The Apple Watch may be more waterproof than suggested, but tests by one developer suggest that it's not really suitable for tracking water-based workouts because when wet, the screen can't be controlled. People wondering how it performs in water should check out his detailed report on his experimentation with the device.
The watch has a built-in speaker and a microphone, so it is able to place and receive phone calls. It was created to function as a health and fitness device, offering movement tracking capabilities combined with intuitive apps that encourage users to be more active.
Apple custom designed a special S1 package for the Apple Watch, which integrates several different subsystems into a single module. The S1's 28-nanometer processor is said to be similar in power to the A5 processor in the iPad 2 and the iPhone 4s, and according to a recent teardown, it has 512GB of RAM. It houses a gyroscope and an accelerometer to measure activity, and a sensor that detects heart rate. The heart rate sensor consists of four sapphire lenses built into the zirconia backing of the watch that detect pulse rate (via infrared, visible-light LEDs, and photodiodes), and the device also integrates the GPS and Wi-Fi capabilities of the iPhone into several of its tracking abilities, using the phone's GPS system to determine distance traveled.
The Apple Watch has a covered diagnostic port beneath the band that's used for diagnostic purposes, but there has been some speculation that it could, in the future, enable accessories like smart bands. Third-party accessory makers have proven that the diagnostic port is also able to charge the device.

Battery Life
finally released new information on how long we can expect our Apple Watch devices to last before needing to be charged.
According to a dedicated battery section on the Apple Watch site, the Apple Watch lasts for approximately 18 hours with mixed usage, which the company refers to as "all-day battery life." Mixed usage is defined as 90 time checks, 90 notifications, 45 minutes of app use, and a 30-minute workout with music playback, all over the course of 18 hours. A teardown of the Apple Watch revealed a rather small 205mAh battery, just a fraction of the capacity of the battery found in the iPhone 6.
The Apple Watch lasts for up to three hours when it is being used to make phone calls, up to 6.5 hours during an active workout session, and up to 6.5 hours when playing audio. When used as a watch, the device lasts for up to 48 hours, and in Power Reserve mode, the battery lasts for up to 72 hours.
Power Reserve Mode, which can be enabled at any time, shuts down most of the functions of the watch that drain power, allowing it to continue to offer its most basic function -- time telling -- even when the Apple Watch battery is low.
As Apple notes, battery life varies by use, configuration, and other factors, so real world results may vary. According to Apple, the 42mm Apple Watch "typically" experiences longer battery life than the smaller 38mm version.
It takes 1.5 hours for the Apple Watch to be charged from 0 percent to 80 percent using the included MagSafe inductive charger, and it takes 2.5 hours for the device to get to a full 100 percent charge. The Apple Watch battery is replaceable, but users need to send the device in to Apple to get a replacement installed.
Display
The Apple Watch comes in two separate sizes, 38mm and 42mm, both of which are equipped with a Retina display. According to Apple, the "incredibly high pixel density" of the Apple Watch display makes numbers and text easy to read at a glance, even while moving."
Apple has not provided specific details on the resolution of the Apple Watch in its marketing materials, but the resolution is listed in theWatchKit SDK. The smaller 38mm Apple Watch has a resolution of 272 x 340, while the larger 42mm Apple Watch has a resolution of 312 x 390.
Apple describes the display as "extremely energy efficient" and says that it has "remarkable sharpness and contrast." On the Apple Watch and the Apple Watch Edition, the display is laminated to a machined and polished sapphire crystal. On the Apple Watch Sport, the display is protected by Ion-X glass, which is lighter than sapphire but less scratch resistant.
In a scratch test, the sapphire display of the Apple Watch proved to be highly resistant to damage, even when scratching was attempted with a drill.
A scratch test conducted on the Ion-X glass display of the Apple Watch Sport suggested it is less resilient than the sapphire display of the more expensive Apple Watches, but it should still hold up well to daily wear and tear.
According to testing conducted by DisplayMate, the Apple Watch has an "excellent smart watch display" with accurate colors and picture quality. A side-by-side comparison with the iPhone 6's display suggested Apple has taken measures to ensure the Apple Watch display has the same colors, color calibration, and color accuracy as the larger smartphone screen.
According to a series of display tests, though the Ion-X glass used in the Apple Watch Sport is more prone to scratching, it's less reflective than the sapphire used in more expensive models and is easier to see in bright lighting.
Time
According to Apple, the Apple Watch was designed to be an "incredibly accurate timepiece" that has a margin of error within 50 milliseconds. It checks against the definitive global time standard on a regular basis, adjusting the time accordingly during daylight savings time or when a user travels from one time zone to another.
Apple's focus on time has also led it to develop a variety of watch faces, offering a range of designs from a standard analog clock to Mickey Mouse to a galaxy theme that includes moon phases and a look at the solar system. Each custom watch face includes several additional customization options, letting users change colors and the information that's displayed.

A few watch face examples
Customizable features included with each Watch Face are called "Complications," and are specialized functions that offer information like moon phases, sunrise and sunset times, alarms, and weather.

Apple Watch's accelerometer senses when a user raises his or her wrist, at which point the watch face is displayed. When not activated, the screen remains blank to conserve battery life.
Force Touch
Pressure-sensing technology called "Force Touch" has been built into the Apple Watch, allowing it to determine the difference between a tap and a press. This functionality allows for a new range of contextually specific controls, almost similar to the different abilities enabled by left clicking and right clicking on a mouse button.
Taptic Engine
Along with pressure-sensing technology, the Apple Watch has a unique haptic feedback vibration engine that's designed to deliver alerts in a subtle, gentle way, letting users feel and hear the design of the user interface. Tactile sensations are different for each kind of notification and combined with audio cues for a feedback system that's unlike anything available on the Mac or iPhone.
NFC and Apple Pay
Apple Watch includes support for NFC, which allows it to integrate with Apple's new mobile payment initiative, Apple Pay. When paired with an iPhone, the Apple Watch can be used to make payments at retailers that accept Apple Pay.
With its NFC capabilities, the Apple Watch allows iPhone users with an iPhone 5, 5s, or 5c to use Apple Pay for the first time. Currently, Apple Pay is limited to iPhone 6 and iPhone 6 Plus users as those are the only iPhones with NFC.
The built-in heart rate monitor is used to ensure secure payments through skin contact. When the Apple Watch is first put on the wrist, a user enters a PIN code to authorize Apple Pay. After that point, the watch monitors skin contact and if removed from a wrist (in the event of a theft, for example) the device is no longer able to make payments until the PIN is re-entered.
Charging
The Apple Watch uses inductive charging, taking advantage of a Magsafe-style magnetic charger that snaps easily onto the back of the device. The Apple Watch charges from 0 to 80 percent in about an hour and a half, with an additional hour required to reach full charge.
Watch OS
Watch OS is the operating system that's installed on the Apple Watch. Though WatchOS has taken design cues from iOS 7 and iOS 8, it's been designed from the ground up for the Apple Watch with features that take advantage of all of the hardware in the device.
Current Version
The current version of watchOS is watchOS 2.1, which was released to the public on December 8, 2015. watchOS 2.1 includes multiple bug fixes to improve the performance of the device, addressing issues with third-party apps, Power Reserve mode, Calendar complications, and more. The update also includes support for several new languages.
Apple is also working on watchOS 2.2, which will be the next update to the watchOS 2 operating system. Currently being beta tested by developers, watchOS 2.2 and its sister update iOS 9.3 allow multiple Apple Watches to connect to a single iPhone. The update also includes minor feature tweaks, bug fixes, and performance improvements, along with new features and a revamped look for the Maps app. Rumors suggest watchOS 2 may be released at a planned March event that will also see the debut of new watch bands.
As the first significant update to watchOS, watchOS 2 introduced a lot of new features to the Apple Watch, mainly through new developer tools. watchOS 2 brought native apps that run on the watch itself instead of the iPhone, and it let developers access several sensors and hardware features including the Taptic Engine, heart rate monitor, microphone, and accelerometer.
Along with these features for developers, watchOS 2 also included new watch faces (photo album and time-lapse), third-party Complications, a tweak that makes the screen stay on for up to 70 seconds when activated, and Activation Lock.
watchOS 2 also included a new Time Travel feature for viewing past and upcoming events in a watch face Complication, and a Nightstand mode that's activated when the watch is charging, displaying the time.
watchOS Details
By default, the Apple Watch display remains black and blank when a user's arm is down to save battery. When a user raises up his or her wrist, the watch face with the time and other user-selected information is displayed.

The watchOS home screen can be accessed by pressing on the Digital Crown. The home screen displays all available apps in a cluster format (or "app neighborhood") that can be navigated with swipes or with the Digital Crown control. Apps are opened with a tap.
Apps that run on the Apple Watch are extensions of existing iPhone apps, powered by the iPhone and with a user interface that extends to the watch. When the Apple Watch launched, there were no native apps, but native app functionality was introduced with watchOS 2. Developers also originally had limited access to Apple Watch features and were unable to access the gyroscope, accelerometer, NFC, built-in speaker and microphone, and the Taptic Engine of the device, but that all changed with watchOS 2. Apple Watch apps can now take advantage of all of the hardware the device.
Notifications are one of the main features of the Apple Watch, mirroring alerts received on the iPhone. Notifications are only received when the watch is on the wrist and in contact with skin.
There are two types of notifications on the Apple Watch: a "Short Look" where a notification is only briefly visible and a "Long Look" activated when a user raises their wrist. "Long Look" notifications are also known as Actionable Notifications, letting users respond to an incoming notification. For example, a user might receive a Short Look notification from Mail when a new email is received, which morphs into a Long Look notification where an action like a reply can be taken.
Digital Touch
Social interaction is a cornerstone of watchOS, and the various sensors and technological capabilities built into the Apple Watch allow for new ways of communication between users, mainly through a set of features Apple's named "Digital Touch."
With Digital Touch, users can send taps to each other or take advantage of the touch screen to draw and send simple sketches. Apple Watch has specially designed animated emoji, plus a list of pre-determined response messages (which improve over time based on user input) that can be used as text message replies. It's also possible to use the built-in heart rate monitor to send an actual heartbeat to another user, which is relayed through vibrations and a heart on the watch display.
Accessibility
As it does with all of its products, Apple has paid special attention to accessibility with the Apple Watch, making the device suitable for use by people with a range of visual, physical, and aural disabilities.
Apple has created an outline of all the Apple Watch accessibility features on its website, highlighting functions like VoiceOver, font adjustment, Taptic notifications, and mono audio.
For the visually impaired, Apple offers VoiceOver, able to speak whatever appears on the screen (compatible with built-in apps and available in 14 languages). There are also settings to increase the size of the Apple Watch type, make text heavier, zoom in, turn on an extra large watch face, reduce transparency, reduce motion, and activate grayscale.

For people who have hearing loss, Apple Watch supports mono audio, letting users play both audio channels in both ears, adjusting the balance for greater volume in either ear. The Taptic Engine, with its gentle touch-based notifications, is also cited by Apple as an accessibility tool.
Accessibility features can be accessed through the Apple Watch directly or through the Apple Watch Settings app on a paired iPhone.
Fitness
There are two separate fitness apps pre-installed on the Apple Watch, each designed to track different fitness elements. The Activity app gives users an overview of their daily fitness levels, with three "rings" representing calories burned, exercise completed, and how often a break is taken from sitting. Activity has a companion iPhone app to let users track trends over time, providing a comprehensive overview of daily activity and workout history along with achievements for reaching fitness goals.

A second Workout app displays real-time stats like time spent exercising, distance traveled, calories burned, and pace when working out. It encourages users to set, meet, and beat fitness goals, and over time, it is able to suggest new, attainable fitness goals and act as a digital personal trainer. The Workout app can be programmed for different workouts before you begin an activity, and it'll monitor your progress. You can set it for a walk or run, for example, or a bicycling session. There are also several settings for different workout machines like rowers and ellipticals.
Health and fitness was one of Apple's main focal points when developing the Apple Watch. The company has a secret testing facility where it gathered health and fitness data from Apple employees for years to develop the Apple Watch.
Employees were outfitted with a wide array of sensors and wear masks that measure statistics like changes in breathing. Volunteers were subjected to widely varying workout regimens including rowing, yoga, and running, to collect data for the Apple Watch. Apple collected more than 18,000 hours of data for the Apple Watch, both indoors in special rooms that featured different climates, and in various locations around the world.
Though heavily reliant on the iPhone, certain Apple Watch features continue to work when you're away from your device. For example, the device is able to learn a user's stride after a few exercises completed while paired with an iPhone, and then it's able to accurately track fitness-related statistics without needing to be tethered to an iPhone.
Siri
As might be expected from a device with limited space for user input, the Apple Watch includes Siri integration. Users can ask Siri to perform many of the tasks the personal assistant is able to perform on the iPhone, such as sending messages, getting directions, or looking up information.
Siri can be activated by holding down the Digital Crown or raising a wrist and using the "Hey Siri" command.
Other Apps
For the most part, apps that are available for the Apple Watch are more limited versions of some of the apps available on iOS and OS X. For example, the included Messages app lets users dictate messages or select quick responses from pre-set options.
The Phone app, meanwhile, lets users conduct quick conversations that can be transferred to the iPhone, a car's speakerphone, or a Bluetooth headset, if desired. Incoming phone alerts can be silenced by covering the Apple Watch with a hand.

Phone, Mail, and Messages
Mail, another app present on Watch OS, displays incoming email messages. Users can read a message, flag it, mark it read/unread, move it to trash, or respond using dictation.
Other built-in apps:
- Calendar: Displays what's coming up next in a user's day, sends meeting reminders and allows users to accept calendar invitations.
- Maps: Lets users view current location and get turn-by-turn directions. Maps takes advantage of Taptic Feedback, delivering different vibrations for a left or right turn.
- Passbook: Like on the iPhone, Passbook stores boarding passes, tickets, loyalty cards, and credit cards. It's an integral part of Apple Pay.
- Music: Users can control the music on their iPhones via Apple Watch and Apple Watch can also play music directly.
- Apple TV, iTunes: Apple Watch can serve as a remote control for both iTunes and the Apple TV, letting users navigate the interface with the watch.
- Camera/Photos: Apple Watch serves as a remote shutter for the iPhone's camera. It can display a live preview of what the iPhone sees, and snap the picture. Apple Watch also displays photos that are favorited on the iPhone in its Photos app.
- Clock: Similar to the iPhone's clock app, Apple Watch has stopwatch, timer, and alarm functionality built in, along with a world clock.
- Weather: Apple Watch lets users to see the weather in their immediate location or anywhere in the world. The app displays a detailed daily report and a weekly forecast.
- Settings: A Settings app serves as a hub to enable and disable various Apple Watch features, including Bluetooth, Do Not Disturb, and Mute. This app also lets users ping their iPhones to determine its location should it become lost.
Apple Watch supports third-party apps, allowing developers to create three distinct types of software for the device: "Actionable Notifications" that are essentially interactive third-party app notifications sent from the iPhone, Glances, which display quick bits of info, and full on apps that run either on the iPhone or on the Apple Watch itself.

Example of Actionable Notifications, Glances, and Apps
Continuity
watchOS, like OS X Yosemite and iOS 8, supports Apple's new Continuity features that allow the operating systems to integrate with each other in innovative ways. With Handoff, for example, users are able to shift tasks from one device to another with ease, so a phone call, message, or email can be transferred from the Apple Watch to a Mac or iOS device.
iPhone Companion App
iOS 8.2 included a pre-installed iPhone app called just "Watch," which serves as a companion to the upcoming device. It serves as a place for Apple Watch owners to control settings on the device and download apps.
An iPhone pairs with an Apple Watch using the companion app, though the iPhone's camera. A pairing menu available now asks users to hold their Apple Watch devices up to the camera to initiate a connection.

The Apple Watch companion app has menus for configuring the app layout on the Apple Watch (rearranging the home screen cluster), toggling on notifications and glances, choosing brightness and text size, and controlling sounds and haptic feedback (the gentle vibrations you get with notifications). One neat haptic feature is the ability to cover the watch display with a hand to mute it.

You can use the iPhone app to toggle on Airplane Mode, turn on Do Not Disturb, and set a passcode. There are controls for individual app settings, and it's possible to choose the orientation of the Apple Watch display to left wrist or right wrist. You can also toggle on "Wrist Detection," which activates the watch display whenever the wrist is raised and shows the time.
There's a friends list available to add friends to communicate with (by sending heartbeats and drawings), and there are options to control Activity alerts, manage music, and manage photos.