Apple Watch Series 3 Can Now Track Skiing and Snowboarding Activity
Apple has announced that skiers and snowboarders can use Apple Watch Series 3 to track their activities starting today.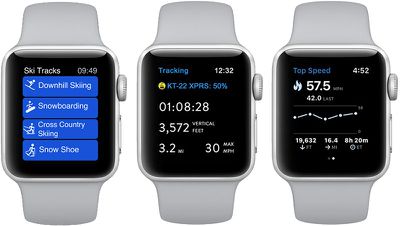 Apple Watch apps snoww, Slopes, Squaw Alpine, Snocru, and Ski Tracks have each been updated to take advantage of custom workout APIs released in watchOS 4.2 that enable tracking of specialized metrics:
Total vertical descent and horizontal distance
Number of runs
Average and maximum speeds
Total time spent
Calories burned
While not all of this information is available in the Activity or Workout apps at this time, some of the apps do have integrations. Ski Tracks, for example, features 17 different snow workouts that can earn credit towards Activity rings, while Snocru contributes active calorie measurements to the Activity app.
The ski and snowboard tracking is limited to Apple Watch Series 3 models, which are the only ones with a built-in altimeter to track elevation. TechCrunch's Katie Roof shared a closer look at some of the updated apps, which are now available on the App Store and require watchOS 4.2 or later.