tvOS 10
tvOS 10 with better Siri support and more launched on September 13, 2016.
Roundup last updated on September 12, 2017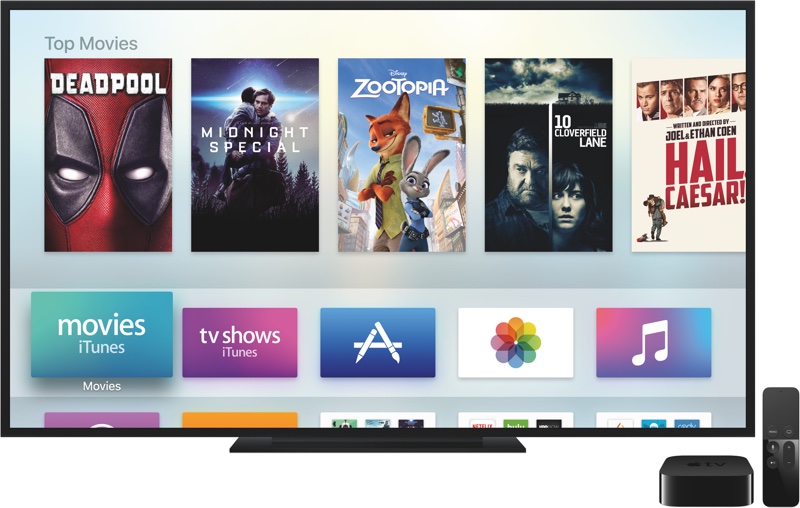 At a Glance
The new tvOS 10 update for the Apple TV brings features like topic-based Siri searches, a dark mode, and new capabilities for apps like Photos and Apple Music.
Features
Single sign-on authentication
Live Tune-In
Games can require controllers
Topic-based Siri searches
HomeKit commands
New iPhone Remote app
Dark mode
What's New in tvOS 10
tvOS is the operating system that runs on the Apple TV, taking iOS-style design elements and translating them to an interface made for the larger screen of a television set. tvOS is designed to put content front and center, with a familiar app-centric design that's easy to navigate through the touch-based remote and Siri voice commands.
tvOS, like iOS, features a full App Store that allows users to choose apps to install on the device. The App Store features content-based apps like Netflix and Hulu, but it also features games, weather, educational options, photo viewing apps, music apps, and more.
Since the fourth-generation Apple TV launched in October of 2015, Apple has been steadily updating tvOS with new features like Bluetooth keyboard support, dictation support, and more, and on June 13, 2016, Apple unveiled the latest version of the tvOS operating system -- tvOS 10.
tvOS 10 builds on the initial tvOS features, introducing improved search, expanded Siri capabilities, Single Sign-On authentication, and a dedicated Apple TV Remote app for iOS devices.
Siri is able to search for movies by topic, bringing up content around a theme like "high school comedies from the 80s" or "movies about baseball" or "movies about dinosaurs." Through a Live Tune-In feature introduced earlier this year but promoted as part of tvOS 10, Siri can also go directly to a live channel in a supported app with commands like "Watch CBS News" or "Watch ESPN."

Also new is Siri support for searching YouTube and managing HomeKit accessories.
Single Sign-On for pay TV apps became available in December of 2016, allowing users to sign in once on the Apple TV with their cable credentials to access live cable content included in a cable subscription.
Third-party apps can do more with new developer APIs for recording and live broadcasting, accessing iCloud Photo Library photos, using HomeKit within third-party apps, and developing apps with more complicated controls that necessitate a controller.
A new Apple TV Remote app for iOS devices mirrors the capabilities of the physical Siri Remote with touch navigation, Siri integration, and gameplay support, and tvOS is also gaining features from iOS 10. The Apple Music app has been redesigned and there's a new "Memories" feature in the Photos app for surfacing collections of photos.
Other new Apple TV features include a dark mode to darken the interface, a Continuity option that connects to the iPhone for easier text input, and an option for automatically downloading universal apps.
tvOS 10 was released to the public on September 13, 2016 after several months of beta testing.
Current Version - tvOS 10.2.1
The current version of tvOS is tvOS 10.2.2, released to the public on July 19, 2017. tvOS 10.2.2 is a minor update that focuses on bug fixes and security improvements rather than outward facing changes.
The New "TV" App
In tvOS 10.1, Apple introduced a new app called "TV," which brings a "unified TV experience" across the Apple TV and iOS devices. Designed to make it easy to discover TV shows and movies, the TV app can be thought of as an Apple-designed TV guide.

Working hand-in-hand with the Siri Live Tune-In feature, the TV app allows users to find interesting content and get to it quickly. TV is organized into several sections, shown in the video below.
Watch Now - The main menu in the TV app. It features a collection of shows and movies available from iTunes and other apps, plus links to Up Next. Watch Now also has a list of curated and trending TV shows and movies selected by Apple editors or organized into specific categories like kids or comedy.
Up Next - Up Next is a feature that keeps track of what a user is watching, remembering which episode of a TV show was just watched or where a movie was paused, even across multiple devices. When an episode of a TV show is finished, or when there's a new episode available, Up Next automatically displays it in the Up Next queue. Siri can also be used with Up Next. Asking Siri to continue a movie or TV show plays the last thing that was watched.
Library - Where content purchased on iTunes is stored.
Store - For purchasing new content from iTunes and other video services.
The downside to TV is that it doesn't include support for some key apps, including Netflix, which limits its usefulness.
Siri Updates
Siri is smarter in tvOS, able to search through movies based on topics. With topic search, you can now ask Siri to bring up movies with commands like "Show me movies from the 80s," or "Show me movies that feature dinosaurs," or "Find documentaries about architecture."
Siri can also understand when multiple topics are included in a single command, such as "Show me spy movies from the 1960s" or "Show me high school comedies from the 90s."

One of the best new tvOS 10 features is an option to search YouTube via Siri. Siri can now search YouTube for videos, and a command like "find me YouTube videos with kittens" launches the YouTube app and show the relevant search results.
Apple is making it easier to use Siri to access live channels through a feature introduced in April but promoted with iOS 10. When trying to watch live TV, you need to locate the app where the channel can be found, open the app, and then find the relevant channel. Live Tune-In allows Siri to take you straight to the channel that you're looking for with a command like "Watch ESPN" or "Watch CBS."
Siri is also aware of live sporting events taking place across apps, so users can ask questions like "Which games are on right now?" or "Watch the Stanford game" and Siri automatically opens the relevant channel.
Apple has already signed on several partners to enable Live Tune-In for multiple channels and plans to add more in the future. A full list of partners can be found in Apple's Live Tune-In support document.
Single Sign-On
Introduced in December of 2016, Single Sign-on is a feature for iOS 10 and tvOS 10 that's designed to allow cable subscribers to sign in once with their cable credentials to gain access to all cable-restricted content in iOS and tvOS apps.
Single Sign-on is limited to the United States and is available for the following providers: Blue Ridge, Cable ONE, CenturyLink Prism, DIRECTV, Dish, Grande Communications, GVTC, GTA, Hawaiian Telcom, Hotwire, MetroCast, Service Electric, Sling TV, and Wide Open West (WOW!).
With Single Sign-on, customers with a supported cable provider can enter their credentials in "TV Providers" section of the Settings menu. When using an app that supports the feature, cable subscribers won't need to sign in again to access content that requires a cable subscription.
Many cable channels and content providers offer individual apps on the Apple TV, and prior to the introduction of Single Sign-on, Apple TV users had to sign in to each one individually. Using Single Sign-on, Cable subscribers have an easier time finding and accessing content that's available to them through their cable provider.
Apps need to implement support for Single Sign-on, and at the current time, there are a limited number of apps that support the feature. A full list of apps that work with Single Sign-on can be found in Apple's Single-Sign on support document.
iOS Remote
Since the launch of the Apple TV, Apple has been working on a new Apple TV Remote app for iOS devices, and it was announced at WWDC alongside tvOS 10. The Apple TV Remote for the iPhone includes an interface that mirrors the physical Siri remote with touch navigation and Siri support.

The digital buttons are located in the same general places as on the Siri Remote, and it features a now playing screen with built-in quick-access playback controls. All of the features of the Siri Remote are supported, and the app uses the gyroscope and the accelerometer in the iPhone to play games.
Apple's Apple TV Remote app, which connects to an Apple TV using Bluetooth, is also designed to make it easier to enter text with a dedicated keyboard that can be used whenever text entry is required.
The new Apple TV Remote app, though introduced at WWDC, does not require tvOS 10 and was released to the public on August 1, 2016.
Games Can Now Require a Controller
Prior to tvOS 10, developers have been required to design games with support for both third-party Bluetooth controllers and the much more simple Apple TV Remote, limiting what games can do and preventing them from being on par with console games.
In tvOS 10, that restriction has been lifted. Game developers are now free to create games that require a third-party controller, so gaming controls don't need to be as barebones and simple.

On Apple's developer site, the guidelines now state: "When designing a tvOS game, you may require the use of an MFi game controller, but where possible you should also support the Siri Remote."
With more complex controls possible, Apple TV games are now able to more closely mirror traditional console games.
Developer Tools
Developers have access to new APIs in tvOS 10, enabling new kinds of apps. With ReplayKit, games are able to offer tools for broadcasting gameplay or saving gameplay video to share later.
With PhotoKit, developers can build apps that access a user's iCloud Photo Library, and with HomeKit, developers can build HomeKit apps that can run on the Apple TV to control connected home devices like lights and thermostats.
Other Features and Tidbits
Dark Mode - tvOS 10 includes a new dark mode option that changes the background of tvOS from white to black to make it easier on the eyes when watching in a dark room or a home theater.
Apple Music - Apple Music is seeing a redesign with bright, simple aesthetic featuring bold headlines and a focus on white space. The navigation has also been improved, with tabs for "Library," "For You," "Browse," and "Radio," to enable better content discovery.
Photos - In the Photos app, users can access the new "Memories" feature that takes photos stored in iCloud Photo Library and intelligently arranges them based on content and location to surface memories of birthday parties, vacations, special occasions, and more.
Continuity Keyboard - When prompted to enter text on the Apple TV, a connected iPhone displays a prompt that allows the necessary text to be entered using the iPhone.

Automatic Downloads - There's an option to enable automatic downloads on the Apple TV, so apps that are available on both iOS devices and the Apple TV are automatically added to the TV when downloaded via an iPhone or iPad.
App Badges - tvOS apps now support app badges.
Aerial Updates - The latest tvOS update brings new aerial screen savers.
App Size - When the Apple TV was released, apps were only allowed to be up to 200MB in size. Apple later increased that limit to 4GB. Apps can also have up to 20GB of On-Demand Resources.
Release Date