Apple's Single Sign-On Service Now Live
Apple today officially launched Single Sign-on, the service designed to allow cable subscribers to sign in once with their cable credentials to gain access to all cable-restricted content in iOS and tvOS apps.
Single Sign-on is limited to the United States, and according to a support document, is available for the following providers: CenturyLink Prism, DirecTV, Dish, GVTC, GTA, Hawaiian Telcom, Hotwire, MetroCast, and Sling.
While Single Sign-on was introduced and tested in the tvOS 10.1 and iOS 10.2 betas, the feature was remotely released today to all iOS 10 and tvOS 10 devices. Using Single Sign-on does not require one of the betas, and is instead immediately available to all iPhone and Apple TV users running iOS 10 or tvOS 10.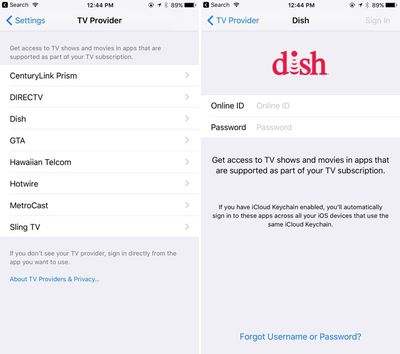 With Single Sign-on, customers with a supported provider will use the Settings options in iOS or tvOS to sign in with their cable credentials. From then on, when accessing a supported app that requires a cable subscription, the app will ask to use the saved sign-on credentials.
To get to Single Sign-on on iOS devices, open the Settings app and scroll down to "TV Providers." The process is the same on the Apple TV - open the Settings app and choose the TV Providers option to sign in.
Most cable channels and content providers offer individual apps on the Apple TV and iOS devices, but still require cable authentication before users can access content. Prior to Single Sign-on, customers were required to enter their credentials in each individual app, a frustrating and time-consuming process.
Single Sign-on will play a key part in the upcoming "TV" app that's set to debut in iOS 10.2 and tvOS 10.1. The TV app serves as sort of an Apple-designed television guide that lets customers find new content and keep track of what they were watching across multiple devices.
At the current time, Single Sign-on is available to a limited number of customers, but its availability will expand as Apple signs the necessary deals with cable providers. Single Sign-on also requires apps to implement support for the feature, and many apps have not yet introduced Single Sign-on support.