iPadOS
iPadOS is a version of iOS 13 that runs on the iPad, with extra features designed specifically for the iPad's larger display.
By MacRumors Staff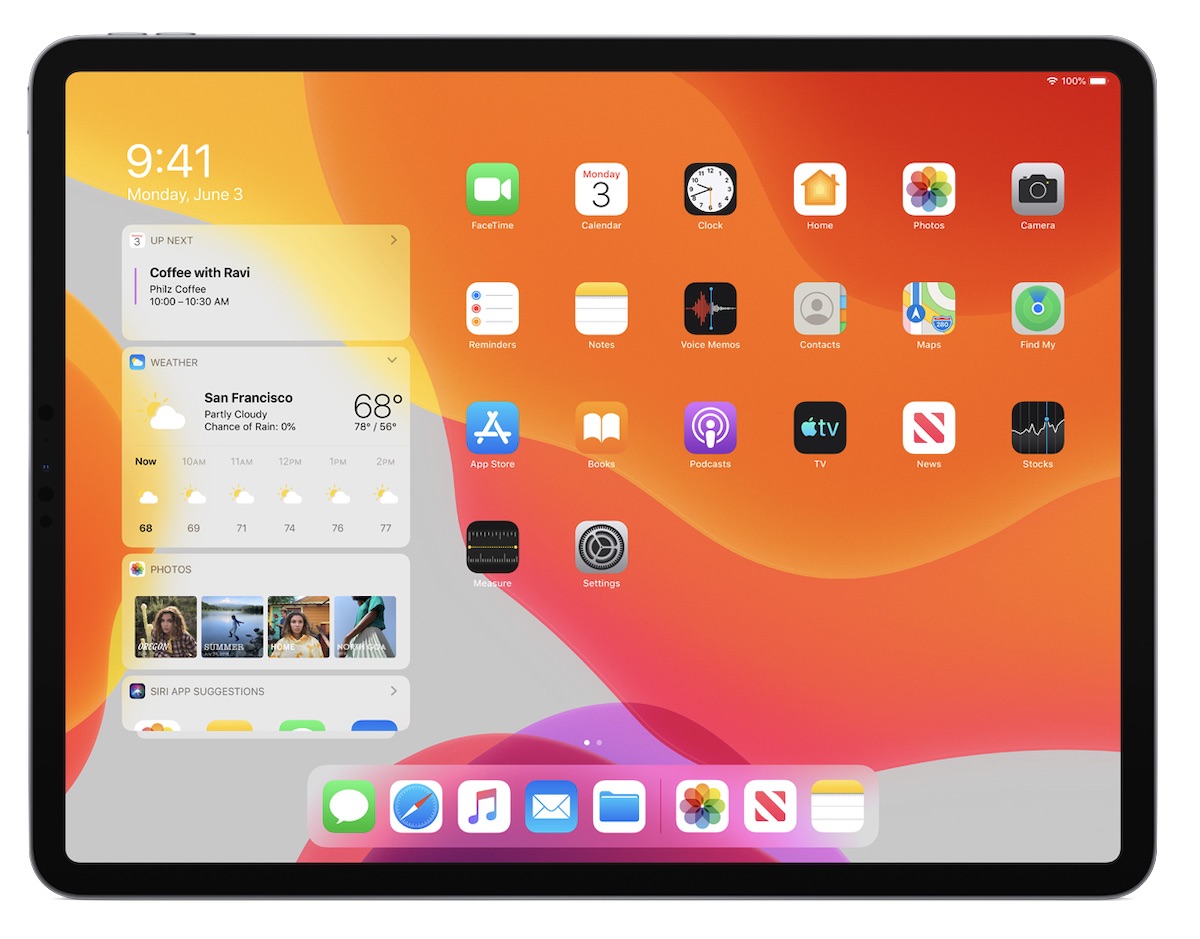 At a Glance
iPadOS is Apple's version of iOS designed for the iPad. It features an updated Home screen, improved multitasking functionality, new Apple Pencil features, support for external drives, folder sharing in Files, and all of the other new changes in iOS 13.
Features
Systemwide Dark Mode
Reduced Apple Pencil latency
Expanded Markup availability
External drive support
Safari download manager
Improved multitasking
New Keyboard shortcuts
Text editing improvements
What's New in iPadOS
iPadOS, released in the fall of 2019, is a version of iOS 13 that's designed to run on Apple's iPads. According to Apple, iPadOS is built on the same foundation as iOS, but with powerful new capabilities created for the larger display of the iPad.
First and foremost, iPadOS includes almost all of the features available in iOS 13, such as performance optimizations, a new systemwide Dark Mode, a revamped Photos app, a Find My app, Sign In with Apple, updated Maps, and tons more, so for an overview of the new iOS 13 features, make sure to check out our iOS 13 roundup.
The iPadOS roundup below highlights the iPad-specific features that are part of iPadOS, rather than the iOS 13 features available on both platforms.
iPadOS features a new Home screen for the iPad, which shrinks down the app icon size so you can fit more apps on each page. You can also now add Today Widgets from the left side of the screen onto the Home screen itself for easier access to your widgets and at-a-glance info like news headlines, weather, events, and more when your iPad is in landscape mode.
The Split View and Slide Over multitasking options now support multiple windows from the same app, so you can do things like open two Safari windows side by side. When in Slide Over view, there's a new option to view and switch between multiple apps with a new Slide Over card interface.
App Exposé, available when holding down an app's icon, lets you view all of the open windows from a particular app, and there's an option to swap between them with a tap, making it much easier to switch between your open windows on iPad.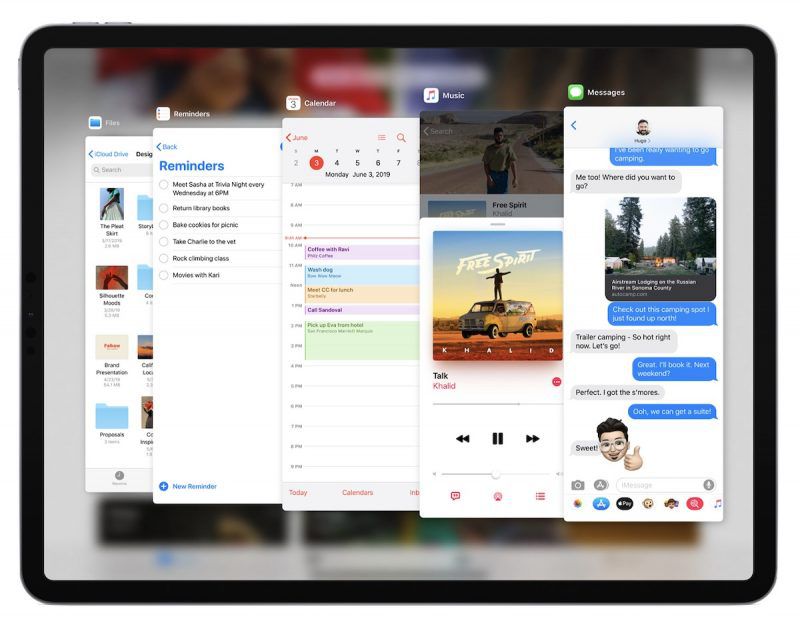 Tapping on the corner of the iPad's display with an Apple Pencil opens up Markup, which can now be used for anything from webpages and documents to screenshots and emails. Apple has introduced a redesigned tool palette for quick access to tools, color palettes, shapes, a ruler, an object eraser, and a new pixel eraser. The new tool palette is available in Markup and is also available to third-party developers as an API.

In addition to the new Markup features, Apple has reduced the latency of the Apple Pencil, dropping it from 20ms to 9ms.
The iPadOS Files app supports folder sharing, so you can share whole folders of files with other people, and there's also support for external drives for the first time. You can plug in a USB drive or an SD card and pull data from it right in the Files app, a feature also available on the iPhone.

A new Column View in the Files app when the iPad is in landscape mode lets you see high-resolution previews of your files, and support for Quick Actions lets you do things like mark up and rotate images and create PDFs. iPadOS also brings support for local storage, zip and unzip, and 30 new keyboard shortcuts.
When you use Safari on the iPad, you're always going to get the desktop version of a website instead of the mobile version. Websites are scaled appropriately for the iPad's display and optimized for touch, so you can use your favorite web apps like WordPress, Squarespace, Google Docs, and Slack.
For the first time, Safari has a download manager, which is a game changer when it comes to managing files that you've downloaded on an iPad from the web, plus Apple has made improvements to tab management.

As with the iPhone, editing text on iPad is better than ever thanks to a new swipe gesture that lets you select text and new gestures for cut, copy, paste, and undo. A floating keyboard that supports the new QuickPath swipe feature allows you to type one handed, and there's support for installing fonts across the system.

Thanks to the inclusion of Haptic Touch on the iPhone XR, iPhone 11, and iPhone 11 Pro models, a long press now replicates much of the functionality that was previously limited to 3D Touch devices. There's no haptic feedback, but long press gestures are available on the iPad across iOS 13 for doing things like Quick Actions, link previews, and more.
New to iPadOS, iOS 13, and tvOS 13 is controller support for the PlayStation DualShock 4 and Xbox One S controllers, which means you no longer need a Made for iPhone controller to play games on these devices. Connecting one of the new controllers is done using Bluetooth.

As mentioned above, take a look at our iOS 13 roundup for a list of features that are available on both the iPad and the iPhone, in addition to the iPad-specific features included in iPadOS. We've also got a roundup of the most important features in our iPad Tips and Tricks guide and in the video below.
Note: See an error in this roundup or want to offer feedback? Send us an email here.
Current Version - iPadOS 13.4
The current version of iPadOS is iPadOS 13.4, released to the public on March 24. iPadOS 13.4 brings mouse and trackpad support to the iPad Pro models, adding support for the new iPad Pro Trackpad Keyboard that's coming in May.
There's a new toolbar in the Mail app that's available when viewing an email, featuring a more logical design to address complaints about the Mail layout in iOS 13. The design moves the reply icon away from the delete icon, making it harder to accidentally delete an email, and it readds Folder and Flag icons.
iCloud Folder Sharing, designed to let users share folders in iCloud Drive with other people, is available as of iOS 13.4. iCloud Folder Sharing shows real-time updates so file changes will sync across the devices of all people with access to a specific folder. There are nine new Memoji and Animoji stickers included in the update, featuring emoji-style poses like shocked face, face with hearts, eyes rolling, and more.
Though not an iPadOS specific feature, Apple with iOS/iPadOS 13.4, macOS 10.15.4, tvOS 13.4, and Xcode 11.4 is allowing developers to create apps with universal purchase support, which means Apple device users will be able to purchase one app that works across multiple platforms.
There are new Keyboard shortcuts in the Photos app for navigating between tabs, search, and create albums. In full screen mode, there are also keyboard shortcuts for deleting photos, duplicating photos, and entering Edit mode. Apple has also added an option for remapping the keys of keyboards attached to the iPad. Full release notes for the iPadOS update are below:
iPadOS 13.4 introduces support for mouse and trackpad with iPad for greater precision and navigating the system with Multi-Touch gestures (Magic Trackpad 2 or Magic Mouse 2 are required for gesture support), and adds iCloud Drive folder sharing from the Files app and new Memoji stickers. This update also contains bug fixes and improvements.
Mouse and Trackpad Support
All-new cursor design highlights app icons on the Home Screen and Dock and buttons and controls in apps
Magic Keyboard for iPad support on iPad Pro 12.9-inch (3rd generation or later) and iPad Pro 11-inch (1st generation or later)
Magic Mouse, Magic Mouse 2, Magic Trackpad, Magic Trackpad 2, and third-party Bluetooth and USB mouse support
Multi-Touch gestures on Magic Keyboard for iPad and Magic Trackpad 2 enable you to scroll, swipe between app spaces, go Home, access App Switcher, zoom in or out, tap to click, secondary click (right-click), and swipe between pages
Multi-Touch gestures on Magic Mouse 2 enable you to scroll, secondary click (right-click), and swipe between pages
Files
iCloud Drive folder sharing from the Files app
Controls to limit access only to people you explicitly invite or grant access to anyone with the folder link
Permissions to choose who can make changes and upload files and who can only view and download files
Memoji
Nine new Memoji stickers, including Smiling Face with Hearts, Hands Pressed Together, and Party Face
Mail
Always-visible controls to delete, move, reply to, or compose a message in conversation view
Responses to encrypted emails are automatically encrypted when you have configured S/MIME
App Store with Apple Arcade
Universal Purchase support enables the use of a singular purchase of a participating app across iPhone, iPod touch, iPad, Mac, and Apple TV
Recently played Arcade games appear in the Arcade tab so you can continue playing on iPhone, iPod touch, iPad, Mac, and Apple TV
List view for See All Games
Augmented Reality
AR Quick Look supports audio playback in USDZ files
Keyboard
Live Conversion for Zhuyin automatically transforms Zhuyin into the correct characters without pressing the space bar to convert text or select candidates
Live Conversion for Japanese automatically transforms Hiragana into the correct characters without pressing the space bar to convert text or select candidates
Predictive typing support for Arabic
Swiss German keyboard layout supported on iPad Pro 12.9-inch
On-screen keyboard layout for iPad Pro 12.9-inch now matches Smart Keyboard
This update also includes bug fixes and other improvements. This update:
Fixes an issue in Camera where the viewfinder may appear as a black screen after launch
Addresses an issue where Photos may appear to use excess storage
Resolves an issue in Photos that may prevent sharing an image to Messages if iMessage is disabled
Fixes an issue in Mail where messages may appear out of order
Addresses an issue in Mail where the conversation list may display empty rows
Resolves an issue where Mail may crash when tapping the Share button in Quick Look
Fixes an issue in Settings where cellular data may incorrectly display as off
Addresses an issue in Safari where webpages may not be inverted when both Dark Mode and Smart Invert are active
Resolves an issue where text copied from web content in a third-party app may appear invisible when pasted if Dark Mode is active
Fixes an issue in Safari where a CAPTCHA tile may display incorrectly
Addresses an issue where Reminders may not issue new notifications for an overdue recurring reminder until it is marked as completed
Resolves an issue where Reminders may send notifications for completed reminders
Fixes an issue where iCloud Drive appears to be available in Pages, Numbers, and Keynote even when not signed in
Addresses an issue in Apple Music where music videos may not stream in high quality
Addresses an issue in the Home app where tapping an activity notification from a security camera may open a different recording
Resolves an issue where Shortcuts may not appear when tapping on the Share menu from a screenshot
Improves the Burmese keyboard so punctuation symbols are now accessible from numbers and symbols
New Home Screen
By splitting up iOS 13 and iPadOS, Apple is free to make changes designed just for the larger display of the iPad. One of these changes includes an iPad-specific Home screen redesign, created specifically for bigger displays.
Icons on the iPad's Home screen now take up less space so you can fit more of them on each page of the Home screen, and there's a handy new widget feature.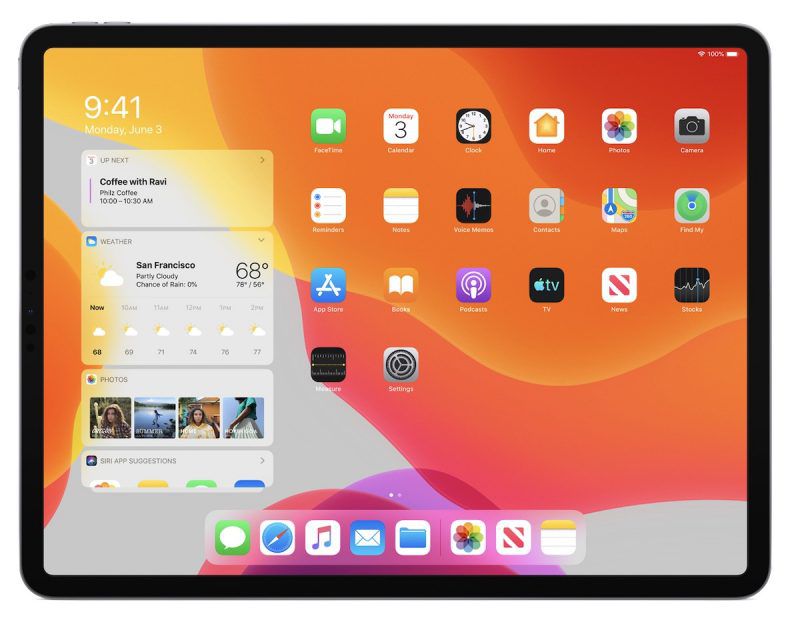 You can move the Today View widgets right onto the Home screen so you can see your most important information right on the display. All of your standard widgets appear, but only in landscape mode.
In portrait mode, your widgets are where they always are -- accessible with a swipe to the right on the Home screen. Customize your widgets by accessing them on the Home screen and tapping the "Edit" button at the bottom. Favorited widgets are the ones that show up on the Home screen, but you can swipe to see all of your other widgets.
Multitasking Updates
Having multiple windows open on an iOS device has always been a feature specific to the iPad, and in iPadOS, Apple has introduced some improvements to make multitasking more powerful and functional.
Both the Split View and Slide Over multitasking interfaces support multiple windows from the same app, so you can do things like open two Safari windows side by side or open two Pages documents at once.

You can have multiple instances of the same app in multiple spaces so you can have several windows open at once, swapping between the various spaces through the App Switcher.
Creating windows can be done by dragging content from one window into its own space. You can, for example, drag a link to open Safari, a location to open Maps, or an email address to open Mail.
Slide Over
When using the Slide Over interface, there's an option to view and switch between multiple apps more quickly, which lets you open up several apps and then flip between them as needed, similar to having several open windows on a Mac.

Using Slide Over this way makes it easy to do something like access Messages or Calendar quickly while working on a document or browsing the web with the Split View interface.
You can keep all of the apps you need to access occasionally stored in Slide Over, swapping between them with just a few taps. Swipe up to see all of your apps in Slide Over, and make a Slide Over app full screen by dragging it upwards.
You can close Slide Over app windows by accessing the App Switcher and then flicking upwards on a window in Slide Over.
App Exposé
App Exposé is a new feature that's available when holding down on an app's icon. It lets you view all of the open windows from a particular app, and there's an option to swap between them with a tap, making it easy to see everything that you've got open and swap between tasks.

Apple Pencil Improvements
With iPadOS, the Apple Pencil is more deeply integrated into the iPad, mainly through new Markup tools available throughout the operating system.
Markup
Entire webpages, documents, or emails can be edited and annotated using the Markup feature by swiping the Apple Pencil from the corner of the screen. Dragging the Apple Pencil from the bottom corner of the iPad also lets you take a screenshot.

Markup has a new tool palette with quicker access to the tools that you use most along with color palettes, shapes, an object eraser, and a new pixel eraser that removes any part of a stroke. There's also a new ruler tool designed to help you draw straight lines.
The tool palette can be dragged anywhere on the screen so you can customize how you work, and Apple is making the API available to developers so the same familiar toolbar is available across apps.
Latency
Thanks to optimization improvements, the Apple Pencil's latency is as low as 9 milliseconds now, down from 20 milliseconds.

Files App
Revamped in both iPadOS and iOS 13, the new Files app supports USB drives, SSDs, SD cards, SMB file servers, and more, allowing you to access the files you need right within the Files app.

There's a new Column View available in the Files app that lets you preview your files, just like you can do with Finder on Mac. It even supports Quick Actions like Markup, rotate, and create PDF, so you can do even more on your iPad right within the Files app.
iCloud Drive now supports folder sharing so you can share entire folders with people, and there's local storage now, so you can store files right on your iPad. This feature is coming in an update to iOS 13 in the fall.
Apple has also added new keyboard shortcuts for accessing the Files app and an ability to zip and unzip files.
Safari
Safari on iPad now automatically loads desktop versions of websites, scaled appropriately to the iPad's display and optimized for touch. This means iPad users are no longer forced to load mobile versions of websites in some cases, for a consistent computer-like Safari usage experience.

The new Safari experience works with web apps like Google Docs, Squarespace, and WordPress, so you can do everything you can normally do on a Mac on your iPad.
Safari also features 30 new keyboard shortcuts, improvements to tab management, and a new download manager so you can see just what you've downloaded. When using Safari in Split View, you'll now see the full Safari toolbar.

More on Safari
For more on all of the new features in Safari in iOS 13 and iPadOS, make sure to check out our Safari guide.
Text Editing
To scroll through long documents and web pages, you can now grab the scroll bar and drag it downwards or upwards, which is quicker than simple swiping. Selecting text can now be done by dragging your finger over it.
You can select a word with a double tap, an entire sentence with a triple tap, or a whole paragraph with a quadruple tap.
Double tapping quickly selects elements like phone numbers, email addresses, and addresses, and you can now pick up the cursor and move it to where you need it with a simple drag, a gesture that's quicker than the prior iOS 12 cursor movement.
Apple added new gestures for cut, copy, and paste. Pinch up with three fingers to copy, pinch up with fingers two times to cut, and pinch down with three fingers to paste. To undo and redo, you can now use three finger swipes to the left and right.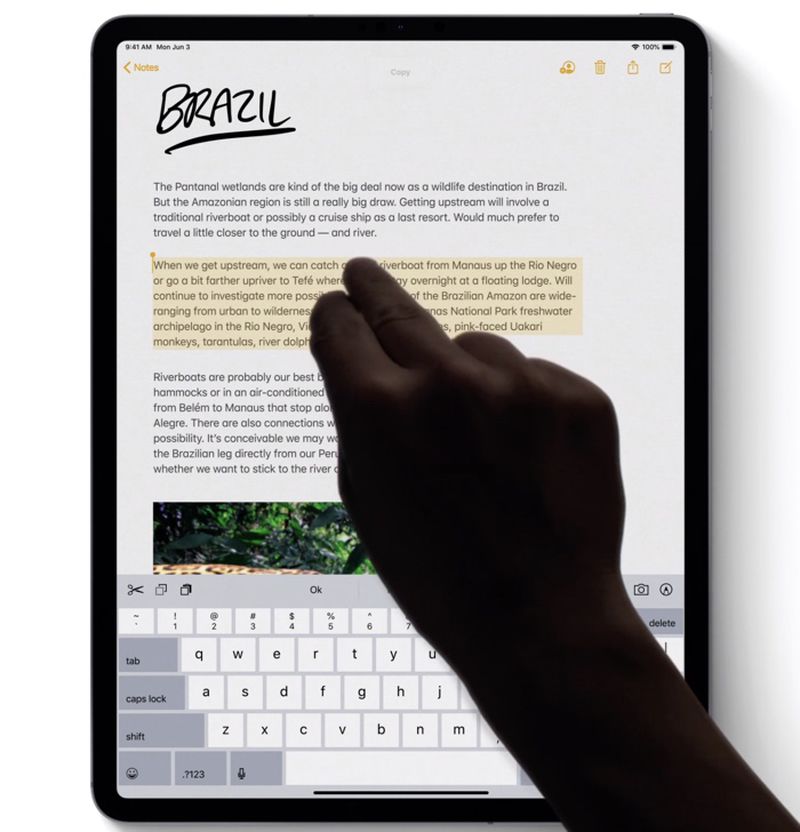 If you want to select multiple email messages, files, or folders, you can tap with two fingers and then use a drag gesture.
To make typing even simpler on the iPad, Apple has added a new floating keyboard that enables one-handed typing. It supports Apple's new QuickPath swipe-based typing feature.

Enabling the new floating keyboard can be done by pinching in on the keyboard and dragging it anywhere on the iPad's screen.
Long Press Gestures
In iOS 13, long press gestures on the iPad mimic some of the functionality that was previously limited to devices with 3D Touch. This is because Apple has been introducing support for Haptic Touch, a 3D Touch replacement first introduced on the iPhone XR and then expanded to the new 2019 iPhone models.
You can long press on an app to bring up Quick Actions, for example, or peek into a link to see a little preview. You won't get a haptic feedback response like you do on the iPhone, but the functionality is there all the same.
Sidecar
With macOS Catalina, your iPad can be used as a secondary display for your Mac, either by extending your Mac's display or mirroring it. With this feature, you can use apps like Photoshop or Illustrator right on your iPad, and they even work with Apple Pencil.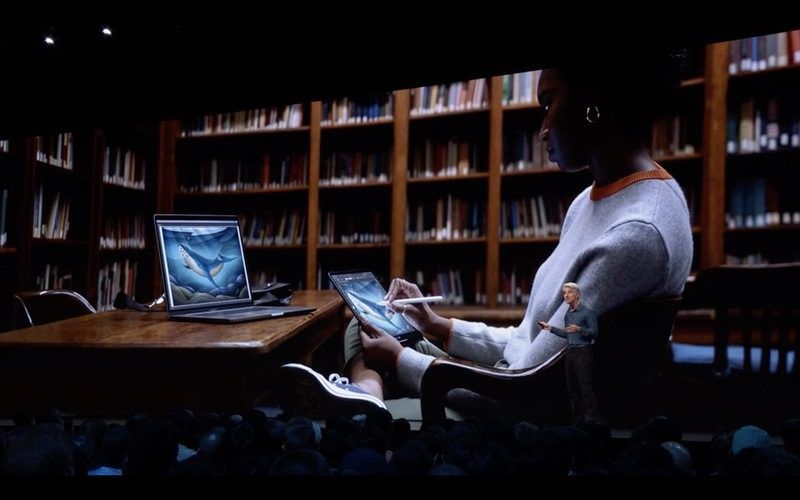 When not being used for drawing, the Apple Pencil works for pointing and clicking like you might do with a mouse. You can write and sketch on PDFs for documents and see the updates live on your Mac, or create a sketch on iPad and then insert it into any document on Mac.
Sidecar works with a cable or wirelessly from within 10 meters and it needs to be initiated from a Mac to work. Sidecar on iPad is limited to iPads that work with the Apple Pencil. For more on Sidecar, make sure to check out our Sidecar guide.
Mouse Support
iPadOS introduces mouse support for the first time, allowing a USB mouse to be connected to an iPad. Mouse support is not a standard feature, but is instead available as an AssistiveTouch option within the Accessibility settings on your iOS device.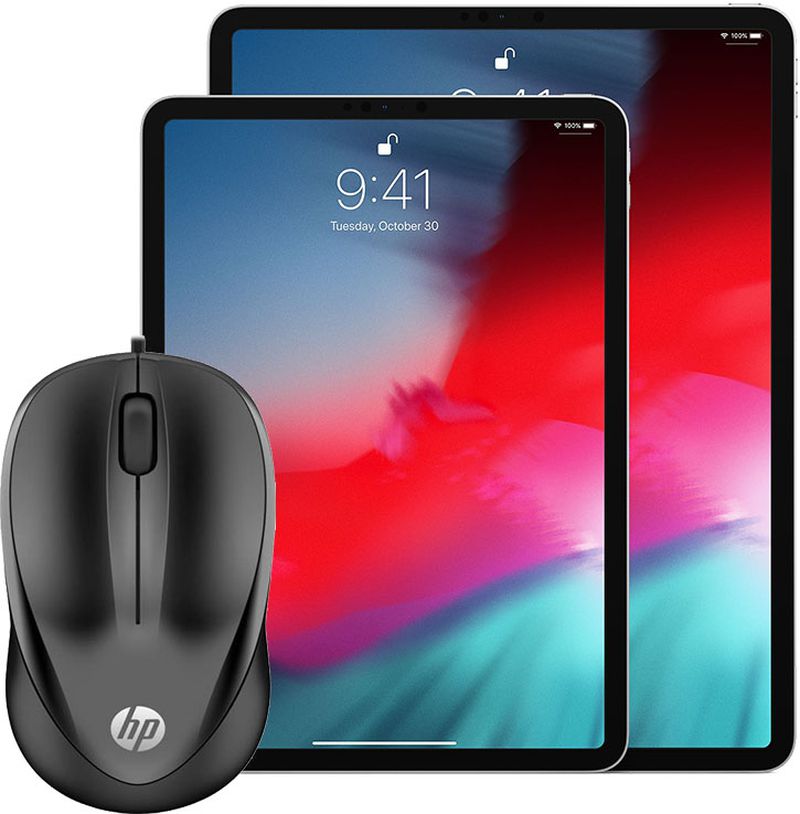 iPadOS How Tos
iOS 13
The iPad and the iPhone share many features, and there are a lot of other new changes in iOS 13 that are also available in iPadOS. In fact, all of the new features in iOS 13, including Dark Mode, Find My, app updates, and more, are in iPadOS.
For details on these features, make sure to check out our iOS 13 roundup.
Compatibility
iPadOS is also compatible with a wide range of iPads, both old and new.
All iPad Pros

iPad (5th, 6th & 7th generation)

iPad mini 4 & 5

iPad Air (3rd generation)

iPad Air 2
Release Date
Apple released iPadOS to the public on Tuesday, September 24, alongside iOS 13.1 and following the September 19 launch of iOS 13 for iPhones. The first available version of iPadOS was iPadOS 13.1.
iPadOS Timeline