iPadOS 14
The version of iPadOS introduced in 2020, now available.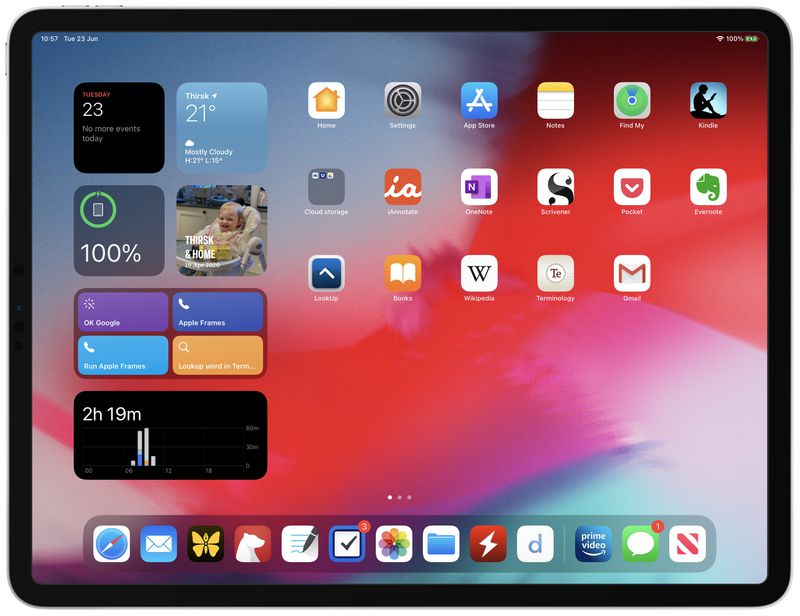 iPadOS 14
Apple in June 2020 introduced iPadOS 14, the version of iOS 14 that's designed to run on iPads. Apple in 2019 split iOS and iPadOS into separate updates with the aim of developing features exclusive to the larger display of the iPad.
iPadOS 14 includes almost all of the same features available in iOS 14 such as the redesigned interfaces for Siri and incoming calls, widget redesigns, updated Maps app, changes to Messages, and more, so for a complete look at the new iPad features, make sure to check out our iOS 14 roundup.
Our iPadOS roundup covers features that are new in iPadOS 14 and exclusive to the iPad, and won't be found in the iOS 14 roundup or on the iPhone.
iOS 14 got a new Home Screen and a feature that lets widgets be pulled from the Today Center and placed among apps, but that feature was not extended to iPadOS. The iPadOS interface looks largely the same, but widgets have been redesigned in the Today Center.
Widgets also still show up when the iPad is in landscape mode, and there are new size options for widgets, but only four widgets are supported and they're not displayed in portrait mode. Smart Stack, the widget feature that uses on-device intelligence to cycle through useful widgets throughout the day, is supported.
iPadOS is also missing the App Library feature added in iOS 14, which provides a look at all of the apps that you have installed in one easy-to-see view, and it does not have the Translate app that's also new to iPhone.
Apps like Photos and Files have been improved in iPadOS with new, less obtrusive slide over sidebars and pull-down menus that provide quicker access to app functions without the need to switch away from what you're doing.

The Search interface has a new, more compact design that doesn't take over the entire display, and it's faster than ever and more akin to the Finder on Mac, able to deliver more relevant search results.
As with iOS 14, iPadOS includes compact Phone and FaceTime calls that don't take over the entire screen, and Siri is also presented in a compact format with a small Siri icon at the bottom of the display.

One of the biggest new additions in iPadOS 14 is the expansion of Apple Pencil support. A Scribble feature lets you write in any text field on the iPad with the Apple Pencil, with the written text converted to typed text.
Scribble works for Safari searches, in search, in the Reminders app, in Messages, and essentially anywhere you can write text. Writing mistakes can be scratched out to erase them, and drawing a circle around a word selects it.

In the Notes app, there's an option to handwrite notes with the Apple Pencil, with the notes then converted to typed text. Smart Selection lets handwritten text be selected using gestures used for typed text, and handwritten notes can be copied from the Notes app into another app like Pages, with the handwriting converted automatically.
A Shape recognition feature lets you draw rough shapes such as a circle or a star, and then it converts it into a perfect geometric shape automatically. Notes also features built-in intelligence to detect addresses, phone numbers, and email addresses in handwritten text, making them clickable just like standard typed text links.
With ARKit 4, AR experiences can be placed at specific geographic coordinates, allowing for AR interactions at landmarks around the world. The update also offers more precise depth measurements captured by the LiDAR Scanner on new iPad Pro models to allow virtual objects to interact with the world more realistically.
As with iOS 14, Safari in iPadOS 14 includes built-in language translation, faster performance, and a new Privacy Report that lets you see what cross-site trackers Safari is blocking.

In the Music app, there's a redesigned song queue, a Listen Now feature that replaces For You, and full-screen lyrics that play in real-time with songs. Search has also been improved to make it easier to find great music.
Other new features include options to set third-party apps as the default mail and browser apps, Game Center integration with Apple Arcade, App Clips for experiencing a small part of an app without downloading the whole thing, major privacy improvements, and more, with a full feature overview available in our iOS 14 roundup, as previously mentioned.
iPadOS 14 became available for download on September 16, 2020. It is a free download on all compatible iPad models.
Note: See an error in this roundup or want to offer feedback? Send us an email here.
Current Version
The latest version of iPadOS 14 is iPadOS 14.8.1, which was released to the public on October 26, featuring a number of security fixes.
iPadOS 14.8 came two months after iPadOS 14.7, which was released to the public on July 21, bringing a number of new features including support for two Apple Card members in the same family to combine their cards, new Podcasts app sorting options, and various bug fixes.
Earlier this year, iPadOS 14.5 was a major update that brought AirPlay 2 support for Apple Fitness+, so when you start a workout on an iPad, you can AirPlay it to an AirPlay 2-compatible television or set-top box like Roku, with full functionality enabled as of the second beta. The iPadOS 14 update also supports the PlayStation 5 DualSense and Xbox Series X controllers, and there's a new feature for asking Siri to call emergency services.
As of the iPadOS 14.5 update, Apple is now requiring developers to get user permission before tracking their activity across websites and apps for advertising purposes.
During startup, the Apple logo on the iPad is now displayed horizontally instead of vertically when the iPad is in landscape mode, and emoji search is now available. Emoji search was added to the iPhone in iOS 14.5, but had been notably missing from the iPad until now.

There are design tweaks to the Podcasts, Apple News, and Reminders app with some new feature additions, plus tons of other smaller changes that are outlined in our full iOS 14.5 features guide.
iOS and iPadOS 14.5 add a new feature for choosing a preferred streaming music service to use with Siri. So if you like to use Spotify over Apple Music, for example, you can now choose Spotify as your preferred app to use with Siri and all Siri song requests will go through Spotify without the need to add "on Spotify" to the end of Siri requests. This is not a traditional default setting, but Siri will learn your preferences over time. This works with music apps and apps for playing podcasts and audiobooks.
In Safari, there's a Fraudulent Website Warning feature is designed to warn users if they're visiting a suspected phishing website that's attempting to steal user data. To power this feature, Apple uses Google's "Safe Browsing" database, which can allow Google to collect IP addresses and other information.
In iOS 14.5 and iPadOS 14.5, Apple is proxying Google's Safe Browsing feature through its own servers to restrict that personal data that Google is able to collect from Safari users, and the update adds security improvements that make "zero-click" attacks more difficult.
For Apple Pencil users, iPadOS 14.5 expands the number of languages that work with the Scribble feature. It is now compatible with German, French, Spanish, Italian, and Portuguese.
Scribble is designed to let users write in any text field on the iPad, with the handwritten text converted automatically into typed text. Scribble can be used across iPadOS 14 for writing out iMessages, conducting Safari searches, looking for directions in Maps, creating Notes, scheduling Calendar events, and more.
We have an extensive iOS and iPadOS 14.5 feature guide that outlines everything that's new in the upcoming updates.
Design Changes
iOS 14 got a major design update with the option to add widgets to the Home Screen and an App Library that lets you see all of the installed apps on an iPhone at a glance, but these features did not make their way to the iPad.

There is no App Library, and while widgets can be added to the Home Screen as of iOS 13, the feature it's limited to four widgets, placement can't be changed, and the widgets only show up in landscape mode.
The Today Center on iPad did, however, get the same redesign that was introduced on the iPhone, with Apple introducing a new look and redesigned widgets.
Widgets
Widgets provide more data than before and Apple redesigned several widgets like Calendar, Stocks, and Weather. There are also new widgets for Screen Time and Apple News.
All of the widget options, both from Apple and third-party apps, can be viewed in the Widget Gallery by long pressing on the display, and then tapping the "+" button. The Widget Gallery's widget suggestions are based on what users are installing the most.

Widgets come in small, medium, and large sizes, with each size providing a different amount of information. A small version of the Apple News widget provides just one story, as an example, but the large version shows three.

Up to 10 widgets can be stacked on top of one another to better utilize space both on the Home Screen and in the Today Center, with an option to swipe between each of the widgets.
Apple also added a "Smart Stack" feature that's similar to the widget stacking option, but with an intelligent twist. In the Smart Stack, Siri shows the most relevant widget based on time of day, activity, and location.
A similar Siri Suggestions widget uses the same on-device intelligence to surface suggested apps you might want to use at the current time based on your iPad usage habits. If you always watch YouTube during dinner at 7pm, this widget might show the YouTube app as a recommendation at the proper time.
App Design
Sidebars in iPad apps like Photos, Music, Calendar, Mail, Files, Notes, and more have been redesigned with new sidebars that provide more information at a glance while also making sure content is front and center. The updated system-wide sidebar design makes sure each of Apple's app provides a consistent usage experience.

Toolbars in apps like Calendar and Files have also been streamlined to consolidate buttons and menus into a single top bar for easier access.
Pull-down menus have been added throughout Apple's default apps for quicker access to app functionality from one button, and popovers automatically go away when you interact with another part of an app.
Search
Search on iPadOS has been redesigned to be more compact, so it no longer takes over the entire display. Apple reimagined search as a single destination for finding and launching apps, websites, contacts, and files, surfacing quick details like weather and maps, and getting answers to common questions.

The most relevant search results for a given query are provided at the top of the search interface, and search suggestions begin appearing as you type so you may be able to get to what you need before you even finish a thought.
Apple also added a new "Search in Apps" feature that lets you enter a search term and execute a search within relevant apps like Messages, Mail, and Files with a tap, plus you can type in an app name and hit "Go" to launch a website or an app right from the search interface.
App Updates
Many apps got updated in iOS and iPadOS 14 like Messages, Home, Safari, and Maps, and these major new features are outlined in our iOS 14 roundup. There are some iPad-exclusive features for apps, however, which are outlined below.
Music App
The Music app on the iPad now provides an option to see lyrics for a song in full-screen so you can follow along with your favorite music with timed lyrics that take up the entire display.

Music also includes a new "Listen Now" tab that replaces the "For You" tab with better suggestions for new music, an autoplay feature that plays similar music when a playlist ends, improved search that showcases music by genre and mood, and library filtering so you can find your favorite content more quickly.
Photos
The Photos app on iPad features a new Photos sidebar with quick access to For You, Albums, Shared Albums, Media Types, and Search. The updated Sidebar can be edited to change the order of albums in the My Albums view.

Photos for iPadOS also includes better zooming navigation tools for all views in the app, filters for sorting your photo collection, the option to add captions to images, and more relevant Memories, and a redesigned image picker for apps.
Files
Files in iPadOS 14 includes a redesigned sidebar that consolidates the app's core functionality in a central location with access to recents, shared documents, external drives, file servers, and favorite folders available with just a tap.
Files also now supports external drives that use APFS encryption.
Scribble
One of the biggest changes to iPadOS is the Scribble feature that works with the Apple Pencil. Scribble lets Apple Pencil owners write in any text field on the iPad, with the handwritten text then converted into typed text.
Scribble can be used across iPadOS 14, for writing out iMessages, conducting Safari searches, looking up directions in Maps, scheduling Calendar events, and more. As an example, you can open up the Safari app and write MacRumors.com in the URL bar, with the iPad converting it to the proper typed URL so you can visit the site.

Scribble is an amazing feature for those who would like to use the Apple Pencil continually as there's no need to put the Apple Pencil down and swap over to the keyboard for many tasks on the iPad.
The Scribble option is good at recognizing all kinds of handwriting, even when it's messy because it can interpret the intended strokes, but it doesn't work well with cursive. It interprets capital letters, spacing, and symbols, making for a seamless experience when you get used to handwriting in text fields.
If you make a mistake, you can just scribble it out with the Apple Pencil to initiate a delete feature, and if you need to select something you can circle it with the Apple Pencil.All handwriting to text conversion is done on-device so writing stays private and is not uploaded to Apple.
At launch, Scribble was limited to the English and Chinese languages, but with iPadOS 14.5, Apple is expanded Scribble support to German, French, Spanish, Italian, and Portuguese.
Scribble in Notes
Scribble has also been built into the Notes app. Tap on the toolbar, choose the pen with the "A" text on it, and everything that you handwrite in the Notes app is converted to text.

Smart Selection and Copy as Text
There's a neat feature that lets you select all of your handwritten text in Notes or another app and then paste it into an app like Pages where handwriting is not supported. When you paste, the iPad automatically converts the handwritten text to standard text.

You can select text by dragging the Apple Pencil or a finger over it in one motion to select a word, paragraph, or entire page. To paste in new app, use the Copy as Text option.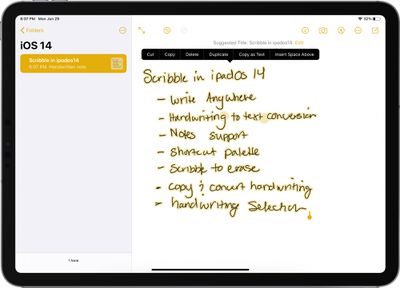 In Notes, text can also be selected and then modified with colors or text styles like italics or bolding.
Shortcut Palette
There's a shortcut palette for Scribble that can be used to access common actions for the app that you're using without having to access the onscreen keyboard. So, for example, if you're writing an email, the shortcut palette provides options for the font picker and image insertion.
Data Detectors
As with typed text, if you write out a phone number, address, email address, or link, the iPad can detect it and turn it into a clickable link. That lets you do things like write out someone's phone number and then tap it to call it.

Shape Recognition
The Shape Recognition tool in Notes and other apps lets you draw a rough shape like a circle or a star and have it converted into a perfect version by the iPad, which is useful for taking notes and making diagrams.

Shape recognition works with lines, curves, squares, rectangles, circles, ovals, hearts, triangles, stars, clouds, hexagons, thought bubbles, outlined arrows, continuous lines, lines with an arrow endpoint, and curves with an arrow endpoint.
Scribble Research
Apple developed the Scribble feature after extensively analyzing the way that people around the world write things down with Apple collecting data on writing slow, writing fast, writing at a tilt, and more. Apple doesn't use letter based recognition, but stroke based recognition, which can better determine what people are aiming to write.
All of the stroke-based recognition, along with character and word prediction, is done right on the iPad in real-time, which makes it lag-free.
ARKit Updates
The Depth API added in iPadOS 14 provides precise depth measurements captured by the LiDAR Scanner in the latest iPad Pro models, which lets virtual objects interact with the real world in new ways.
Apple says this feature allows for powerful new AR capabilities such as precise body measurements for accurate virtual try-ons or advanced photo and video editing effects.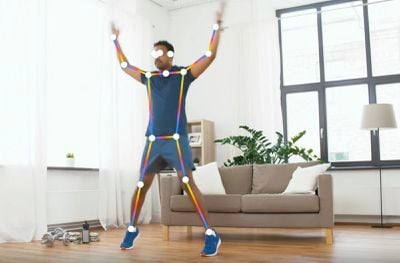 Apple also introduced improved object occlusion that uses the LiDAR Scanner and improved edge detection functionality. With these new features, virtual objects in AR Quick Look in Safari and apps interact with the environment and can be occluded by physical objects.
Location Anchors, another new ARKit feature, allows AR experiences to be placed at specific geographic coordinates so interactive augmented reality features can be added to real-world places like famous landmarks, restaurants, shopping areas, and more.
Apple added expanded face tracking support on all devices with an A12 Bionic chip or later, and video textures can now be added to part of a scene or virtual object in RealityKit to bring objects and characters to life.
Gaming Features
iPadOS 14 adds keyboard, mouse, and trackpad support for gaming on the iPad, letting users take advantage of standard keyboard and mouse peripherals when playing games on the iPad.

This opens the door for games with more complex control options, and lets games add mouse and keyboard support to existing controller options.
Keyboard and trackpad support were first added to the iPad in iPadOS 13, and this change expands functionality to also encompass games.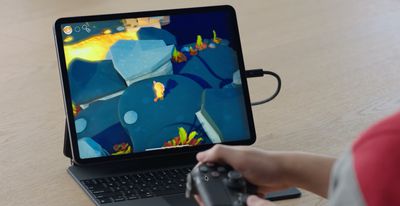 Apple is adding support for additional game controllers to iPadOS 14, including the Xbox Elite Wireless Controller Series 2 and the Xbox Adaptive Controller.
iPadOS adds new features for controllers, including the Dual Shock's touchpad and lightbar and the Xbox Elite's paddles, zone-based rumble haptics, and motion sensors. Game developers can also now use OS-level controller button remapping and button glyphs in game interfaces.
Other New iPadOS Features
As mentioned at the beginning of this roundup, in addition to the features included, iPadOS also has dozens of other changes that were introduced in iOS 14. For a full picture of what's new in iPadOS, make sure you also check out our iOS 14 roundup.
iPadOS 14 is essentially iOS 14 with some additional changes to accommodate the larger display of the iPad and the two operating system updates share many features like App Clips, Messages changes, compact phone calls and Siri interface, Safari changes, all of the privacy updates, cycling and EV directions in Maps, AirPods updates, and tons more. It does not have the Translate app nor does it support customizable widgets on the Home Screen like the iPhone does. It also does not include the App Library.
Compatibility
iPadOS 14 is compatible with all of the same devices that were able to run iPadOS 13, with a full list below:
All iPad Pro models
iPad (7th generation)
iPad (6th generation)
iPad (5th generation)
iPad mini 4 and 5
iPad Air (3rd & 4th generation)
iPad Air 2
Release Date
Apple released iPadOS 14 on September 16, 2020. It is a free download on all compatible iPad models.