If you're an Apple Music subscriber and own an Apple Watch, you can sync albums and playlists from the ‌Apple Music‌ catalog to your Apple Watch for offline listening.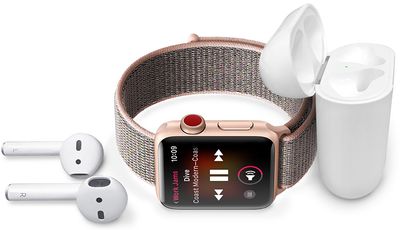 Once you've added or downloaded ‌Apple Music‌ content to your music library, it becomes available to upload to your Apple Watch, which has 2GB of local music storage. This means you can connect Bluetooth headphones to your Apple Watch and listen to ‌Apple Music‌ tracks without having your iPhone in range. Here's how it's done.

Take off your Apple Watch and place it on its charger.
On your ‌iPhone‌, launch the Watch app.
Tap the My Watch tab.
Tap Music in the app list.


Under Automatically Add, tap the toggle switches next to any of ‌Apple Music‌'s personalized mixes to add them to or remove them from your Apple Watch.
Under Playlists & Albums, tap Add Music..., then select the playlists and/or albums from your music library to upload to your Apple Watch.
Keep your Apple Watch connected to its charger while you wait for the songs to upload and don't remove it until the progress bar completes at the top of your ‌iPhone‌'s screen. Note that you can remove any albums or playlists you've added to Apple Watch by tapping Edit in the upper right corner of the same screen.