Apple Music made its worldwide debut in over 100 countries on June 30, with a free three-month trial available for customers to try the streaming music service. Apple requires having a valid payment method associated with your iTunes account to enable the trial, such as a credit card, and both Individual Plan and Family Plan subscriptions are set to automatically renew after the trial. For those that only want to try the Apple Music trial, learn how to turn off automatic renewal below.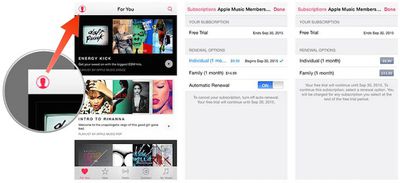 How to Disable Automatic Renewal
Tap on the Account icon in the top-left corner of any tab in Apple Music.

Tap on "View Apple ID" and sign into your iTunes Store account.

Tap on "Manage" under the "Subscriptions" menu.

Tap on your Apple Music Membership, which should currently be "Active."

Toggle off "Automatic Renewal" under the "Renewal Options" menu. Confirm the action.

Turning off automatic renewal will enable you to try out Apple Music on iPhone, iPad and iPod touch without the streaming music service renewing after the free three-month trial period expires. To reenable a recurring Apple Music subscription, simply follow the steps above and toggle on automatic renewal again. Your settings will also be applied to the iTunes version of Apple Music on Mac and PC.