Apple in iOS 17 introduced a new feature for Mail and Messages that can automatically delete one-time verification codes after you have used them. Here's how it works on iPhone and iPad.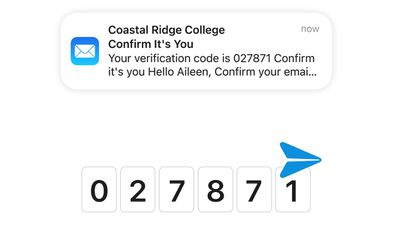 These days, many websites and services use one-time passcodes sent via SMS or over email for verification purposes, but these one-time codes can soon clog up your Mail inbox and Messages app.
Thankfully in ‌‌iOS 17‌‌, there's a new option to have those messages auto-delete after the code is autofilled and used to authenticate a login. Apple should ask you if you want to enable this when you use the autofill feature after upgrading to ‌‌iOS 17‌‌, but you can toggle it on manually by following these steps.
Open Settings on your ‌iPhone‌ or ‌iPad‌.
Scroll down and tap Passwords (you'll be prompted to use Face ID to authenticate the next screen).
Tap Password Options.
Under "Verification Codes," toggle on the switch next to Clean Up Automatically so that it is in the green ON position.

That's all you need to do. Next time autofill uses a received verification code, the associated SMS message or email with be automatically deleted, helping you keep your inboxes clear of unnecessary cruft.
For more information on everything new in ‌iOS 17‌, be sure to check out our ultimate guide.