From Apple's Mac lineup, the company sells many more laptops than desktop computers, part of a trend that has been in place for years. Apple's laptops are well made, they offer more than enough performance for a majority of users, and you can take the laptop with you wherever you go.
Apple's laptop lineup consists of two models: the MacBook Pro and the MacBook Air. There are some obvious and nuanced differences between the two models that you need to consider while shopping for a Mac laptop. In this guide, we'll take a look at the specifics, the differences, and the performance of the MacBook Pro and MacBook Air to help you decide which laptop is best for you.

Why you should pick a MacBook Pro
Of the two laptop lineups, the MacBook Pro is the one outfitted with a Retina display. These displays have many more pixels than the MacBook Air displays, which means images and text will look very sharp and clean -- it's a pleasing aesthetic if you're spending all day at the computer. The high resolution is also great for anyone who's working in HD video, allowing you to work in actual size and still have room for your app's interface.
Apple's definition of "Retina" is when a user, at a typical usage distance, cannot see the individual pixels on the screen. The 13-inch Retina MacBook Pro has a resolution of 2560 x 1600, while the 15-inch Retina MacBook Pro has a resolution of 2880 x 1800. In comparison, the non-Retina MacBook Air has a 1366 x 768 (11-inch) or 1440 x 900 (13-inch) resolution, so you can see there's quite a difference between the displays of Apple's two notebook lines.


The MacBook Pro is positioned as a computer than's just as good performance-wise as a desktop computer. In general, the MacBook Pro is quite a bit faster than the MacBook Air, with the stock 13-inch models offering 2.6GHz to 2.8GHz dual-core processors and the stock 15-inch models offering 2.2GHz to 2.5GHz quad-core processors. Apps that take advantage of multiple cores, like Final Cut Pro, Photoshop, Logic Pro X, and more, are especially well suited to the 15-inch Retina MacBook Pro.
You're going to want to choose a Retina MacBook Pro if you're big on gaming. The MacBook Pros have superior GPUs, and the top-of-the-line $2,499 15-inch version even has a dedicated Nvidia GeForce GT 750M graphics card along with integrated Iris Pro graphics like the rest of the MacBook Pro lineup. It'll switch between the two cards to maximize performance and battery life.


All of Apple's newest MacBooks have amazing battery life. The 13-inch Retina MacBook Pro offers 9 hours of web browsing or iTunes playback, while the 15-inch model offers 8 hours of web browsing/iTunes playback. One thing to keep in mind though, the less powerful MacBook Air has the best battery life out of any of Apple's notebooks -- the 13-inch version lasts for up to 12 hours when browsing the web or when playing a video.
On the downside, the MacBook Pro is quite a bit heavier than the MacBook Air. Both the 13 and 15-inch models are under five pounds, with the former weighing in at 3.46 pounds and the latter at 4.46 pounds. That might not sound like a lot, but after an hour or two of schlepping a MacBook Pro around, 3 to 5 pounds can feel like 20.
You're basically picking processing power and display over superior portability when you choose a Retina MacBook Pro, and you're sacrificing a little bit of battery life. MacBook Pros are also the more expensive of the two notebook lines, with the entry-level 13-inch model priced at $1,299 and the entry-level 15-inch model priced at $1,999 -- these are considered desktop replacements, after all.
Learn about the specifications of the MacBook Pro.

Why you should pick a MacBook Air
Travel is the forte of the MacBook Air. It's lightweight (under three pounds) and won't take up a lot of space in a bag. The smaller size comes with compromises, such as smaller non-Retina screens and slower performance, but if you're using your laptop in meetings, a classroom, or a coffee shop for relatively simple tasks, those compromises may not matter too much.



Apple's most affordable laptops are MacBook Airs with prices that start at $899, but that's not to say that the MacBook Air offers entry-level performance -- these are machines that can handle all of your day to day tasks. If your workload consists mostly of productivity tasks that use single-core apps (web, email, word processors, spreadsheets, presentations, etc.) and you're frequently on-the-go, you'll be happy with the performance of the MacBook Air. There's nothing stopping you from using a pro-level app, but the 1.4GHz dual-core processor limits the performance.
If you're a heavy user of apps that are really designed more for multi-core machines, like Final Cut Pro, Photoshop, or Logic Pro X, you may not be satisfied with the performance that a MacBook Air offers.


There's a reason that the MacBook Air is one of Apple's most popular offerings -- they're amazingly portable. The 11-inch model weighs just 2.38 pounds while the 13-inch model weighs 2.96, and both models are just 0.68 inches thick. Battery life is another major draw. The 11-inch model will last for nine hours when browsing the web or watching videos, and the 13-inch model will last for a whopping 12 hours during the same tasks. That's enough battery life to more than make it through a full work day.
If you already read through the MacBook Pro section of this guide, you know the major trade off when choosing a MacBook Air -- you're losing out on that gorgeous Retina screen. You're also missing out on faster performance, but if you need a machine for travel purposes, you won't go wrong with a MacBook Air.
Get more information about the MacBook Air specifications.

Why you might want to wait
You've done your research, you've got your credit card out, and you're ready to buy -- but you might want to wait, especially if you want to buy a MacBook Air.
The current MacBook Air was released in April of 2014, so there's a real possibility a new MacBook Air could come out soon. Recently, Intel announced its new Broadwell processors, which could be used in a new MacBook Air. Not only are the processors new, but they also feature improved integrated graphics. According to a report by AnandTech, the first computers using the new 15-watt Broadwell-U chips -- the ones that could be used in a MacBook Air -- are expected at the end of January.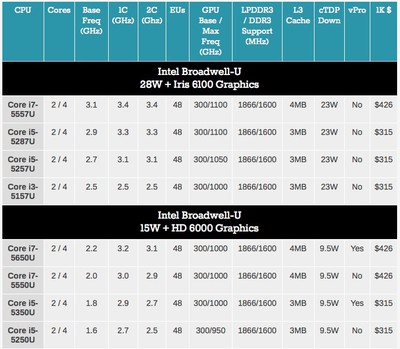 A little more sensational is the rumor of a 12-inch MacBook Air, which could have a Retina display. The 12-inch MacBook Air will feature a complete redesign that introduces an ultra slim body that might do away with several existing ports, including the MagSafe, relying instead on a USB Type-C connector for charging and peripherals. It's also rumored to have slimmer display bezels and an edge-to-edge keyboard design. It's not clear exactly when the 12-inch MacBook Air might launch, but current rumors suggest it's already in production for a spring to early summer launch.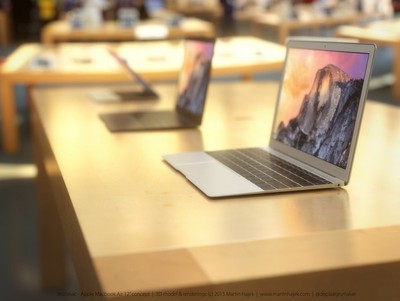 Rendering of the 12-inch MacBook by Martin Hajek


As for the MacBook Pro, the current version was released in July of 2014 and it looks like Broadwell Retina MacBook Pro machines may not be ready for a few months yet. The 28-watt Broadwell-U processors with the new Iris 6100 integrated graphics appropriate for the 13-inch Retina MacBook Pro are available, but chips appropriate for the 15-inch MacBook Pro will not be released in quantity until July or August, making an update before that time unlikely.
Of course, if you need a new laptop now, then buy one. If you have a Core 2 Duo-based MacBook, you'll benefit greatly from the current offerings. If your laptop is two or three years old, you should probably wait, since you'll see a better price/performance improvement with the new Broadwell-based MacBooks.

Which Mac laptop should you buy?
So you want to buy a MacBook Pro for its performance and Retina display. Which one should you get? The $1,499 13-inch MacBook Pro hits a sweet spot, offering more storage capacity (256GB) than the $1,299 model. And it's only a few percentage points slower than the $1,799 model, which is your only option if you want a 13-inch MacBook Pro with 512GB of storage.
If you prefer a 15-inch laptop, you should get the $2,499 MacBook Pro if you use a lot of pro apps -- you'll benefit from the 512GB of storage and the discrete Nvidia graphics subsystem.
The MacBook Air is great for users who need a computer for productivity tasks while traveling. If you can afford it, opt for a model with 256GB of flash storage -- not only do you get more room to store files, but you also get a slight speed boost as the 256GB model is a bit faster, according to speed tests. Remember, you don't get as many ports as you would on a MacBook Pro, so make sure you have the proper adapters.
Apple also makes a $1,099 non-Retina MacBook Pro that we didn't mention in this guide, but that's not really worth purchasing unless you desperately need dedicated FireWire, Ethernet and/or a SuperDrive. The non-Retina MacBook is old, slow, and will probably be discontinued in the near future.