Best Wireless Chargers for iPhone X, iPhone 8, and iPhone 8 Plus
With the release of the iPhone X, iPhone 8, and iPhone 8 Plus, Apple now supports Qi-based wireless inductive charging on its latest phones, and that means charging pads have quickly become popular accessories for iPhone owners.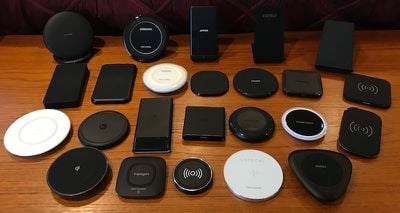 Apple's favored partners for wireless charging pads are Belkin and mophie, and Apple is carrying a $60 charger from each company in its own online and retail stores. But there are lots of other options available on the market, and we've had a chance to try out a number of them, so we're rounding them up in this guide which we'll continue to update going forward.

5W vs. 7.5W Charging
While the new iPhones initially supported only 5-watt charging, the iOS 11.2 update increased that to 7.5 watts for faster charging.
In practice it's not a huge difference in speed, and many users may not even notice it considering how easy wireless charging makes it to keep your phone topped off, but it's worth keeping in mind that some wireless chargers only support 5 watts while others support 7.5 watts and even higher 10-watt or 15-watt capabilities seen on some other devices. Certainly for iPhones, if you need a quick charge, you're going to want to use at least a 12-watt wired solution, if not an even faster USB-C option.


But as far as wireless charging options go, it's also important to note that it's not as simple as your iPhone uniformly charging at 7.5 watts on any charger that supports at least that much power. Wireless charging is a dynamic process that involves constant communication between the device and the charger to adjust charging power, and phone manufacturers are constantly refining their algorithms for managing wireless charging.
Inductive wireless charging can generate significant amounts of heat, especially at higher wattages, and phones and chargers work together to mitigate this by reducing the power draw and thus charging speed (sometimes significantly) once temperatures rise past certain thresholds. Some chargers even include built-in fans to try to keep temperatures lower to allow for longer periods of fast charging.
Phones will also generally charge faster the more the battery has run down, slowing down as the battery fills up to prevent overcharging. Similarly, many phones that support fast charging will draw maximum power for a brief period as charging begins in anticipation of a quick refill, but then slow down to a more sustainable longer-term power draw. Exactly how that charging is managed is largely up to the phone manufacturer.
Wireless charging tends to see different usage patterns than wired solutions, with wireless charging users more likely to charge for brief periods throughout the day to keep their batteries topped off rather than running all the way down and then fully recharging.
There are currently only two "Apple-approved" 7.5-watt charging pads on the market: Belkin's Boost Up and mophie's wireless charging base. Apple hasn't disclosed whether there is something unique about those two pads in comparison to other 7.5-watt (and higher) chargers, but it's probably fair to say that Apple worked closely with Belkin and mophie ahead of time to ensure optimal performance with the new iPhones and we've heard from several other manufacturers that they're working on developing their own chargers that will support fully optimized 7.5-watt charging with iPhones now that Apple has opened up its requirements to all partners.


While we have seen somewhat faster charging with Belkin's 7.5-watt charger compared to 5-watt wired and wireless options, that difference isn't always readily apparent considering the variety of factors such as current battery capacity, device and ambient temperature, device alignment with the charging coils, and more. As a result, in almost all cases my recent testing has seen relatively similar charging rates using chargers from a variety of manufacturers at 5 watts, 7.5 watts, and higher.
Given that wired charging remains the best option for a quick recharge and that wireless charging speed is fairly unimportant in many other scenarios such as overnight or extended time at a desk, even 5-watt chargers will be just fine for many users. But if you want to make sure your charger is optimized to work with your iPhone, you might want to stick to the Belkin Boost Up or mophie wireless charging pad for the time being. Options will improve over time as other vendors roll out their own chargers likely to be certified under Apple's MFi program.

Stability
The glass backs on the new iPhones are incredibly slippery, and many users have reported their phones sliding out of alignment with wireless chargers due to vibrations from notifications. I've even seen my iPhone X slowly slide out of position on chargers without any phone vibrations, simply due to my desk surface not being completely level (up to about a one degree tilt in certain spots).


I do use my iPhone X with Apple's leather case, which provides significant extra grip compared to a naked phone. Most of these chargers also have some sort of non-slip ring or full surface to help mitigate the issue, but it's something to be aware of if you don't like to use a case on your phone.

WPC Certification

The Qi wireless charging standard is overseen by the Wireless Power Consortium (WPC), a group Apple joined in February 2017. The industry group dedicated to development of the open standard runs a certification program that allows manufacturers to submit verification that their products comply with the latest Qi specifications. Certified products appear in the WPC database and are allowed to carry the Qi logo.
In general, the lack of a Qi logo and WPC certification doesn't necessarily mean that a charger is dangerous or substandard in performance, and there are plenty of non-certified chargers on the market that work just fine. But the WPC does point out that untested chargers can pose risks related to overheating and foreign metal detection, so if certification is something you're interested in for peace of mind, make sure to look up any potential purchases in the WPC database, which is updated daily. It can, however, take some time for certified chargers to be added to the database.

List of Chargers
We've tested two dozen different Qi chargers from over ten different manufacturers and shared our brief impressions below. Chargers labeled as "certified" currently appear in the WPC's database of Qi-certified devices or have otherwise been confirmed to be certified.
Pricing at the time of publication is listed for each charger, but is subject to change and we aim to keep this guide updated as prices change. Additional chargers may also be added to this guide over time as we have opportunities to test them.

Anker
- PowerPort Qi 10 ($25.99 - certified) - This charging pad is about as small as it gets, coming in at roughly 3.25 inches square and only a quarter of an inch thick, much thinner than most other chargers.

Anker PowerPort Qi 10
A series of blue LEDs around the edge light up and flash a few times when you place your phone on the charger, but they quickly go out and are not disturbing in dark environments. The pad supports up to 10 watts of charging power, and it comes with a 3-foot micro-USB cable but no power adapter.
- PowerPort Wireless 5 Pad ($20.99 - certified) - This is a pretty straightforward mid-size round wireless charging pad. It's a little under 4 inches in diameter and has some fairly small Anker branding on the charging surface.

Anker PowerPort Wireless 5 Pad
There's a small blue LED near the edge of the top surface that lights up for a few seconds when the pad is plugged in and then shines solid when your phone is on the charger. The light blinks if a poor charging connection is detected or if an overheating condition develops. This is only a 5-watt charger, but as with other chargers we tested, in practice the speed difference is pretty minimal.
- PowerPort Wireless 5 Charging Stand ($26.99 - certified) - This is currently my favorite stand style charging pad. It's a simple plastic stand with some Anker branding on the rear support, and it has a small blue circular LED that lights up only when your phone is charging. The stand has two charging coils built into the rear support, offering flexibility in size and orientation of phones used with it. As a result, it can charge your iPhone not only upright in portrait orientation but also in landscape, which is handy for watching videos.

Anker PowerPort Wireless 5 Stand
This is only a 5-watt charger, but it performed nearly on par with most other chargers, and any slowness in charging is a non-issue for my usage pattern where I typically keep my phone topped off on the charger at my desk throughout the day.
- PowerPort Wireless ($17.99) - Anker's budget charger offers only 5 watts of charging power and includes a very prominent wireless charging logo on its surface, so it's not one of my favorite picks. In addition to the large logo, it has a ring of non-slip material near the edge, and a ring of silver color just outside that, so it really does stand out when sitting unused on a desk or table.

Anker PowerPort Wireless
The PowerPort Wireless is quite compact at just 2.25 inches in diameter, and it comes with a micro-USB cable. There are a couple of small LEDs in the edge of the charger, one that shines red when connected to power and a second that shines blue when a phone is on the charger. For compatible devices, once your device is fully charged, both the red and blue lights will come on.
Aukey
- LC-Q1 Wireless Fast Charger ($24.99) - Aukey's top entrant for iPhone wireless charging is the LC-Q1, which supports up to 10 watts of charging power. The LC-Q1 uses a USB-C cable, and a 1.2-meter USB-C to USB-A cable is included in the box, although you'll have to supply your own power adapter. USB-C doesn't give you much of an advantage over the micro-USB connectors seen on most other wireless chargers, but if you're all-in on moving to USB-C it's perhaps a way to cut down on the number of cables you need to have on hand. And USB-C has the reversibility advantage, so it's easier to plug it into the charger, although that's typically not something you're going to need to do very often.

Aukey LC-Q1
The LC-Q1 has a rather unique rounded triangular shape to it and measures just over 4 inches across at its widest points. The round charging surface is raised ever so slightly above the main body of the charger, and there's some gray Aukey branding on the pad. There's also a small LED on the surface of the charger that shines white while connected to power and green while charging a phone. The LC-Q1 even includes a built-in fan underneath the charging surface, which exhausts through the bottom of the charger, although it only kicks in when charging at 10 watts to prevent overheating, so you won't see that in action with an iPhone.
Belkin
- BOOST↑UP Wireless Charging Pad ($59.87 - certified) - Like the mophie wireless charging base, Belkin's charging pad is an "Apple-approved" accessory, supporting up to 7.5 watts of charging power. Its white color stands out among most of the other black options, and at 4.5 inches in diameter it's quite a large charger.

Belkin BOOST↑UP
A small green LED near the edge lights up when charging, and the charger uses an included proprietary power adapter/cable. For more on the Belkin Boost Up, check out our
hands-on video
.
Choetech
- T520 ($16.99) - Like the similar offering from Anker, Choetech's T520 is a stand-style charger, offering up to 10 watts of charging power with 2 coils for some flexibility in aligning with devices and thus allowing for charging in landscape orientation.

Choetech T520
The T520 includes a micro-USB cable but no power adapter, and has Choetech branding on the rear support. It has an LED strip along the bottom front of the charger that shines blue whenever the charger is connected to power and green when a phone is charging. Depending on your preference, this can either be a rather cool lighting effect or a distraction.
- T511 ($11.99 - certified) - The T511 is a fairly basic 7.5-watt charger, with a simple square design that's roughly 3.5 inches on each side. It's black with a slightly raised dark gray wireless charging symbol on its surface, and there's a blue rectangular LED in the front edge of the charger that lights up during charging. A micro-USB cable is included.

Choetech T511
-
T513
($15.99, but currently unavailable) - Choetech's T513 is a rectangular charging pad measuring about 4.75 inches by 2.5 inches, with a matte black plastic top and a large gray wireless charging icon on the surface that's slightly raised to give a little bit of grip. A blue LED at one corner of charging pad lights up to let you know when your phone is charging and goes off when charging is completed on supported phones, which doesn't include iPhones.

Choetech T513
With 7.5 watts of output, this is touted as a three-coil charger, which should give you more flexibility in where you place your phone on the pad. In practice, however, I found this to be among the most frustrating pads, as I was unable to get it to charge my phone when it was centered on the pad. Only when I slid my phone down so the top edges of the phone and charger were roughly even could I get a charge to work, which isn't the most stable arrangement. I'm not sure if this is intended or if my unit is defective, but based on my experience I have a hard time recommending this one. A micro-USB cable is included.
- T811C-S ($16.99) - This is a fairly compact 10-watt charging pad that uses a USB-C connection and includes a USB-C to USB-A cable but no power adapter. The T811C is a squarish pad just over 3.25 inches across with non-skid strips along each of the four sides and subtle Choetech branding. An LED on the front side shines blue while standard charging and green while fast charging at 10 watts, which again you won't see when using an iPhone.

Choetech T811C-S
-
T517
($12.59–$14.99 - certified) - This is a round 7.5-watt charger with a rather unique look to it, although there is fairly prominent Choetech branding on the charging surface. It's available in several different colors, and the one I tested was in a combination of black, white, and silver.

Choetech T517
A translucent edge around the entire perimeter of the charger allows a diffuse blue glow to shine through around the front edge while your phone is charging. An ambient light sensor in the charger allows that glow to brighten or dim depending on the environment, which makes the light easy to see during the day yet subtle in the dark on a nightstand, for example.
Incipio
- Ghost Qi 15W Wireless Charging Base ($59.99 - certified) - The Ghost Qi wireless charger from Incipio offers a fairly small form factor at about 3.5 inches square. At $60 it comes in at the high-end of the range for these types of chargers, but it can sometimes be found for significantly cheaper. It does offer 15 watts of charging power, which is obviously overkill for iPhones, but if you've got other Qi devices around the house that support the fastest currently available speeds, this might be a consideration.

Incipio Ghost Qi 15W
It has an LED on the front edge of the base that shines solid when charging at 5 watts and pulses white when fast charging at 9–15 watts, which of course leaves the current 7.5-watt charging standard unaccounted for in the middle. The LED also flashes red briefly when the charger is plugged in and will shine red to signify abnormal operation during the charging process. The charging pad has four small grippy pads to help keep it in place on your desk, and you're going to need them because the Ghost Qi comes with a proprietary adapter/cable combo and near the end of the cable is a ferrite bead to suppress high-frequency interference, and it adds a fair amount of weight that can exert some pressure on the pad.
The charger also emitted a slight "ticking" sound when my iPhone X was placed on the pad in certain orientations. The sound is related to oscillations within the charging coils that isn't unheard of in Qi charging systems (I also hear it from my mophie charge force case for my iPhone 7 Plus), but which I did not pick up on from any other charger I tested for this guide. I was able to eliminate the noise by adjusting the phone's position, but the sweet spot seemed pretty small and I can see it potentially becoming annoying trying to find a good position that avoids the ticking.
- Ghost Qi 3-Coil Wireless Charging Pad ($49.99 - certified) - This is a large 5-watt charging pad with a somewhat rectangular shape, measuring roughly 5.5 inches long by 2.75 inches wide. While it's a large pad, it's almost exactly the same size and shape as an iPhone X, which means it doesn't really waste a whole lot of space. With a 3-coil design, there's some good flexibility in how you can place your phone on the pad and still get a charge.

Incipio Ghost Qi 3-Coil Charger
Lining the rim of the charger's front edge is an LED that shines blue while charging, blinks red if your phone alignment isn't quite right, and shines steady red if there is another issue with the operation of the charger. The LED is quite bright, which means this charger may not be a good nightstand option for many users. The charging pad also emits a single high-pitched beep when a phone is placed on it and charging begins. Some users may appreciate the beep as an audible confirmation of charging, while others may prefer their chargers be silent.
The charger has four small grippy pads on the bottom to keep it in place, and it comes with a proprietary power adapter/cable combo that locks into a slot on the pad to ensure it doesn't come loose, and like the 15W Ghost Qi charger, the cable does have a ferrite bead on it. The rectangular form factor is somewhat unique and the blue LED looks neat if you want a charger that adds some style to your desk, but the $60 price point is a little hard to swallow for a 5-watt charger if you can't find this one on sale.

Insignia
- Qi Certified Wireless Charging Pad for iPhone ($39.99 - certified) - Best Buy's house brand Insignia has launched a Qi charger that offers up to 10 watts of charging power and comes with both a micro-USB cable and a power adapter. The black charging pad just under four inches in diameter is fairly unobtrusive, although it does have a gray Qi logo on its surface.

Insignia Wireless Charging Pad
An LED ring around the edge of the charger offers a fairly nice look, although it could be distracting in a dark room. It flashes purple when you first plug in the charger, shines solid blue while standard charging, and solid purple when fast charging at 10 watts with a compatible device (which the iPhone obviously is not). It'll shine red if the phone isn't charging properly. The charger has a really nice grippy ring around the bottom that will keep it in place on your desk, table, or nightstand.
mophie
- Wireless Charging Base ($59.95 - certified) - This is one of the "Apple-approved" options, supporting up to 7.5 watts for full compatibility with the new iPhones. The round puck-shaped charger comes in black and includes a proprietary one-piece power adapter/cable combination that plugs into the rear of the charging pad.

mophie wireless charging base
It has a fairly bright white LED that comes on while your phone is charging, but its placement under the front edge of the charger means it's not too distracting in dark rooms. Overall this is a nice option, but it comes with a hefty price tag. For more on the mophie wireless charging base, check out our
hands-on video
.
- Charge Force Wireless Charging Base ($39.95 list, $39.93 at Amazon - certified) - This rectangular charging pad has been around for quite a while as part of mophie's charge force series of wireless charging cases, which I've used on my iPhone 7 Plus for nearly a year. It's a nice, slim form factor that matches that of an iPhone, so it doesn't take up extra space on a desk or nightstand.

mophie charge force wireless charging base
The charge force base and cases include magnets that keep things aligned for optimal charging, but this obviously won't help with any of the new iPhones that have the wireless charging built in. On the downside, this pad only supports 5-watt charging, and while it comes with a short micro-USB cable that might be enough to reach a nearby computer or dock on a desk, it doesn't come with a power adapter and many users will find they need a longer cable. Fortunately, micro-USB cables are easy to come by.
- Charge Force Powerstation ($99.95 - certified) - This is an interesting option that combines a 10,000 mAh external battery with built-in Qi inductive charging, so you can recharge your new iPhone on the go without a cable. Like the charge force pad, the powerstation uses magnets to help align phones with compatible charge force cases, but you won't have that luxury with a bare iPhone. That makes it tricky to use on the go unless you can set it down on a surface while charging, but that might work depending on your usage pattern.

mophie charge force powerstation
The powerstation also includes a USB-A port to support wired charging, and you can in fact charge two devices at same time — one wireless and one wired. A one-meter USB-A to micro-USB cable is included to recharge the powerstation through its micro-USB port and to power micro-USB devices from the battery's USB-A port. I haven't seen the powerstation's wireless charging wattage specified anywhere, but in my testing it's on par with or even a little faster than other chargers rated at 5 watts.
RAVPower
- Fast Wireless Charger for iPhone 8, 8 Plus, X ($44.99) - RAVPower is a popular charging accessory brand, and the company's fast wireless charging pad is a black, 3.5-inch diameter puck that offers up to 10 watts of charging power, although iPhones are obviously limited to 7.5 watts. RAVPower was in fact the company that tipped us off that it was seeing devices on the iOS 11.2 beta pulling up to 7.5 watts of power.

RAVPower Fast Wireless Charger
At $50, RAVPower's charger is a little cheaper than the mophie and Belkin options, but still near the high end for these chargers. On the plus side, everything you need is in the box, including a 24-watt adapter and a high-quality 1-meter braided micro-USB cable.
Samsung
- Fast Charge Wireless Charging Stand ($59.99, sale $39.00 for black - certified) - Samsung's stand offers 5–9 watts of charging power in a fairly unique design consisting of a pair of discs serving as base and charging surface. The charging disc is on the large side, measuring nearly 4.5 inches in diameter and it has some "Samsung" and "Fast Charge" branding on it. The disc seems oversized considering the size of most phones, but it's still an interesting look and the stand has some nice heft to it that helps keep it steady and give it a solid feel.

Samsung Fast Charge Wireless Charging Stand
The charging surface is reclined at about a 37-degree angle, so it's a bit further back than stands from Anker and Choetech. A small blue LED on the front of the base lets you know your phone is charging. The charger is available in black, gold, silver, and white color options, and all come with both a power adapter and a micro-USB cable. The cable and adapter included with my black charger were white, which seemed a little odd to me, but it's not a big deal.
The charger includes a fan built into the rear of the charging to help dissipate heat when charging at 9 watts, but it won't activate with the lower power demands of iPhones. Pricing through Samsung varies significantly among the different colors.
- Fast Charge Wireless Charging Pad ($49.99 - certified) - For those looking for a flatter pad-style charger, Samsung also offers one of those options, available in white, blue, and black sapphire. I tested out a white version, which comes with a white micro-USB cable and a white power adapter. The charging surface is actually clear plastic with a white layer underneath, so there is some depth and translucence to the charger. A rubber ring on the charging surface provides some grip for your phone, although it did seem to attract a few dirty smudges in my usage.

Samsung Fast Charge Wireless Charging Pad
This is a fairly large charging pad at roughly four inches in diameter and three-quarters of an inch high, as it integrates a fan for use when fast charging compatible phones. It also has a multicolor LED that shines through the front edge of the charger. The LED shines blue while charging and turns green when charging is completed on compatible devices. Samsung's tech specs don't seem to explicitly list the power on this charger, but it appears to top out at 9 watts.
- Fast Charge Wireless Charging Convertible ($89.99 list, $58.98 at Amazon - certified) - If you're looking for a super premium wireless charger, this is a prime candidate for consideration. Not only does it have a 4.5-inch "leather-like" charging surface for a premium feel (though with unfortunate "Fast Charge" text printed on it) that keeps your phone stable, but it also converts between a horizontal pad and a reclined stand, giving you the option of easily switching between the two as needed.

Samsung Fast Charge Wireless Charging Convertible
To convert the charger from a pad to a stand, just slide the top portion of the charger back and then raise it up from the rear. It clicks into place, with a lip on the bottom portion creating a resting place for your phone. It's definitely worth noting that this lip doesn't really work with phones inside chunky wireless charging battery cases. For example, my iPhone 7 Plus in
mophie's Juice Pack Air case
is too fat to sit down in the groove created in stand mode with this charger. It can sort of sit right on the edge of the lip, but nearly any bump will cause the phone to slide off the charger. It works fine with an iPhone X either naked or with a reasonably slim case on it.

Stand and pad orientations
Three coils in the charging surface ensure it'll charge your device no matter the size or orientation. Available in black or tan, the black version I tried came with a black USB-C to USB-A cable and a black power adapter. It's capable of supporting up to 9 watts of charging power, and an integrated fan will kick on when charging devices that support the maximum wattage. A small LED in the base of the charger shines blue while charging and turns green when charging is completed on compatible devices. This is a fairly bulky charger due to all that's packed into it with a fan and the mechanism required to convert between pad and stand, but to me it's worth it for the features it brings. It's definitely a unique charger.
Satechi
- Aluminum Wireless Charger ($34.99 list, $29.99 on Amazon - certified) - Satechi's offering is an aluminum disk about four inches in diameter, which gives it a decent amount of heft that makes it sit solidly on a desk or other surface. The charger comes in silver, space gray, gold, and rose gold color options to coordinate with many of Apple's products, although it may not have a great match with the new gold color introduced for the iPhone 8. Still, the aluminum construction, array of color options, and chamfered edge on the charger make it feel somewhat like an Apple product.

Satechi Aluminum Wireless Charger
Unfortunately, a Satechi logo, the words "Fast Charge" and a plus sign on the surface pad detract a fair amount from the visual appeal. A white micro-USB cable was included with the silver charging pad I tested. This is a 9-watt charger, and it includes a small LED on the front edge that shines blue while charging. It turns green when charging is completed on compatible phones, but this feature is not supported for iPhones.
Spigen
- Essential F301W Wireless Charger ($39.99 list, $27.99 on Amazon - certified) - This is Spigen's ultra-slim pad-style charger, coming in at just over three inches square. It's a 9-watt charger, but it'll only charge iPhones at 5 watts, so you won't see a speed advantage with this one. Spigen says it has a 7.5-watt charger for the iPhone currently in development, but no word yet on a launch date.

Spigen F301W
The F301W comes with a micro-USB cable but no power adapter, and it has a grippy ring on the bottom for stability, which is a good thing because this is an extremely lightweight charger. There's a tiny LED under the front lip of the charger that shines green while connected to power in standby mode and blue while charging. With compatible phones, the LED changes back to green when charging is completed, although iPhones don't appear to support this feature.
- F303W Wireless Fast Charger ($44.99 list, $28.99 on eBay - certified) - This is a stand-style charger, although it offers a much more reclined position than stand chargers from Anker and Choetech. While the other two are slanted roughly 30 degrees back from vertical, the Spigen charger's angle is closer to 50 degrees from vertical. I prefer the more upright positioning of the Anker and Choetech, but that's largely personal preference. The reclined design of the F303W does mean that this charger takes up a good amount of space, as the rear leg of the charger extends back quite far for stability, putting the total depth of the charger at about 7.5 inches.

Spigen F303W
The F303W comes with a micro-USB cable but no power adapter, and it supports 5-watt and 9-watt charging, but not the 7.5-watt maximum for the iPhone. The F303W is made of a hard plastic with a soft-touch finish, and the lip at the bottom of the phone support has a thin pad to help keep your phone free of scratches. A thicker dock pad with 3M tape backing is also included in the box if you find you need your phone to sit a bit higher on the chargers for optimal alignment.
The charger does have two coils, so you can charge your phone in either portrait or landscape mode. Underneath the front lip of the charger are red and blue LEDs. The blue LED shines steady during 5-watt charging and red during 9-watt charging. Both lights will come on for compatible devices when charging is completed. The LEDs are rather bright, so keep that in mind.

Native Union
- Drop Wireless Charger ($59.99) - The Drop from Native Union is on the pricier side for a wireless charger and it does not support 7.5W charging, but Native Union says temperature control features allow it to charge an iPhone 16 minutes faster than other 5W chargers on average. In our testing, it did seem to be faster than a standard 5W charger.

The Drop wireless charger from Native Union


The Drop features a stylish silicone and fabric covered base that has a lot of grip so the iPhone doesn't slide around while charging, and it's quite small, so you don't need to readjust the iPhone to make sure the coils are lined up. It comes with a 6.5-foot braided cord, which is nice if you need extra cord length, but it does not include a power adapter so you'll need to supply your own. This is one of the better looking chargers we've tested, but no 7.5W support is a definite downside at this price point.

Wrap-up
It's difficult to make a concrete recommendation for a wireless charger, as it's very much a personal decision and everyone's priorities are different. But one thing we can say is that we don't see a whole lot of variation in charging speeds among various wireless charging solutions. Higher-powered 7.5-watt chargers might refill your iPhone's battery a little bit faster than 5-watt chargers, but it's not a very significant difference and there's a lot of variation based on charging conditions such as device and ambient temperature, alignment with charging coils, etc.
Given that wireless charging also makes it easy to keep your phone topped off throughout the day by just setting your phone down, and the fact that an overnight charge will refill your battery completely regardless of wattage makes your choice of wattage not necessarily the most important criterion. If you need to charge your iPhone quickly, you're much better off with a high-powered wired solution over any wireless charger.
Still, wireless chargers are incredibly convenient, and there are a host of options available on the market with more coming nearly every day. As always, it's a good idea to stick with known and trusted brands, and official Qi certification from the WPC is a good feature to look for, although the non-certified ones I tested generally worked just fine in my limited time with them.
Right now, my favorite nightstand charger is the mophie wireless charging base for its relatively small size and assured optimal compatibility with Apple's standards. I also like the RAVPower Fast Wireless Charger in no small part because of the included powerful 24-watt adapter and braided micro-USB cable. Those extras give you everything you need to get your phone charged (unlike many others that require you to supply your own adapter) and their quality is even a step above what I'd typically expect.
For my desk, my top pick is Anker's PowerPort Wireless 5 Charging Stand. Even though it's only a 5-watt charger, its compact footprint, simple design, and subtle status light are a nice set of features at a great price point.
Generally speaking, if you're on a budget, you should be able to get by with one of the cheaper options, but going with a Qi-certified model helps ensure that your charger meets all of the required specifications. At the top end are the Belkin and mophie solutions developed in partnership with Apple. They're expensive, but at least you know they've been designed to function optimally with your iPhone. And hopefully we'll start to see some more Apple-approved options coming out through the MFi program as we head into 2018.
Note: Most of the manufacturers provided their chargers to MacRumors free of charge for the purposes of this guide. No other compensation was received. MacRumors is an affiliate partner with various vendors and may earn commissions on purchases made through links in this article.
Tags:
Belkin
,
Wireless Charging
,
Satechi
,
Mophie
,
Spigen
,
Incipio
,
Anker
,
Qi
,
Wireless Power Consortium
,
Aukey
,
Choetech
,
Insignia
,
RAVPower