Apple Joins Wireless Power Consortium Behind 'Qi' Standard Ahead of iPhone 8
Apple recently became listed as a member of the Wireless Power Consortium, committed to the open development of the Qi wireless charging standard. The listing was brought to our attention by IHS Technology.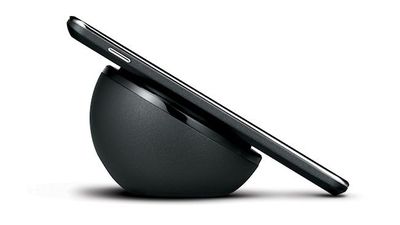 Apple, which has since confirmed it is a member, has become one of over 200 companies that belong to the consortium, including Samsung, LG, HTC, Qualcomm, Verizon, ConvenientPower, Aircharge, Dell, Canon, Sony, ST Microelectronics, Toshiba, Texas Instruments, Philips, Panasonic, Bosch, Nokia, and Huawei.
Qi is the leading wireless charging standard, used by more than 200 companies in products ranging from smartphones to cordless kitchen appliances. Samsung's latest Galaxy smartphones, for example, feature Qi-based wireless charging which requires placing the device on one of its "Fast Charge" stands.
Qi, pronounced "chee," is capable of scaling from less than 1 watt to more than 2,000 watts of power, making the standard more than adequate enough for charging any smartphone. With Qi's latest Quick Charge technology, a five-minute charge can provide a smartphone with up to five hours of battery life.
The so-called "iPhone 8" is widely rumored to include wireless charging, so Apple's participation in the consortium is perhaps unsurprising. Moreover, there is increasing evidence to suggest the "iPhone 8" may use inductive technology, which would require a charging puck or pad, rather than long-range charging.
Luxshare is also a member of the Wireless Power Consortium, which is notable given a recent rumor claiming the "iPhone 8" will have a separate wireless charger based on technology from the Chinese company. Luxshare was rumored to be a supplier of wireless charging coils for the Apple Watch charger.
In 2015, the Apple Watch was found to be compliant with the Qi wireless charging standard, but Apple did not submit it for interoperability testing. However, this does not guarantee that Apple will use the Qi standard for future iPhones, but its membership does show its interest in the technology.
Over the course of the last year, there has been ongoing speculation that wireless charging company Energous has inked a deal with Apple to potentially provide wireless charging technology for the iPhone 8, but patents and other evidence suggest Apple may pursue its own in-house inductive charging solutions instead.
Update: Apple confirmed that it has joined the Wireless Power Consortium in a statement to Business Insider.
Apple is an active member of many standards development organizations, as both a leader and contributor. Apple is joining the Wireless Power Consortium to be able to participate and contribute ideas to the open, collaborative development of future wireless charging standards. We look forward to working together with the WPC and its members.
Apple said it "looks forward to working together" with the other members to help further the "development of future wireless charging standards."