AMD Articles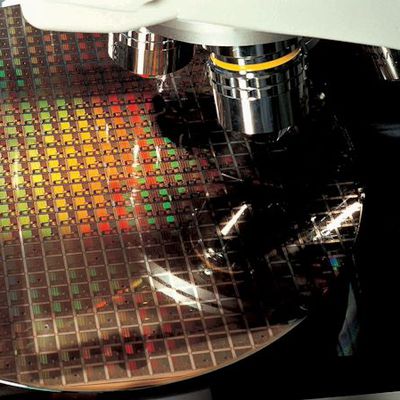 A group of U.S. chip companies, including Intel, Qualcomm, Micron, and AMD, have today sent a letter to President Joe Biden to request "funding for incentives," while Apple supplier TSMC is undertaking a considerable expansion as chip demand outstrips supply (via Reuters). The letter to the President asked for "substantial funding for incentives for semiconductor manufacturing" to be...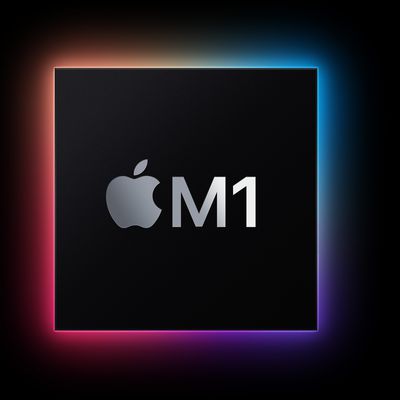 Apple's M1 processor often surpasses the graphics performance of desktop GPUs, including the Nvidia GeForce GTX 1050 Ti and AMD Radeon RX 560, according to a new benchmark submission spotted by Tom's Hardware. According to Apple, the ‌M1‌'s octa-core GPU can simultaneously handle close to 25,000 threads and deliver up to 2.6 TFLOPS of throughput. This is the same TFLOPS achieved by the...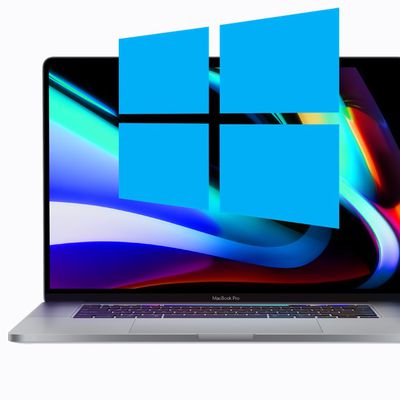 As noted on Reddit, AMD has released Boot Camp drivers for the 16-inch MacBook Pro with Radeon Pro 5600M graphics, providing full compatibility with Windows 10. Introduced earlier this month as a $700 upgrade, Apple says the 5600M graphics with 8GB of HBM2 memory are up to 75 percent faster than the 5500M graphics with 4GB of GDDR6 memory in the base model 16-inch MacBook Pro. Boot Camp...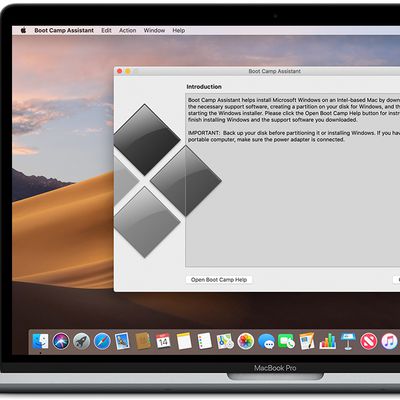 Apple yesterday published a new support document detailing fixes for an issue where the right side of a user's Mac screen may be distorted when running Windows 10. Some Mac models with AMD Radeon graphics may be experiencing an issue where the right side of the screen flickers and is distorted when running Windows 10. On external displays, this distortion may affect the entire screen....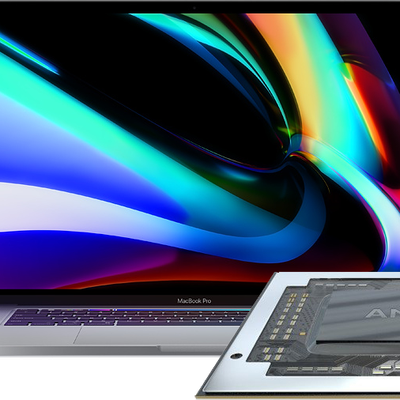 Over the last few months, an increasing number of references to AMD processors have been uncovered in macOS Catalina code, starting with the 10.15.2 beta in November and now continuing in the 10.15.4 beta. Given that Macs currently use Intel processors, the references are naturally prompting speculation that perhaps Apple plans to release Macs with AMD processors, but this is unconfirmed as of ...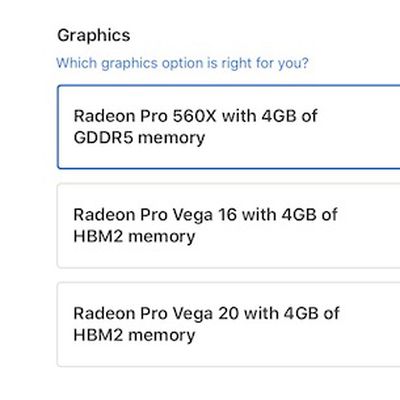 Following its October 30 media event, Apple quietly announced in its MacBook Air press release that new AMD Radeon Pro Vega graphics would be coming to the 15-inch MacBook Pro as of November 14, and the new options have just gone live in Apple's online store. The high-end 15-inch MacBook Pro can now be custom configured with with Radeon Pro Vega 16 graphics for an additional $250 or Radeon...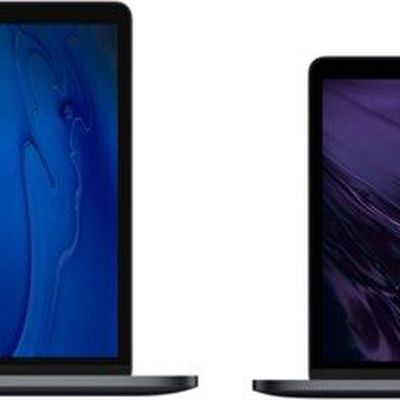 During today's New York event where a new space gray Mac mini, a Retina MacBook Air and redesigned iPad Pros took center stage, Apple also quietly announced new graphics options for the MacBook Pro coming next month. Tucked away in a press release, Apple revealed it is bringing AMD Radeon Pro Vega graphics to MacBook Pro for the first time. The company says these new graphic options deliver...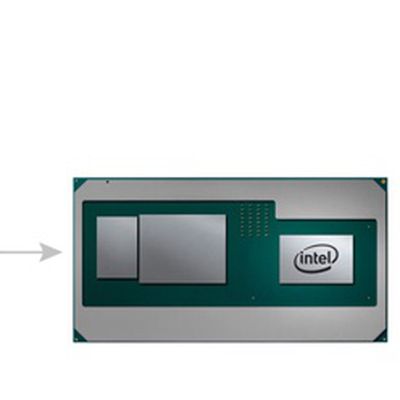 Longtime rivals Intel and AMD are joining forces to produce new 8th-Generation H-Series Intel mobile processors paired with stacked second-generation High Bandwidth Memory and custom-built discrete graphics from AMD, Intel announced today. For the new H-Series chips, which feature all of the above listed components in a single processor package, Intel says is using its Embedded Multi-Die...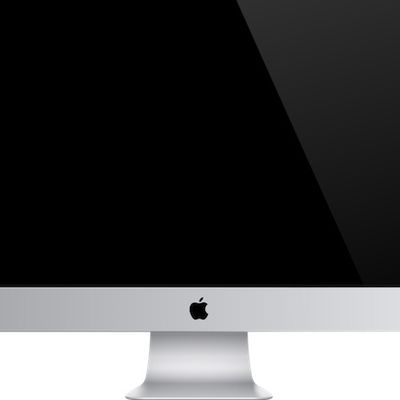 Earlier this week, Apple made the rare move of pre-announcing that it is working on new pro-focused iMac models that will launch later this year. Apple did not share any specific details about what the upgrades will entail, but if the blog Pike's Universum is to be believed, the next-generation iMac lineup could feature several improvements that make Apple's desktop computer a more powerful...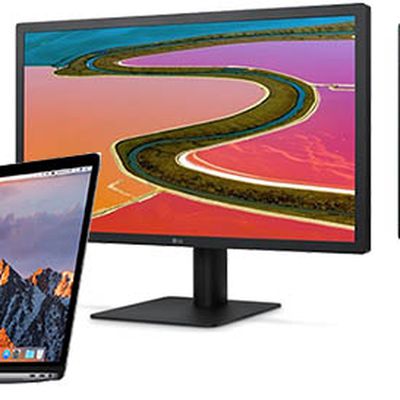 Apple dropped Intel's integrated Iris Pro graphics in favor of dedicated AMD graphics across its entire new 15-inch MacBook Pro lineup, resulting in performance improvements over previous models. Perhaps more interestingly, the switch to AMD provides expanded external display support that desktop users have patiently waited for. As Andrew Cunningham at Ars Technica explains, AMD's...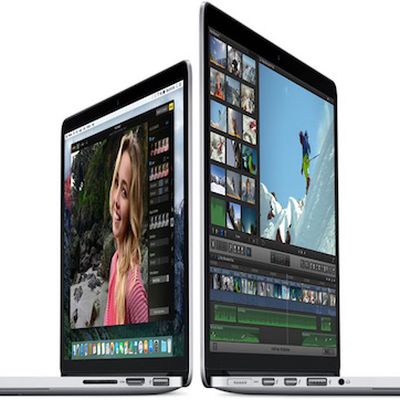 Apple is planning to refresh its Mac lineup, including the MacBook Pro and MacBook Air, as early as October, according to Bloomberg. The report also claims Apple is working on a standalone 5K display in partnership with LG Electronics, while it plans to update iMac models with an option for new graphics chips from AMD. The report reiterates that the new MacBook Pro will be thinner and...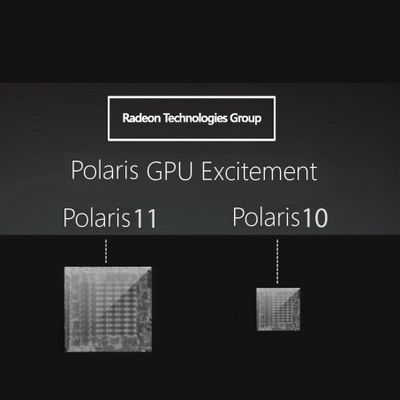 Following up on its rumor of a major AMD design win reported last October, WCCFtech has confirmed via multiple sources that the customer in question is indeed Apple. The latest design win follows Apple's use of AMD 200/300 series GPUs in the top-end 27-inch Retina iMac and 15-inch Retina MacBook Pro, and is a boon for the chipmaker that has seen its share of the graphics market dwindle over the...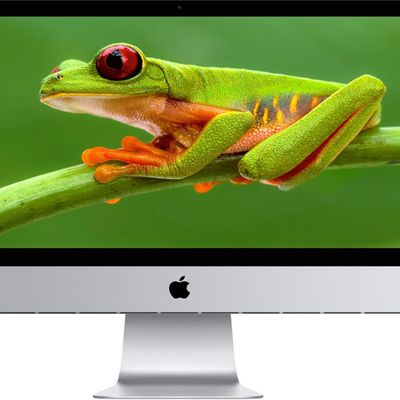 Major graphics processing providers AMD and Nvidia are set to unveil new GPU products this year featuring Global Foundries' 14 nm FinFET and TSMC's 16 nm FinFET Plus processor nodes, respectively, allowing for significant improvements in graphics performance. AMD's "Polaris" and Nvidia's "Pascal" architectures both utilize the latest FinFET silicon processes and will represent the first GPU...