Apple's Mac Lineups to See Significant Graphics Upgrades as New GPU Launches Loom
Major graphics processing providers AMD and Nvidia are set to unveil new GPU products this year featuring Global Foundries' 14 nm FinFET and TSMC's 16 nm FinFET Plus processor nodes, respectively, allowing for significant improvements in graphics performance.
AMD's "Polaris" and Nvidia's "Pascal" architectures both utilize the latest FinFET silicon processes and will represent the first GPU process node change since 28 nm GPUs debuted in 2011. Both AMD and Nvidia skipped the intermediate 20 nm node, elongating the typical release cycle of consumer graphics processors.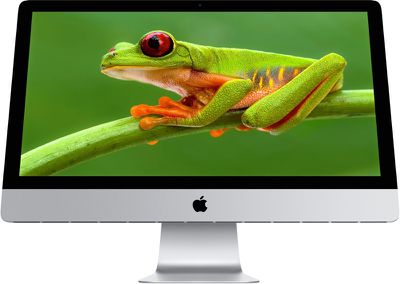 While TSMC had traditionally provided multiple process offerings within a node, including one specifically tailored to higher power applications such as GPUs, the company found that the traditional planar geometries of its 20 nm node gave the firm less differentiation with its normal set of tweaks, rendering it a poor candidate for power hungry GPUs.
In a statement released earlier this year, AMD claimed that the new 14 nm Polaris GPUs will offer over double the performance per watt of their 28 nm predecessors. This news also confirmed AMD's use of Global Foundries' 14 nm FinFET process, rather than TSMC's 16 nm process, which Nvidia will use. While AMD confirmed the use of TSMC for its higher power product offerings, any products developed from that process node would be destined for the Mac Pro only, as Apple has traditionally used mobile GPUs for its notebook and iMac product lines.

The new FinFET process nodes promise a big performance jump for AMD's Polaris architecture
Product launches for these new GPUs are expected to occur around the summer timeframe. While Nvidia introduced its massive new Tesla P100 graphics card just this week,
one rumor
pegs the broader launch of the company's GeForce Pascal line around the time of
Computex
, which takes place from May 31 to June 4.
In addition to the new process nodes, both new architectures are expected to utilize a variety of new high-speed memories such as GDDR5x and HBM2, which promise improved memory bandwidth and memory size, in HBM2's case. AMD has already previously successfully launched a product utilizing a new 3DIC memory technology with their debut of the "Fury" line in 2015.
Though GPU rumor cycles tend to focus on desktop products, AMD's CEO stated that both desktops and laptops featuring the new Polaris GPUs are expected to launch before the back to school season. Apple has traditionally alternated between GPU offerings from both AMD and Nvidia when it comes to its product lines, with AMD owning the wins for the latest iterations of both the 27-inch iMac and MacBook Pro lines.
The MacBook Pro in particular is due for an update, and rumors have suggested new models could arrive at WWDC in June, but it is unclear whether Apple would be able to feature the upcoming GPUs within that timeframe. Apple has sometimes been very quick to incorporate the latest technology from its partners, but other times as waited quite some time before upgrading. Updates for the 27-inch iMac are less imminent, as the line was just upgraded to Intel's latest Skylake processors in October.