Will Apple Release New Macs Soon? [Oct 30 Update: M3 iMac, MacBook Pros Unveiled]
Update: Apple at its "Scary Fast" event on October 30 announced an updated M3-powered 24-inch iMac, as well as new 14-inch and 16-inch MacBook Pro models with M3 series chips.
---
Apple often releases new Macs in the fall, but we are still waiting for official confirmation that the company has similar plans this year. We're in the latter half of October now, and if Apple plans to launch Macs before the holidays, recent history suggests it will happen this month. Here's what we know so far.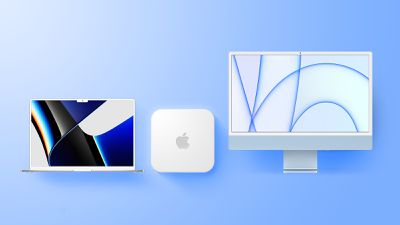 It's been over 130 days since Apple released a new Mac, the last being M2 versions of the Mac Pro, Mac Studio, and 15-inch MacBook Air, all of which arrived in June. Prior to that, in January, Apple released ‌M2‌ Pro and ‌M2‌ Max versions of the 14-inch and 16-inch MacBook Pro, alongside new M2-powered Mac mini models.
Meanwhile, the 13-inch ‌MacBook Air‌ and 13-inch MacBook Pro haven't been updated in over 460 days, and the iMac hasn't seen an update in more than 900 days (Apple unveiled the M1 24-inch ‌iMac‌ way back in April 2021). It's these last three models that are most due updates, but that's not to say Apple will prioritize them for updates over other Macs.
If you look at the last decade, Apple often holds an annual fall event in which it launches new Macs and iPads. While Apple that didn't happen last year, there were October events in 2013, 2014, 2016, 2018, 2020, and 2021.
Bloomberg's Mark Gurman recently claimed that Apple is likely planning a Mac-related launch event this month that will take place on either Monday, October 30 or Tuesday, October 31.
The well-connected reporter's prediction is based on information obtained from sources with apparent knowledge of Apple's plans, as well as the fact that some existing Mac models are in short supply online and at Apple retail stores.
Gurman notes that several configurations of Apple's 24-inch ‌iMac‌, 13-inch MacBook Pro, and 14-inch and 16-inch MacBook Pro are facing shipping delays running into mid-November. This several-week delay alone is "a clear sign that something is about to happen," says Gurman.
Another reason leads the reporter to believe a Mac announcement will happen next week: Apple's earnings call is due to take place on Thursday, November 2. The last time the company posted its quarterly results in the month of November was in 2018, and that followed an October 30 launch event that saw new iPads and Macs.
So what can we reasonably expect this October?

Mac Pro, Mac Studio, MacBook Air
It's worth repeating that Apple this year has already updated the ‌Mac Pro‌, ‌Mac Studio‌, and 15-inch ‌MacBook Air‌. These updates were released in June 2023, so there is little chance that they will be superseded by newer models before 2024.
However, Apple has not yet updated the smaller 13-inch ‌MacBook Air‌ this year. This model was originally announced in June 2022, so there is scope for a refresh soon. According to Bloomberg's ‌Mark Gurman‌, the 13-inch ‌MacBook Air‌ could be one of the first beneficiaries of Apple's new M3 chip, but it remains unclear if this upgrade will arrive in late 2023 or early 2024.

Mac Mini, 14-inch and 16-inch MacBook Pro
Apple updated the 14-inch and 16-inch MacBook Pro with ‌M2‌ Pro and ‌M2‌ Max chips in January, and until recently most rumors suggested refreshed models would be coming coming next year. For example, Gurman in early October claimed that new 14-inch and 16-inch MacBook Pro models featuring M3 Pro and M3 Max chips would likely launch between early 2024 and the spring.
More recently, however, Gurman has said he believes there is a chance we will see new 14-inch and 16-inch MacBook Pro models announced at the end of this October. This would be somewhat of a surprise, given that Apple only updated its premium MacBook Pros in January 2023. But as Gurman notes, "an additional update the same year would be unusual, but not inconceivable."
Notably, a DigiTimes report earlier in October claimed that Apple is preparing to release new 14-inch and 16-inch MacBook Pro models with more power-efficient mini-LED displays before the year is out. Given that Gurman has said the new MacBook Pro models could include "minor improvements to displays," the DigiTimes report could well be accurate.
As for the ‌Mac mini‌, Apple updated the machine with ‌M2‌ chips in January 2023, while M3-powered models are not expected to emerge until late 2024 at the earliest, according to Gurman.

iMac, 13-inch MacBook Pro
That leaves the ‌iMac‌ and 13-inch MacBook Pro. Apple's 24-inch ‌iMac‌ was refreshed with a new design, ‌M1‌ chips, and new color options in April 2021. While the ‌‌iMac‌‌ did not receive an upgrade to the ‌M2‌ chip this year, a refreshed model with the M3 chip is expected to launch soon. Gurman believes the ‌iMac‌ is the most likely contender to see an update in late October.
The 13-inch MacBook Pro was updated with the ‌M2‌ chip in June 2022, so this is another model that could see an upgrade, possibly as soon as this month.
On the other hand, supply chain analyst Ming-Chi Kuo in September claimed that Apple is unlikely to release any new MacBook models with the M3 chip this year. More recently, in October, Kuo also said that the 24-inch iMac would be updated next in 2024, seemingly ruling out an update to the all-in-one desktop computer this year.

Summing Up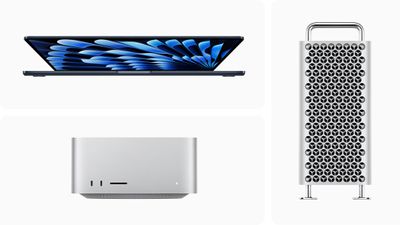 As things stand, we could well see at least one Mac before the end of the year, with an announcement potentially arriving in very late October. A new ‌iMac‌ may feature Apple's as-yet-unannounced M3 chip, which is expected to bring significant performance and power efficiency improvements compared to the current 5nm-based ‌M2‌ chip, which debuted in June 2022.
Given that Apple launched new 15-inch ‌MacBook Air‌, ‌Mac Studio‌, and ‌Mac Pro‌ models in June, the first beneficiaries of the new M3 chip are likely to be the next ‌iMac‌ and/or 13-inch MacBook Pro, with an outside chance that Apple will announce M3-powered 14- and 16-inch MacBook Pro models this year.
Lastly, MacRumors received information in early October indicating that Apple was preparing to accept some of its latest Mac models for trade-in, suggesting it may be proceeding with plans to release new Mac models. Whether this correlates with the launch of at least one new machine in October however remains to be seen.