Apple Discontinues iTunes Movie Trailers App
Apple today updated its iTunes Movie Trailers app for the iPhone with a notice that the Apple TV app is the new home of movie and TV show trailers. It is no longer possible to use the iTunes Movie Trailers app, which launched in 2011.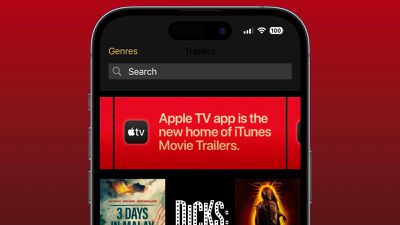 "Apple TV app is the new home of iTunes Movie Trailers," says the release notes for version 2.0 of the iTunes Movie Trailers app. "Open the Apple TV app to watch trailers."
The accompanying iTunes Movie Trailers website is also no longer available following the transition to the Apple TV app, which began earlier this month.
In the Apple TV app, there is now a "Watch the Latest Trailers" section in the Store tab, although it might not be visible in all countries.
Apple has been gradually retiring the iTunes brand in recent years. Since the release of macOS Catalina in 2019, the iTunes app has no longer been available on the Mac, as it was split up into separate Music, Podcasts, and TV apps. iPhone, iPad, and iPod touch syncing functionality from iTunes was moved to the Finder app.