Apple to Sunset iTunes Movie Trailers App, Roll into TV App
Apple is sunsetting its long-running iTunes Movie Trailers app as it begins hosting movie trailers exclusively in the company's flagship TV app, MacRumors can report.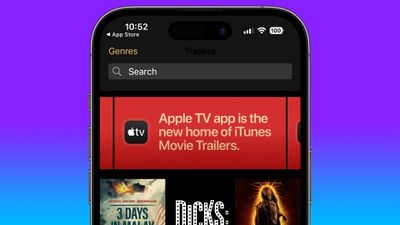 Hints of Apple's plan first emerged on August 9, when MacRumors discovered a non-linked banner on the iTunes Movie Trailers website that reads "Apple TV app is the new home of iTunes Movie Trailers." The same banner has since started showing up on both of Apple's iOS and tvOS apps of the same name.
Then last night, some Apple TV users in the United States reported seeing a new section in the TV app titled "Watch the Latest Trailers," with a main selection card showing the original iTunes Movie Trailers logo, but titled "Movie & TV Trailers."
The new section in the TV app is not yet showing for users in the United Kingdom, and possibly elsewhere, and when iPhone and iPad users in the U.K. tap the banner in the original iTunes Movie Trailers app they are bounced back to the app, suggesting Apple has not yet completed its rollout of the merge.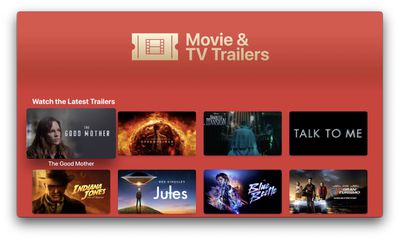 Regardless, the writing appears to be on the wall for the iTunes Movie Trailers app, which hasn't been updated in five years. The free app was launched on iOS in
October 2011
in the U.S., offering iPhone and iPad users easy access to Apple's library of movie trailers. Closing the app is likely part of Apple's strategy to gradually wind down the iTunes branding and bring all of its video content under the same umbrella.
It's not entirely clear what this means for Apple's iTunes Movie Trailers website, which is still sporting some archaic interface elements that don't at all align with Apple's modern web design.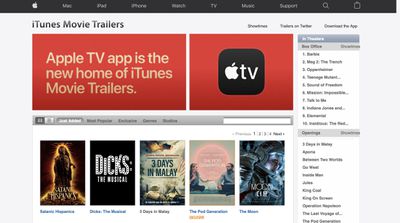 The site has been hosted on apple.com since the late 1990s and was originally titled "Quicktime Movie Trailers," to showcase Apple's QuickTime software and its ability to host downloadable movie trailers online at high resolution – higher than many Hollywood movie studios could achieve – in the days before YouTube.