Curious iPhone Bug Causing Non-iMessage Texts to Display Extra + Character, Breaking Conversations
An unusual bug is affecting text messages between some iPhone and Android users in the United States, with the ‌iPhone‌ seemingly adding an extra "+" character to the beginning of phone numbers belonging to Android and Google Voice users.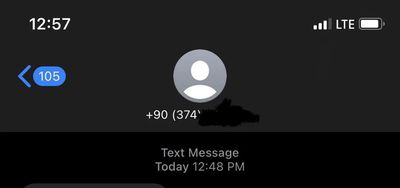 This character causes the ‌iPhone‌ to think the text is coming from an international number, which results in issues with text messages. A number that is normally 858-867-5309, for example, is being displayed on the ‌iPhone‌ as +85 88675309.
There have been numerous complaints about the issue as of about an hour ago, with several threads on Reddit from confused users who have suddenly broken chat threads. It is not known what is causing the bug, but many of the reports seem to be from AT&T users.
Resetting network settings may fix the issue, and there are currently mixed reports on whether the bug has been addressed server side. Adding a +1 to the number may also fix the problem for those who are continuing to see formatting problems.