When Will Apple Launch the iPad Air 6?
Apple launched the sixth-generation iPad Air in March 2021, bringing a modest update to the device, including the M1 chip, so when is the seventh-generation model expected to launch?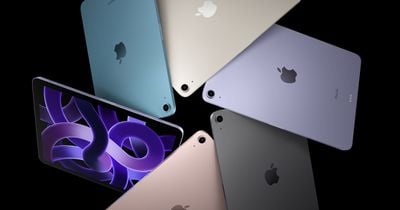 There have been few concrete rumors about the new ‌iPad Air‌ as yet, but Bloomberg's Mark Gurman has said that an update this year with a minor "spec bump" is not out of the question.
The existing model was introduced in March last year, adding the ‌M1‌ chip, Center Stage on the front-facing camera, a faster USB-C port, and several new color options, but it was overall a minor upgrade over the previous model from September 2020. As such, as of 2023, it has been some time since the ‌iPad Air‌ had a major hardware refresh. Yet due to its positioning between the entry-level iPad and the iPad Pro, it is not immediately clear what a new ‌iPad Air‌ model could gain without cannibalizing the ‌iPad Pro‌.
A horizontally oriented front-facing camera, the M2 chip, Apple Pencil hover, and a Thunderbolt port are among the potential features for the sixth-generation ‌iPad Air‌, but little is known about the device at this time. While a refresh to add the ‌M2‌ chip is possible in 2023, it may be more likely that Apple again waits two years to update the device, and targets 2024 for a more worthwhile upgrade.

2023 appears to be shaping up to be a quiet year for ‌iPad‌ hardware refreshes, and while it is possible we could see some new models, the current picture suggests that new iPads this year are unlikely on the whole. 2024, on the other hand, looks like it will be a much more significant year for the ‌iPad‌ lineup.