Apple Card Savings Account Now Available With Impressive Interest Rate
Starting today, eligible Apple Card users can open a savings account from Goldman Sachs and start earning interest on their Daily Cash balance. Apple says the account has an impressive 4.15% APY, a rate it says is "more than 10 times the national average." However, Apple's fine print says the rate may change at any time.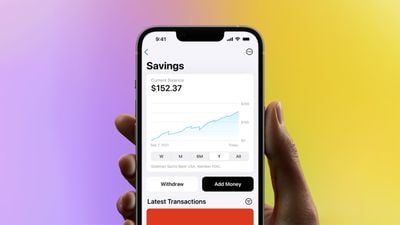 As a direct comparison, Goldman Sachs offers an online high-yield savings account called Marcus that currently has a 3.90% APY.
Apple Card Savings can be set up in the iPhone's Wallet app. To do so, tap on the Apple Card, tap on the circle with three dots at the top of the screen, tap Daily Cash, and select Set Up Savings. Once the account is set up, all Daily Cash received from that point on will be automatically deposited into it and start earning interest. The account has no fees, no minimum deposits, and no minimum balance requirements.
Apple Card users can also earn interest on funds deposited into the account through a linked bank account, or from their Apple Cash balance. The maximum balance allowed is $250,000, and the balance is fully insured by the FDIC. A new Savings dashboard in the Wallet app allows users to track the account's balance and interest earned over time.
Apple Card Savings requires an iPhone with iOS 16.4 or later and is available to U.S. residents who are 18 years of age or older. Apple published a series of support documents with additional information about the feature.