You Can Now Control Spotify Media Playback Within the Strava App
Popular fitness app Strava has launched long-awaited Spotify integration, allowing users to access favorite content on the audio streaming service while recording their activity.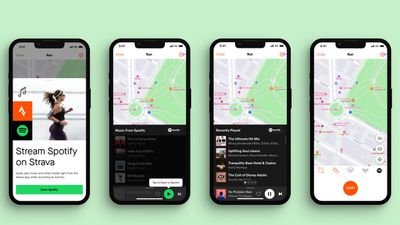 Up until now, Strava users wanting to listen to audio in Spotify while tracking a run or bike ride had to switch between apps to control their media. Now that's all a thing of the past, thanks to Strava's new in-app media widget.
After starting recording an activity, users can tap a music icon in the top-right corner of the Strava interface and connect their Spotify account, after which it's possible to browse content in the Spotify widget and choose what to play.
The integration supports music, podcasts, and audiobooks, and users can swipe through the queue to see what's next, as well as browse through custom-made and popular Spotify-made playlists.
The Spotify widget can be used by both paying and non-paying Spotify users. Free Spotify users can shuffle albums/playlists/artists, but will not be able to pick specific songs, and will hear intermittent ads.
Meanwhile Spotify premium users can select specific songs in their albums and playlists, but doing things like shuffling settings, queuing up specific songs, and using search can only be done in the Spotify app proper.