Apple Working on Whole New Way to Use iPad at Home
Apple has worked on a docking accessory for the iPad that would allow users to transform the device into a smart home display, similar to Google's approach with the Pixel Tablet, according to Bloomberg's Mark Gurman.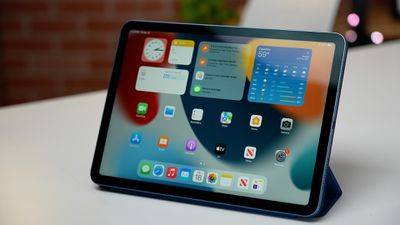 Earlier this year, Google announced that it will offer a charging dock for the upcoming Pixel Tablet that allows it to transform into a smart home display like the Nest Hub and Nest Hub Max. The dock features an integrated speaker and magnetically attaches to the back of the Pixel Tablet. In a press release, Google described the dock for the Pixel Tablet as follows:
It reimagines how a tablet can actually be helpful all the time in your home by pairing with a new Charging Speaker Dock.

The dock keeps your device charged, makes your tablet helpful 24/7, and unlocks a whole new set of experiences in the home.

The enhanced audio from the speaker lets you enjoy your favorite show or have an impromptu dance party. When your Pixel Tablet is docked, you can enjoy hands-free help from the Assistant or a photo frame of your memories.

The Pixel Tablet also gives you easy control of all your smart home devices, so you can turn the lights off in the house, and set the thermostat to the perfect sleep temperature without getting out of bed.

We took special care to tune the dock's magnets so you can easily dock or undock your Pixel Tablet. And when it's in your hand, the premium nanoceramic finish is both beautiful and comfortable to hold.

The Pixel Tablet is designed to seamlessly transition from a delightful part of your home to an entertainment device you can take anywhere – making it one of the most versatile and adaptable tablets ever.

Combine these features with the dock's beautiful design, and you'll want to have the Pixel Tablet in the heart of your home. It transforms your tablet from something that sits in your drawer to an integral part of your life.
Writing in his "Power On" newsletter, Gurman explained that he expects Apple to bring similar functionality to the ‌iPad‌ next year with a dock accessory that will be sold separately, serving as an interring solution while the company works on a standalone product for the home that combines a display and a smart speaker:
I'm told Apple is working to bring similar functionality to the iPad as soon as 2023. I reported last year that Apple is exploring a stand-alone device that combines an iPad with a speaker hub. The idea is to offer something that users can place on a kitchen counter, in the living room or on their nightstand. But Apple also has worked on an iPad docking accessory that it could sell separately and would accomplish much of the same thing.
A similar dock could allow the ‌iPad‌ to be used to control smart home accessories and make FaceTime calls using the ‌iPad‌'s front-facing camera with Center Stage in a more simplified way at home, effectively serving as an introduction to Apple's future smart home display and "HomePod with a screen" devices. Apple has been rumored to be working on a new operating system called "homeOS" for its smart home ambitions, which could factor into the plans for an ‌iPad‌ dock designed around at-home usage.
With Apple's recent re-introduction of the full-size HomePod and a new HomePod mini on the horizon for 2024, it seems like Apple's aspirations for the smart home are just getting started.