Apple Could Break an iPad Tradition This Year
Apple usually releases a new entry-level iPad every year, but the current lineup and rumors for 2023 may indicate that this will be the first year when the company breaks this convention.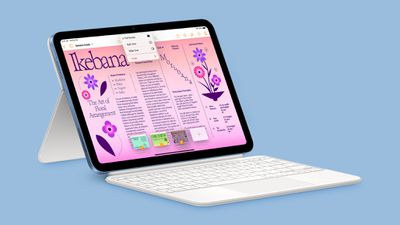 When Apple introduced the 10th-generation ‌iPad‌ last year, it added the device to the lineup above the ninth-generation model from 2021. As a result, Apple currently sells both the ninth- and 10th-generation ‌iPad‌ for $329 and $449, respectively. It appears to be able to do this more easily since the devices are well-differentiated, offering different designs, chips, display sizes, ports, keyboard accessories, and more.
The A15 Bionic chip is the most plausible upgrade for the 11th-generation ‌iPad‌, since each new entry-level ‌iPad‌ since the eighth-generation model from 2020 has gained a chip that is one generation newer. The 10th-generation ‌iPad‌ features the A14 Bionic chip, so the A15 is the most likely upgrade for the next model – not least because this chip is now widely used across devices like the iPhone SE, iPad mini, and Apple TV.
The entry-level ‌iPad‌ could, perhaps, also benefit from second-generation Apple Pencil support and a newer chip, but it is not immediately clear what else could justify offering a new version of the device this year. Since an 11th-generation ‌iPad‌ would be unlikely to have much new to offer over the 10th-generation model at the current time, a new model anytime soon seems unlikely. There have also been no concrete rumors about the new entry-level ‌iPad‌ as yet, with the only report being a vague mention from Bloomberg's Mark Gurman that a minor refresh for the device this year is possible.
This year, Apple may be more likely to eliminate the ninth-generation ‌iPad‌ from the lineup and bump the 10th-generation model down in price, rather than release an 11th-generation model. Apple has launched a new entry-level ‌iPad‌ every year since 2017, so 2023 could be the first time in seven years that the company neglects to do so.

2023 appears to be shaping up to be a quiet year for ‌iPad‌ hardware refreshes across the entire lineup, and while it is possible we could see some new models, the current picture suggests that new iPads this year are unlikely on the whole. 2024, on the other hand, is looking like it will be a much more significant year for the ‌iPad‌ lineup.