Apple Watch Finds Tumor, Saves Woman's Life
The Apple Watch has been praised for saving yet another person's life after it led to a tumor diagnosis, Today reports.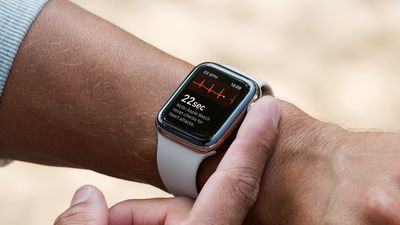 Maine resident Kim Durkee began wearing an Apple Watch two years ago to monitor her steps and get help in case she fell thanks to Fall Detection. During her sleep, Durkee's Apple Watch detected an irregular heart rhythm that suggested the presence of atrial fibrillation.
Also known as AFib, the condition occurs when the heart's upper chambers are not coordinated with the lower chambers, causing it to beat too slowly, too quickly, or irregularly. This can lead to blood clots, stroke, and heart failure.
After receiving the alert continuously for several days, Durkee sought medical help and had the AFib diagnosis confirmed. When doctors ran further tests and performed an echocardiogram, they discovered a non-cancerous heart tumor.
Following surgery to remove the tumor, doctors have said that the Apple Watch likely helped prevent Durkee from having a lethal stroke. Durkee credits the device with saving her life and now wears it even more often.
The Apple Watch is often lauded for its life-saving capabilities, with the device's lifestyle, health, and fitness monitoring features frequently being at the forefront of Apple's marketing campaigns.