Police Officer Amazed at How Apple Watch Saved Woman's Life in Emergency
A police officer has highlighted how the Apple Watch can aid call-outs and save lives in a recent post on Reddit.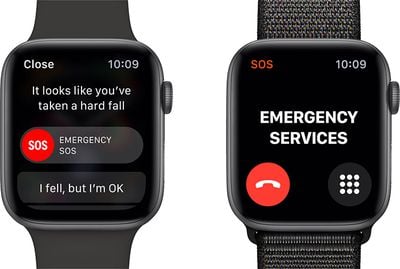 The Apple Watch's Fall Detection feature.
The Apple Watch's Fall Detection feature can tell when a wearer has had a sudden fall using its gyroscope and accelerometer. The device then taps its wearer on the wrist, sounds an alarm, and displays an alert. If no response is received, the Apple Watch calls the emergency services and highlights the location and nature of the incident.
The anonymous police officer was aware of Apple's Fall Detection feature, but had never seen it in action. They were working a night shift and were called out to visit a house by an Apple Watch's emergency call:
I was sitting in my police vehicle writing up a previous file when my dispatcher goes over the air. I get dispatched to a call that we received from an Apple Watch due to its fall detection feature. History on the residence doesn't come back with anything and all callbacks were negative.

I get to the residence and notice all the lights on. Someone is home. Knock on the door, no answer. Through the glass panes I notice pictures of a family but mostly of an elderly women so to me I kind of thought that's who lived here. The door luckily was unlocked. I opened it, announced myself, and I just heard groaning. I ran upstairs and found the elderly lady laying on her back, half her face covered in blood. Right away I call Emergency Health Services for medical attention. She was telling me that throughout the day she had been feeling nauseous and when she got up to go to the kitchen, she fainted. Next thing she knew, she was waking up in blood. She wasn't aware that the Apple Watch had called the police and I guess during her state she wasn't in the right mind to understand how it called the police. All that to say, she is now being medically treated and will make a full recovery.
Replies to the thread include other users telling their own stories about when Fall Detection impressed them, and there have been other recent reports about the feature saving people's lives, including a biker in California and a grandmother in Florida.
The Apple Watch is often lauded for its life-saving capabilities, with the device's lifestyle, health, and fitness monitoring features frequently being at the forefront of Apple's marketing campaigns. Fall Detection is enabled by default for users who are over the age of 65, but younger Apple Watch Series 4 users must enable it manually. Apple has iterated on Fall Detection with software updates since its debut with the Apple Watch Series 4, along with the device's suite of other safety and health features.