Apple Event Live Blog: iPhone SE, iPad Air, Mac Studio, and More
Apple's virtual "Peek Performance" event kicks off today at 10:00 a.m. Pacific Time, where we're expecting to see new iPhone SE and iPad Air models, as well as at least one new Mac model.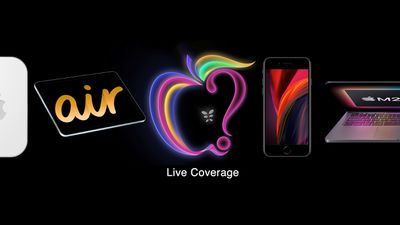 Apple is providing a live video stream on its website, on YouTube, and in the company's TV app across its platforms. We will also be updating this article with live blog coverage and issuing Twitter updates through our @MacRumorsLive account as the keynote unfolds. Highlights from the event and separate news stories regarding today's announcements will go out through our @MacRumors account.
As usual, Apple's online store is currently down in advance of the event.
Sign up for our newsletter to keep up with Apple news and rumors.
Live blog transcript ahead...

9:01 am: One hour until showtime!
9:33 am: Under 30 minutes to go...start getting your snacks and drinks together so you can get settled in for the festivities. Lots of last-minute rumors have led to considerable uncertainty about what we're going to see today, so buckle up for the ride!
9:47 am: The live stream has started over on Apple's website. Similar to other events, there's a selection of ambient and more upbeat music playing as the neon waves of the event logo animate around the screen.
9:59 am: What are you hoping to see from the event today? Just one more minute of speculation left!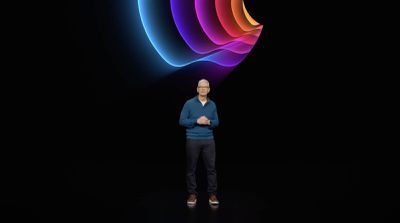 10:02 am: Tim Cook is on stage with an enthusiastic "Good Morning!" He's discussing Apple TV+ to start.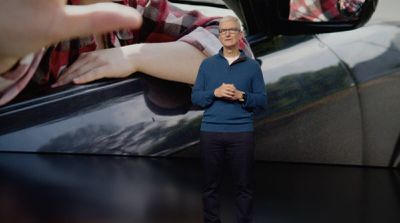 10:02 am: ‌Tim Cook‌ is wearing a blue pullover and a yellow Apple Watch band, a likely homage to the Ukrainian flag.
10:04 am: A trailer of upcoming ‌Apple TV+‌ shows and movies is running to kick things off.
10:04 am: A long list of major stars caps the trailer, showing the extent of ‌Apple TV+‌'s ambitions and progress thusfar.
10:05 am: "We have something exciting to share..."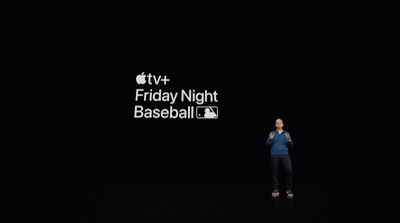 10:06 am: Friday Night Baseball is coming to ‌Apple TV+‌, two games only available on ‌Apple TV+‌. It's worth noting that the MLB season is currently on hold due to labor dispute issues.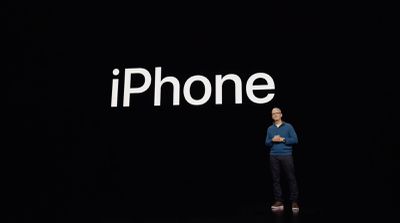 10:06 am: Turning to iPhone.
10:07 am: Apple is launching two new finishes for the iPhone 13.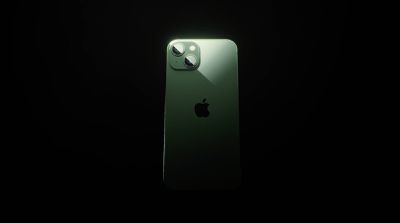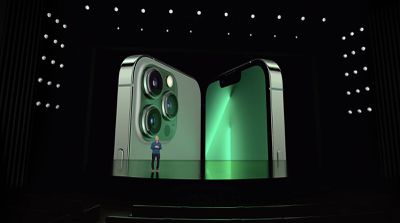 10:07 am: A dark, forest-type green for ‌iPhone 13‌ and lighter Alpine Green for ‌iPhone 13‌ Pro.
10:08 am: Now on to Apple silicon.
10:08 am: The A15 Bionic chip is coming to another ‌iPhone‌...
10:09 am: The new ‌iPhone SE‌, with home button!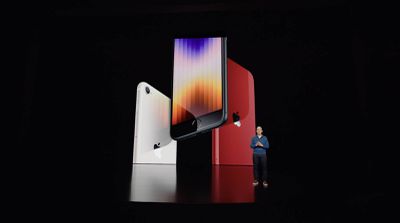 10:09 am: Great for users who want a smaller ‌iPhone‌ and a great value.
10:09 am: Added more new users to ‌iPhone 13‌ lineup than in each of the previous 5 launches. ‌iPhone SE‌ will build on this momentum.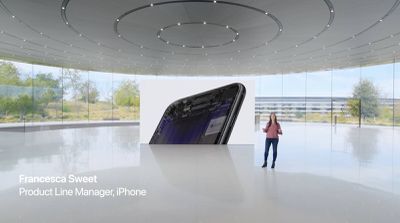 10:10 am: Francesca Sweet, Product Line Manager, ‌iPhone‌, to demo it. The ‌iPhone SE‌'s A15 Bionic is the same chip as in the ‌iPhone 13‌.
10:10 am: 6-core CPU, 1.8x faster than ‌iPhone‌ 8.
10:10 am: Faster than all the competition at any price. 4-core GPU delivers 2.2x faster speed than ‌iPhone‌ 8.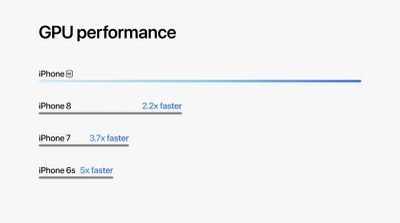 10:11 am: 16-core Neural Engine, aimed at machine learning tasks and 15.8 trillion ops per second. 26x faster than ‌iPhone‌ 8. Unlocks new ways to use ‌iPhone‌ to make life easier.
10:11 am: ‌iPhone SE‌ isn't just powerful, it's beautiful too. Available in Midnight Blue, Starlight White, Product Red.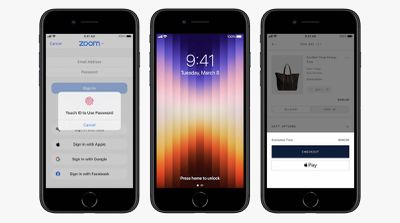 10:12 am: 4.7-inch screen with the toughest glass in a smartphone on front and back. Same glass as the back of ‌iPhone 13‌ and 13 Pro. Includes a home button with Touch ID. Better battery life and 5G.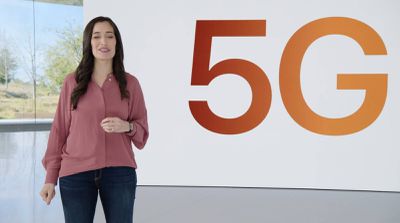 10:13 am: 12MP camera, with computational photography. Deep Fusion optimizes for texture and detail. Smart HDR applies individual adjustments.
10:14 am: Apple has eliminated the outer plastic wrap, and uses extensive recycled materials in the manufacture of the device.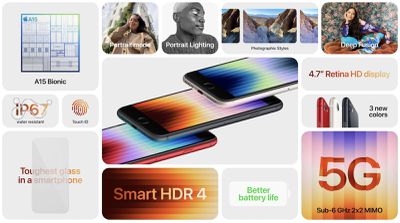 10:15 am: The new ‌iPhone SE‌ starts at $429, up from $399 in the current phone. Preorders start Friday, shipping March 18.
10:15 am: Now to iPad.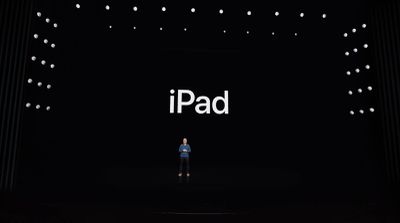 10:16 am: ‌iPad Air‌. "We love ‌iPad Air‌ for being incredibly thin, light, and powerful. And now we're taking its performance to the next level."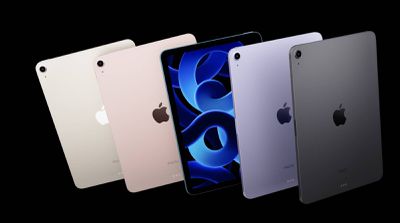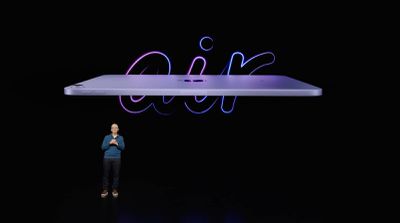 10:17 am: Angellina Kyazike, Engineering Program Manager, ‌iPad‌, here to talk about the ‌iPad Air‌.
10:17 am: The M1 Apple Silicon chip is coming to ‌iPad Air‌, same as iPad Pro.
10:17 am: This is the fifth-generation ‌iPad Air‌.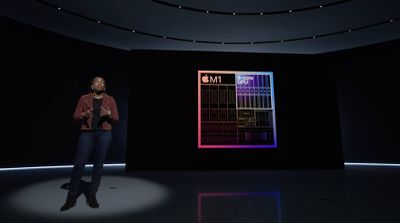 10:18 am: It's faster than the fastest competitive tablet. And 2x as fast as the best-selling Windows laptop in its price range.
10:18 am: Going over all the features on the ‌M1‌, including CPU, GPU, and Neural Engine cores.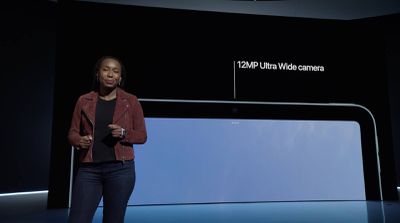 10:19 am: The front camera is now a 12MP Ultra Wide. Ability to support Center Stage, making it so that all ‌iPad‌ models support Center Stage.
10:19 am: 5G coming to ‌iPad Air‌.
10:20 am: Apple Pencil 2nd Gen now supported.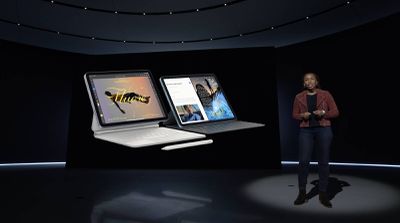 10:21 am: New version of iMovie is coming next month.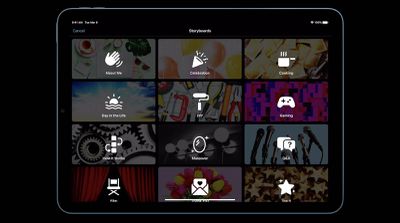 10:21 am: 100% recycled aluminum in the enclosure, tin in the solder on the main logic board, and rare earth elements in the enclosure and audio magnets.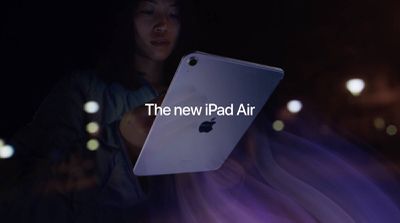 10:23 am: Starts at $599, available in five colors.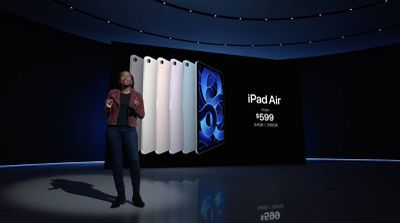 10:23 am: 64GB and 256GB configurations. Coming in Wi-FI and Cellular models. Orders start Friday, available March 18.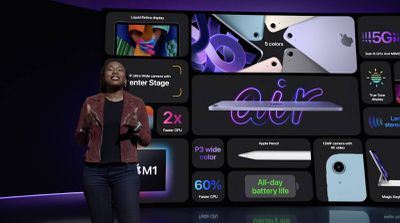 10:24 am: On to the Mac.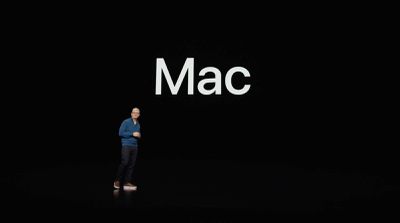 10:24 am: We've transitioned nearly every machine in the lineup to ‌Apple Silicon‌.
10:25 am: Talking about the new 24" iMac and the MacBook Pro with M1 Pro and M1 Max.
10:25 am: We're not stopping there! To tell you how we're going to take Mac even further... here's John Ternus, SVP Hardware Engineering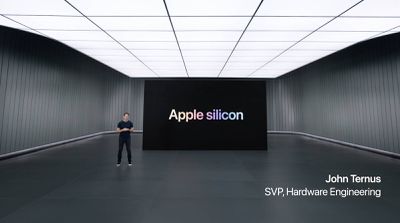 10:26 am: Now we're taking the next giant leap. Bringing ‌Apple Silicon‌ to users who need more performance. One new chip coming... It's going to blow your mind.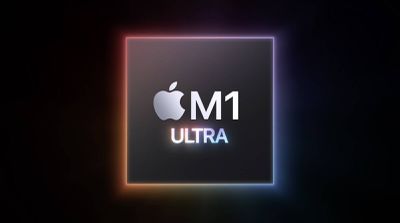 10:26 am: M1 Ultra!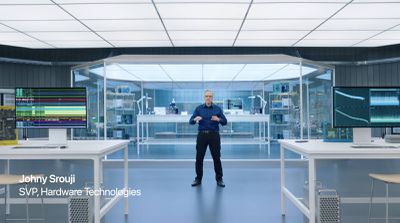 10:26 am: Johny Srouji, SVP Hardware Technologies, here to talk about ‌M1 Ultra‌
10:27 am: Normal machines use two chips connected on the motherboard to increase speed.
10:28 am: Starts with ‌M1 Max‌, which has a hidden feature not discussed until now. Die-to-die technology, connects two ‌M1 Max‌ together.
10:28 am: UltraFusion.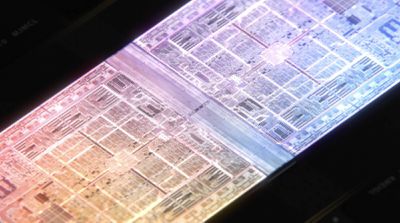 10:28 am: Silicon interposer with 2x the connection density of any technology available. 2.5TB/s interprocessor bandwidth.
10:28 am: 4x the bandwidth of leading multi-chip interconnect technology.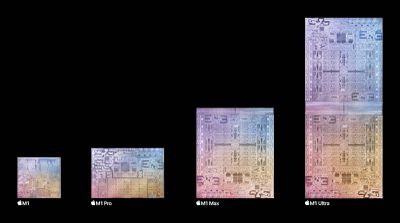 10:29 am: Behaves like a single chip to software. 114 billion transistors. Supports higher bandwidth memory, 800GB/s.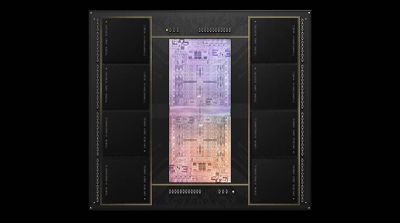 10:29 am: 10x the latest desktop chip. 128GB of unified memory supported.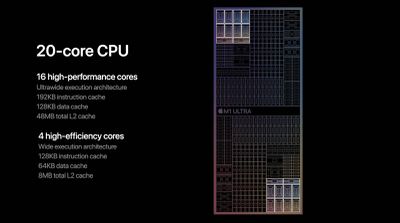 10:30 am: 20-core CPU, 16-higher performance cores, 4 high-efficiency cores. 64-core GPU. 8x faster than ‌M1‌. 32-core Neural Engine. 22 trillion operations per second. 2x media engine.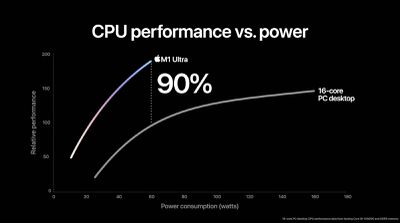 10:31 am: Industry-leading performance per watt, huge advantage for a desktop. Multi-threaded CPU performance. 90% higher performance in same power envelope as leading chips. 100W less power at same performance level.
10:31 am: 1/3 the power and same performance of leading GPUs. Same performance as highest GPU available with 200 watts less power.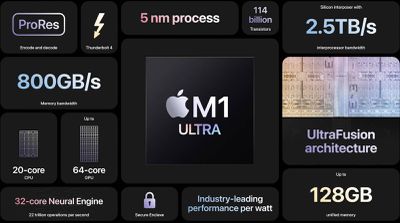 10:31 am: Most powerful, most capable chip ever in a personal computer.
10:33 am: Because ‌M1 Ultra‌ looks like a single piece of silicon to software, apps can take advantage of it without any additional work.
10:34 am: Showing a video with developers talking about the power of the chip.
10:35 am: "‌M1 Ultra‌ cranks up the performance of Mac yet again."
10:35 am: Talking about "The Studio" where folks get their best work done.
10:36 am: ‌iMac‌ and Mac mini have served this market so far. But some users want even more...
10:36 am: Those users are looking for performance, connectivity, and modularity.
10:36 am: To make the studio of your dreams...
10:37 am: Mac Studio, looking like a stacked Mac Mini, along with a new display.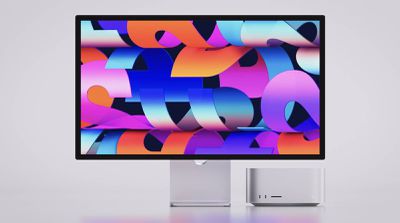 10:37 am: ‌Mac Studio‌ and Studio Display.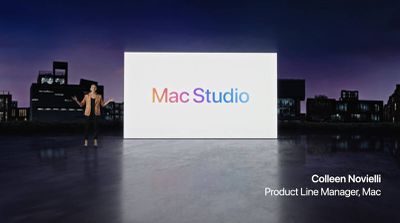 10:38 am: Colleen Novielli, Product Line Manager, Mac, to talk about ‌Mac Studio‌.
10:38 am: First computer to put outrageous performance, extensive connectivity, and capability, in compact form right on your desk.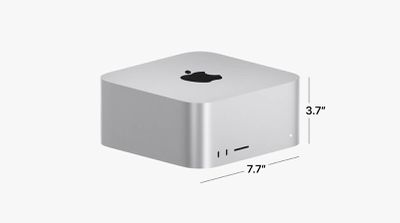 10:38 am: Single aluminum extrusion, 7.7" square on the bottom, 3.7" tall.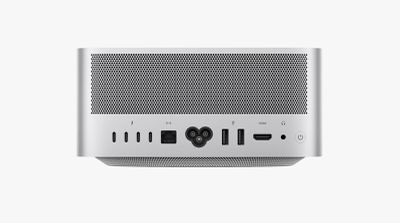 10:39 am: Half of the device is thermal management. Pulls air through the base, moving air over the circular power supply and through channels to the chip's thermal module. Low impedence rear exhaust through 2,000 machined perforations. Sound is minimal.
10:40 am: Four Thunderbolt 4 ports on the back. 10Gb ethernet, two USB-A ports, HDMI port, and Pro audio jack for high impedence headphones. Wi-Fi 6 and Bluetooth 5 built in.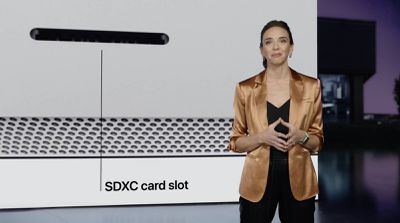 10:41 am: With ‌M1 Max‌, two USB-C ports on front. WIth ‌M1 Ultra‌, front ports are Thunderbolt 4. SD Card slot on front as well.
10:41 am: Supports 4x XDR displays plus a 4K TV simultaneously.
10:41 am: Takes performance to astonishing new heights. For CPU performance, ‌M1 Max‌ is 2.5x faster than 10-core i9 ‌iMac‌. 50% faster than Mac Pro with 16-core Xeon processor.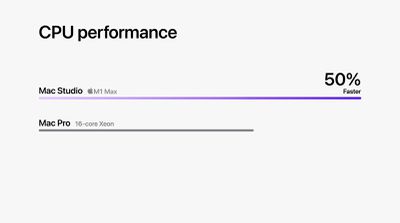 10:42 am: Graphics performance is 3.4x faster than 27-inch ‌iMac‌ with Radeon Pro 5700XT. 3x faster than ‌Mac Pro‌ with Radeon Pro W5700X
10:42 am: ‌M1 Ultra‌ is even better. CPU performance is 3.8x faster than 10-core i9 ‌iMac‌, 90% faster than ‌Mac Pro‌ with 16-core Xeon.
10:42 am: ‌M1 Ultra‌ is 60% faster than 28-core Xeon ‌Mac Pro‌.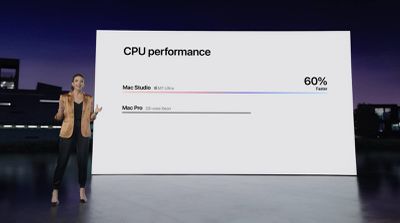 10:43 am: Graphics performance is 4.5x faster than 27-inch ‌iMac‌, 80% faster than ‌Mac Pro‌ with fastest graphics card.
10:43 am: Most powerful GPU today offers 48GB of memory. ‌M1 Max‌ gives 64GB max memory, and ‌M1 Ultra‌ offers 128GB max.
10:43 am: SSD in ‌Mac Studio‌ delivers 7.4GB/s of performance and 8TB of capacity.
10:44 am: ‌M1 Ultra‌ and ‌Mac Studio‌ can play 18 streams of 8K ProRes 422 video. Only computer in the world that can do this.
10:44 am: ‌M1 Max‌ is 3.4x faster than the fastest ‌iMac‌. ‌M1 Ultra‌ is up to 80% faster than top of the line ‌Mac Pro‌.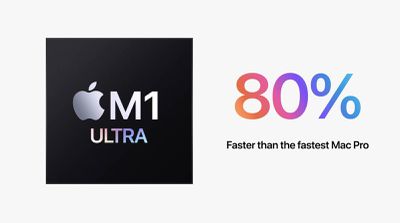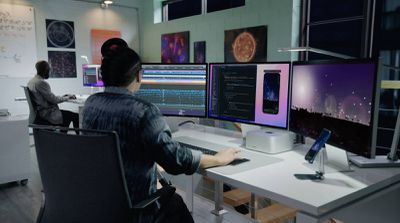 10:47 am: Environmentally, ‌Mac Studio‌ uses less energy than competitors to deliver extraordinary performance. Will use 1,000 less kWh than a high-end PC desktop. 100% recycled rare earth elements in all magnets and recycled tin in the solder on the main logic board.
10:47 am: ‌M1 Ultra‌ is the most powerful chip ever used in a personal computer.
10:47 am: New Studio Display creates "the ultimate studio experience."
10:48 am: The Studio Display is loaded with incredible features.
10:48 am: Studio display has an all-screen design with narrow borders. All aluminum enclosure. Same design as the 24" ‌iMac‌. Tilts up to 30 degrees
10:48 am: Tilt and height-adjustable stand option is available.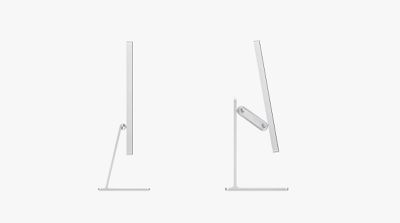 10:49 am: 27-inch display, supports TrueTone, 14.7M pixels, 5K retina, antireflective, and nanotexture glass option available.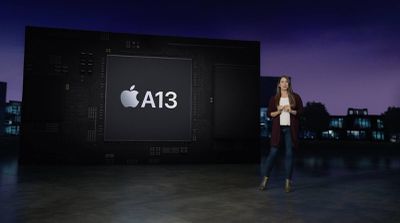 10:50 am: A13 Bionic chip inside, with camera and audio system inside. 12MP Ultra Wide front camera, same camera as on ‌iPad‌.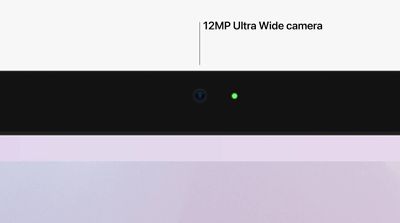 10:50 am: Supports Center Stage, comes to the Mac for the first time. Includes a three-mic array, especially low noise floor. Includes 6-speaker sound system.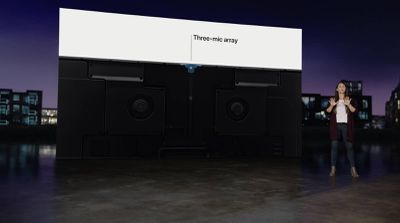 10:50 am: Four force-cancelling woofers that minimize distortion, and two high-performance tweeters.
10:51 am: Speakers support spatial audio with Dolby Atmos.
10:51 am: Best combination of camera and audio ever in a desktop display.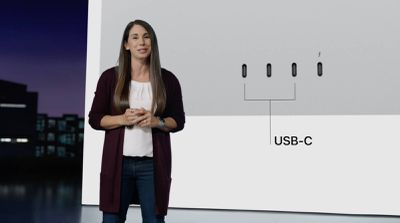 10:52 am: 3 USB-C plus a Thunderbolt port to connect to your Mac with a single cable. 96W of power provided as well to connect to a notebook. Can fast-charge a 14-inch MacBook Pro. Three Studio Displays can connect to a single MacBook Pro.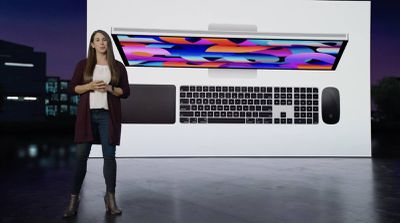 10:52 am: New Silver and Black color options come to Magic Keyboard, Magic Trackpad and Magic Mouse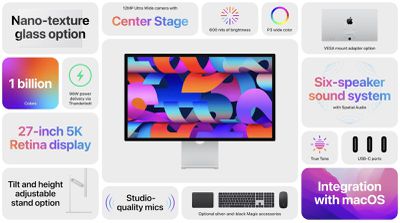 10:53 am: Running a video showing ‌Mac Studio‌ and Studio Display in action.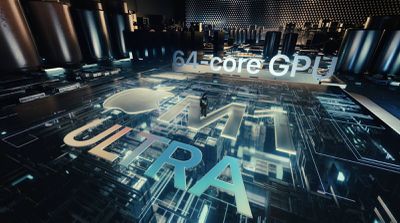 10:55 am: Starts at $1,999, ‌M1 Ultra‌ starts at $3,999.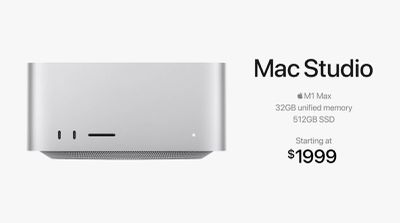 10:55 am: Studio Display starts at $1,599. Nano-texture glass and stand options are optional.
10:55 am: Orders start today, shipping March 18.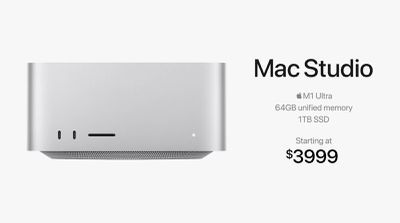 10:56 am: One more product to go... ‌Mac Pro‌. "But that... is for another day."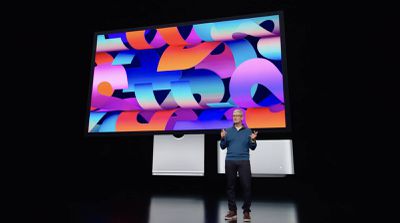 10:56 am: "It's remarkable to think about the profound impact ‌Apple Silicon‌ is having on the Mac and our other products."
10:58 am: ‌Tim Cook‌ says "thank you for joining us, have a great day."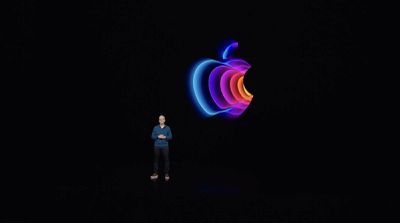 10:58 am: And we're done! Thanks for joining us!