AirPods Pro 2 Could Beat AirPods Max Sound Quality
Apple's second-generation AirPods Pro could deliver higher fidelity audio than the AirPods Max over-ear headphones, despite being comparatively small in-ear buds, recent reports have suggested.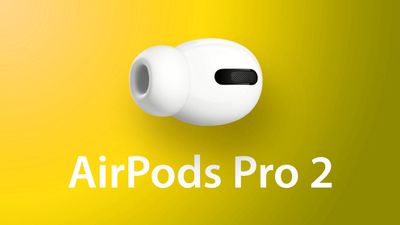 In a recent note to investors, seen by MacRumors, TF International Securities analyst Ming-Chi Kuo claimed that the second-generation ‌AirPods Pro‌ will offer improved audio quality thanks to support for Lossless audio. Kuo often reveals accurate insights into Apple's plans and explained that the second-generation ‌AirPods Pro‌ will specifically support Apple Lossless (ALAC) audio.
The ‌AirPods Max‌ are Apple's flagship headphones and are priced at $549. Offering an over-ear design, two H1 chips, and two 40mm Apple-designed dynamic drivers, the ‌AirPods Max‌ offer the best available AirPods audio experience. The ‌AirPods Pro‌ already share features such as the H1 chip, Adaptive EQ, Active Noise Cancellation, and Transparency mode with the ‌AirPods Max‌, but the over-ear headphones are able to deliver better quality audio due to their form factor.
Apple introduced higher fidelity Lossless audio on Apple Music last summer, but all of Apple's current AirPods products, including the third-generation AirPods, ‌AirPods Pro‌, and ‌AirPods Max‌, do not support Lossless audio. This is because AirPods play audio via Bluetooth, limiting them to the AAC codec. Only wired headphones and speakers, as well as the device's built-in speakers, can currently deliver Lossless audio via ‌Apple Music‌.
Large Apple Lossless Audio Codec files may need to be streamed to AirPods directly to circumvent Bluetooth and enable a Lossless listening experience, but it is possible that Apple could develop an alternative solution. If the ‌AirPods Pro‌ get an update that delivers Lossless audio as the report claims, they will be able to play higher quality audio files than the ‌AirPods Max‌, despite being considerably smaller and more inexpensive. The ‌AirPods Max‌ may have better dynamic range due to their size, but they will still be limited to music in the AAC format.
Kuo also reiterated that the next-generation ‌AirPods Pro‌ will feature a new design and launch in the fourth quarter of 2022, which is slightly later than the third-quarter prediction suggested by other rumors. The second-generation ‌AirPods Pro‌ are also rumored to feature upgraded integration with Find My, allowing users to emit a sound from the charging case for location tracking purposes, and potentially a built-in loop to add accessories.