Facebook Wants to Replace Your Apple Watch
Facebook is developing a health and messaging-focused smartwatch to compete with the Apple Watch, according to recent reports.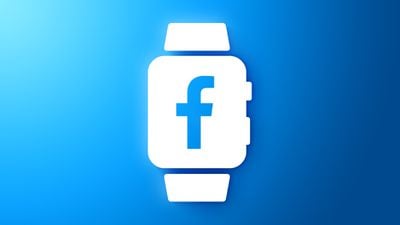 The Information and The Verge have reported Facebook's internal plans to bring an Apple Watch-style smartwatch to market.
Facebook's smartwatch is said to work with a cellular connection without the need for a tethered smartphone. It will apparently run a version of Google's Android software and will be able to send messages using Facebook services like Messenger and WhatsApp.
The device will offer a number of health features such as the ability to track workouts with friends and communicate with trainers, as well as connect to services provided by health and fitness companies like Peloton.
In terms of hardware, the smartwatch is expected to have a detachable display with two built-in cameras for taking pictures and videos to share on Facebook, Instagram, and WhatsApp. A camera on the front of the watch's display will be available for video calls, while a 1080p camera on the back will be able to capture photos when the device's body is detached from its stainless steel watch frame.
Facebook is planning to work with other companies to create accessories that can be attached to the camera hub portion of the watch, such as backpacks. Facebook is hoping that people will use the watch in the same ways that smartphones are used now to circumvent Apple and Google's control over mobile Facebook users.
It is unlikely that a smartwatch will be received well by those who have concerns about Facebook's data collection practices, especially one equipped with multiple cameras and a microphone. Amazon last year released a "Halo" fitness band that has been derided for its invasiveness. Facebook already makes some consumer hardware products including the Oculus VR headset and Portal camera and tablet devices.
Facebook plans to sell the smartwatch at close to its production cost, which is also what it does with the Oculus headset, with an expected price around $400. The company is aiming to begin selling its smartwatch next summer, with a second-generation model planned for as soon as 2023. The Information said that development is "far along," but there is still a chance the product could be scrapped.
A Facebook smartwatch would need to compete with the Apple Watch, which is one of the best-selling wearables on the market. More than 100 million people around the world are now believed to own an Apple Watch.
Facebook is also working on its own Ray-Ban branded smart glasses that are due to compete with similar rumored products from Apple in the next few years. Future iterations of the Facebook smartwatch are expected to serve as a key input mechanism for Facebook's augmented reality glasses.