iOS 15 Hints at Rumored Apple Watch Series 7 Feature
A new feature in Apple's upcoming iOS 15 update appears to lay the groundwork for a rumored Apple Watch Series 7 health monitoring feature.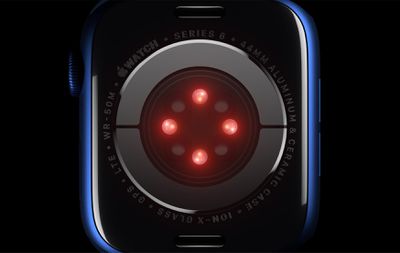 iOS 15, Apple's recently-announced major software update for the iPhone, features a number of additions to the Health app, such as the ability to share health data with other people, trends, new metrics for walking steadiness, and more.
One of the lesser-known iOS 15 Health app features is blood glucose highlights. In the United States, blood glucose highlights show your blood glucose levels during sleep as well as during exercise, with the use of compatible external monitoring hardware. iOS 15's blood glucose highlights also offer interactive charts to make it easier for you to review your blood glucose data.
According to a ETNews, the Apple Watch Series 7 will feature blood glucose monitoring via a non-invasive optical sensor. Subsequent disclosures about Apple's business partners have suggested that the company is looking to add a new blood glucose sensor to the Apple Watch in the immediate future.
Measuring blood glucose levels, also known as blood sugar levels, is vital to managing conditions such as diabetes. Normally, measuring blood glucose requires testing a drop of blood in a blood sugar meter or using an implanted continuous glucose monitor (CGM).
The Apple-designed blood glucose optical sensor is believed to be a skin-top continuous monitoring solution that does not require an implant. The company is said to have secured patents around the technology and reportedly established a team of biomedical engineers and consultants to specifically work on sensors for non-invasively monitoring blood sugar levels in 2017.
The debut of new blood glucose monitoring features in iOS 15 cannot be taken as concrete evidence that Apple is planning to bring blood glucose monitoring to the Apple Watch Series 7, but it is a notable iOS 15 addition given the rumors around the feature.


iOS 15 code seen by MacRumors suggests that users will be shown blood glucose highlights, along with heart rate and respiratory rate data, after a workout or upon waking up, with large amounts of data being gathered during exercise and sleep.
While it is not necessarily related, there are clear parallels to the Apple Watch's extensive workout and sleep tracking features, suggesting that Apple Watch blood glucose monitoring would integrate well with the device's existing capabilities and systems.
The ability to observe any major increases or decreases in blood glucose on the Apple Watch may raise awareness of a potential health condition or simply help to improve a user's diet. Apple has added a range of health-oriented features to the Apple Watch in recent years, such as the ability to measure blood oxygen levels or take an ECG.
The Apple Watch Series 7 is expected to launch later this year. While there have been reports of micro-LED displays and solid-state buttons with haptic feedback for the Apple Watch, these features are not expected to arrive this year. Instead, Bloomberg's Mark Gurman has said we can expect a display with slimmer bezels, a faster chip, and upgraded Ultra Wideband connectivity.