AirPods Could Get Health Tracking Features to Beat Competitors
Apple may add health tracking features to AirPods in an effort to combat rival wireless earbuds from companies like Samsung, according to reliable analyst Ming-Chi Kuo.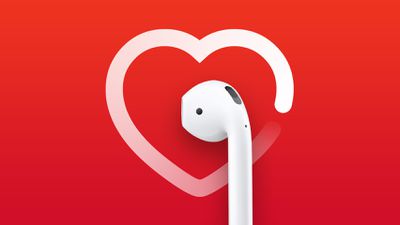 In a recent note to investors, seen by MacRumors, Kuo explained that Apple's sales of AirPods are expected to decline substantially this year, which will likely prompt the company to explore adding new, innovative features to future AirPods.
Kuo expects AirPods shipments from the first to the third quarter of 2021 to decline by about 25 percent year over year to 55 million units. Overall AirPods shipments across 2021 are expected to decline to 78 million units, down from 90 million last year. Kuo also added that the AirPods Max have offered "limited help" to AirPods shipments, with an annual shipment of about one million units.
Kuo attributes the decline in AirPods shipments to increased competition and a loss of market share. There are an increasing number of lower-priced true wireless earbud options on the market for Apple to contend with.
The competitive advantage of Apple's products lies in providing integration of the "hardware, software, and service" ecosystem, not just hardware. The iPhone, for example, has seen its market share decline due to the rapid growth of the smartphone market, but it has been able to maintain shipment growth because of the strong ecosystem of the App Store and developers. We believe that Siri is the core of AirPods' software and service ecosystem, but since Siri's competitive advantage is not significant, the gap between AirPods' leading edge and its competitors' shrinks due to a lack of protection from the ecosystem as competitors gradually improve their user experience and launch lower-price strategies at the same time. We believe that HomePod and HomePod mini shipments were significantly lower than expected for the same reason.
AirPods have quick pairing and easy switching capabilities that give them an edge over rivals, but Kuo says that these advantages are "gradually offset" by improved user experiences and lower prices offered by competitors. Samsung's latest earbuds, for example, offer the same quick pairing and device switching function when used with Galaxy smartphones.
This situation will likely encourage Apple to implement new, compelling technologies on AirPods, according to Kuo. Namely, health management functions, which Apple has accrued significant experience in through the Apple Watch.
We believe that if AirPods shipments want to grow again in the future, they need to have a strong ecosystem or redefine TWS users' behavior through hardware innovation (such as providing health management functions).
It is too early to say what exact health tracking features might be implemented in the AirPods, but it is not difficult to imagine something like an optical heart rate sensor being added. Last year, it was reported that Apple was looking at integrating ambient light sensors into AirPods for biometric health monitoring features that work similarly to pulse oximeters.
One Apple patent describes an earbud-based fitness monitoring system that integrates an advanced biometric sensor to detect physiological metrics including temperature, heart rate, perspiration levels and more, through skin contact and via built-in motion sensors.
Regardless of the exact health-tracking features that future AirPods could offer, any new functionality that offers another device to gather health data from would help to differentiate Apple's earbuds from similar products offered by competitors in an increasingly crowded marketplace.
Kuo believes that mass production will begin on the third-generation AirPods in the third quarter of 2021, but the updated earbuds coming this year are not expected to feature any health-tracking features.