Apple Developing 'Enhanced' Under-Display Touch ID System
Apple is refining its as yet unused under-display fingerprint scanning technology, seemingly ahead of bringing Touch ID back to the iPhone, according to a newly-published patent application.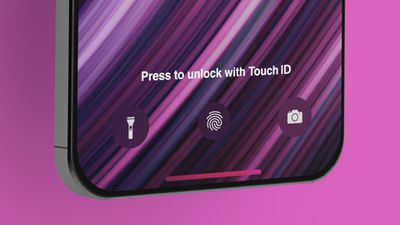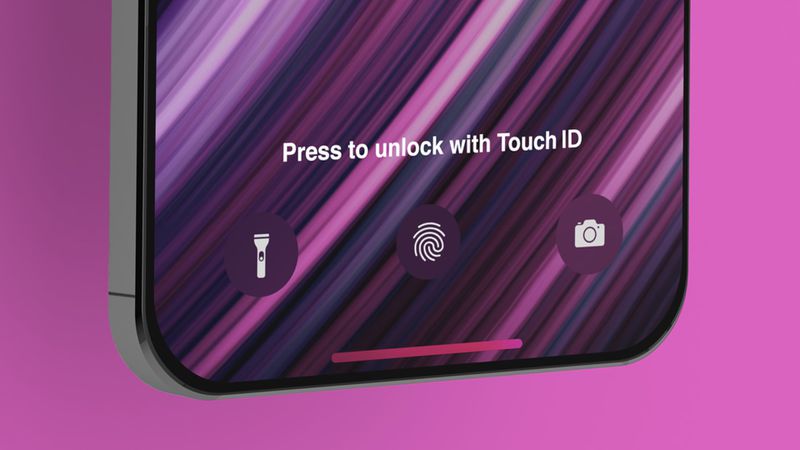 The patent application, first spotted by Patently Apple and filed with the United States Patent and Trademark Office, is titled "Under-display fingerprint sensing based on off-axis angular light" and explains how an under-display fingerprint scanner can be made more accurate and reliable. Apple describes its technology as an "enhanced under-display fingerprint sensing" system that, unlike many other existing under-display fingerprint scanners used on Android devices, uses "off-axis angular light" to read fingerprints more effectively without increasing the size of the components.
Most optical under-display fingerprint scanning systems use light emitted from the device's display to illuminate the fingertip of the user, which is reflected off of the fingerprint and back through tiny openings between the display pixels. A sensor beneath the display can then read the fingerprint and authenticate the user.
Due to the "low-light throughput and diffraction" caused by the display stack, the fingerprint image is liable to suffer from low contrast and low signal-to-noise ratio, making it harder to read the fingerprint and potentially increasing the time it takes to authenticate a user.
To overcome this problem, Apple proposes a system in which the off-axis angular light from the finger is captured via a series of "angle-dependent filtering options between the display and the sensor." This method can "improve the contrast of fingerprint impressions and maintain the compactness of the entire sensing system," according to Apple.

Specifically, Apple's system includes "a light-emitting layer covered by a transparent layer and configured to illuminate a surface touching the transparent layer and to allow transmission of reflected light rays from the surface to underlying layers." An optical coupling layer below the display "bends the reflected light rays" that are then received by a collimator layer and interpreted by a pixelated image sensor.
The examples listed in the patent note focus on OLED being the display technology of choice for the system, which is the current display technology used on the entire ‌iPhone‌ 12 lineup. Apple has been long-rumored to bring under-display Touch ID to the ‌iPhone‌, so the patent application may indicate that progress on the technology is advancing behind the scenes.
Apple is said to be planning to implement a fingerprint scanner under the display of at least one high-end ‌iPhone‌ in 2023, according to analyst Ming-Chi Kuo, but Barclays analysts have recently suggested that the feature will "likely" arrive as soon as this year on the iPhone 13.