AirPods 3 to Gain AirPods Pro Features
Apple's upcoming third-generation AirPods are expected to feature a selection of "pro" features, including a new design with shorter stems, pressure-sensitive controls, and improved battery life.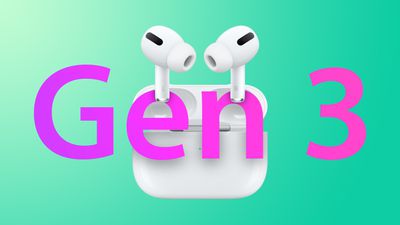 Analyst Ming-Chi Kuo has said that third-generation AirPods will have a design "similar to AirPods Pro." Introduced in November 2019, the AirPods Pro feature an in-ear design with soft silicone tips and shorter stems.
Bloomberg has likewise claimed that the new entry-level ‌AirPods‌ will inherit a form factor design similar to ‌‌AirPods Pro‌‌, with a shorter stem and replaceable ear tips. Apple is also reportedly looking to improve the AirPods‌' battery life.
In November, images of what appear to be redesigned third-generation AirPods were shared online. According to translated text that accompanied the images, the main image supposedly depicts a single "earphone shell" and the "charging cockpit shell."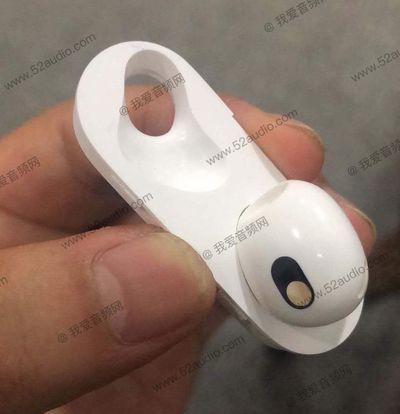 The earbud itself seems to be completely redesigned compared to the first and second-generation ‌AirPods‌, with a larger, rounder shape. A render from the same report shows AirPods with clear design cues from ‌‌AirPods Pro‌‌, with shorter stems, a larger in-ear portion, and "pressure-sensitive touch" controls from ‌‌AirPods Pro‌‌, indicated by depressions in the stem.
Contrary to the Bloomberg report, there are no detachable ear tips depicted in these images. Without in-ear tips, it is unlikely that they could achieve Active Noise Cancelation, which could serve to differentiate the two models. TheElec has also claimed that the updated AirPods will lack noise cancellation features.
The report accompanying the images described third-generation ‌AirPods‌ as "a scaled-down version of ‌AirPods Pro‌," with the "internal structure of the headset and charging box" being "basically the same." Kuo has echoed this sentiment, explaining that the internal redesign is expected to involve AirPods gaining a compact system-in-package (SiP) solution similar to ‌AirPods Pro‌.
Apple's third-generation AirPods are expected to launch in the first half of 2021. For more on what to expect from the updated earbuds, see our AirPods rumor roundup.