Apple Event Live Coverage: Apple Silicon Macs Announced! [Full Transcript of Event]
Apple's virtual "One More Thing" event kicks off today at 10:00 a.m. Pacific Time, with Apple expected to debut its first Mac models based on its own Apple Silicon chips. Rumors have indicated that the 13-inch MacBook Air and 13-inch MacBook Pro will be the first models to make the transition, while the 16-inch MacBook Pro is a possibility.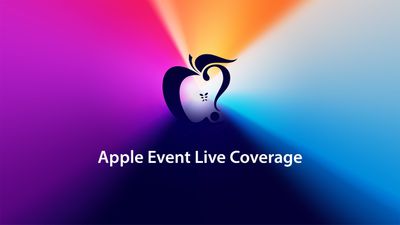 It's not clear whether we'll see any other announcements today, as Apple has several other rumored products like AirTags and AirPods Studio in the pipeline but rumors have suggested those may not be quite ready to debut.
Apple is providing a live video stream on its website, on YouTube, and in the company's TV app across its platforms. We will also be updating this article with live blog coverage and issuing Twitter updates through our @MacRumorsLive account as the keynote unfolds. Highlights from the event and separate news stories regarding today's announcements will go out through our @MacRumors account.
Sign up for our newsletter to keep up with Apple news and rumors.

Live blog transcript ahead...
7:43 am: Apple's online store is currently down ahead of the event, suggesting we may see some new products available immediately after the event.
9:30 am: 30 minutes to go!
9:45 am: Today's event stream is up and live on Apple.com, while some 76,000 people are waiting for it to begin on Apple's YouTube channel.
9:47 am: The live stream is up and running on apple.com. Just ambient music and shifting colors of the event logo for now.

9:59 am: One minute ahead of start, the YouTube stream is live too... any minute now...
10:00 am: Here we go!
10:01 am: Showing Apple Park shots against a colorful sunrise backdrop.

10:01 am: Giant sliding doors opening up to Tim Cook inside Caffe Macs, ‌Apple Park‌'s employee cafeteria.

10:02 am: Tim talking about the new products that have launched this fall, including Apple Watch Series 6, iPhone 12, Apple Fitness+ and more.
10:03 am: "One more thing... it's time to talk about the Mac."
10:04 am: Talking about Mac users and the way the Mac changes the world.
10:04 am: Running a video showing Mac users including Tom Hanks, Lady Gaga, and plenty of others including scientists, DJs, writers, politicians, and more.

10:05 am: Think Different redux, in a way.
10:05 am: The Mac has always been about innovation and bold change.
10:05 am: We promised that the first Mac with ‌Apple Silicon‌ would arrive by the end of this year. That day is here.

10:06 am: John Ternus, VP of Hardware Engineering on to talk about the new ‌Apple Silicon‌ Macs.
10:07 am: We're developing a family of chips, and we'll be transitioning the Mac line to these new chips over the next couple of years.
10:07 am: Here's our first chip developed for the Mac: M1


10:08 am: ‌M1‌ delivers a giant leap in performance per watt. Will transform Macs into an entirely different class of product. First System-On-A-Chip for Mac.

10:08 am: CPU, GPU, Cache, etc, sharing a SOC. Also running 5nm like new ‌iPhone 12‌.
10:08 am: 16 billion transistors.
10:09 am: 8-core CPU. Four high-performance and four high-efficiency.
10:09 am: World's fastest CPU core.


10:10 am: Each high-efficiency core delivers similar speed to current dual-core ‌MacBook Air‌ but more efficiency.
10:10 am: ‌M1‌ CPU delivers best CPU performance per watt.
10:11 am: 2x CPU performance of PC chip at 10 watts. Same max performance with 1/4 the power usage.

10:11 am: Single-threaded performance, gains per performance per watt have been very small from one chip to another over past 8 years. Now big increase in performance.
10:12 am: GPU with integrated graphics... ‌M1‌ gets best of both worlds for incredible performance and low power, no need for discrete graphics. Up to 8-core GPU.


10:12 am: World's fastest integrated graphics. Moving fast here, but bagging on Intel pretty hard.
10:13 am: Includes 16-core neural engine. 11 trillion operations per second.
10:13 am: Latest-Generation Secure Enclave.

10:13 am: Thunderbolt and USB 4 support.
10:14 am: The Mac has never had a chip upgrade this profound.
10:14 am: It's the tight integration of hardware and software to make user experience so amazing.
10:14 am: macOS Big Sur has been built to optimize ‌M1‌.

10:15 am: We're able to make the things you love about your Mac even better. Instant wake from sleep, just like iPhone or iPad.

10:15 am: Launching apps are nearly instantaneous, while Safari really shines on ‌Apple Silicon‌. 1.5x speedier at running JavaScript and 1.9x more responsive. Distinctly snappy.
10:16 am: So, yes. It will seem snappier.
10:16 am: macOS gives apps more access to graphics memory.
10:16 am: Quiet performance and better battery life.
10:17 am: Hardware-verified secure boot, automatic high-performance encryption, macOS run-time protections.
10:17 am: We've optimized all of our apps for ‌M1‌.
10:18 am: Run 3x more instruments and effect plugins in Logic Pro. FCP Pro can run up to 6x faster.
10:18 am: Universal apps include a native binary version for ‌Apple Silicon‌ and Intel. The two come together in a single app that can be downloaded from the App Store or the web.
10:19 am: Photoshop coming early next year.
10:19 am: Rosetta 2 allows apps run for Intel-based Macs on ‌Apple Silicon‌.
10:19 am: Some apps perform better under Rosetta than running natively on Macs with old integrated graphics.
10:19 am: New ‌Apple Silicon‌ Macs can run iOS apps directly on Mac.

10:20 am: Showing a video of developers talking about what can be done with ‌Apple Silicon‌.

10:21 am: "This was the easiest transition we've ever had."
10:22 am: A seamless workflow from ‌iPhone‌ to ‌iPad‌ to Mac.
10:23 am: Now flying to Steve Jobs theater to talk about the first Mac with ‌Apple Silicon‌.

10:24 am: ‌MacBook Air‌ with ‌M1‌.

10:25 am: ‌M1‌ enables ‌MacBook Air‌ to do things that were previously impossible in such a thin and light notebook. Up to 3.5x faster CPU.
10:26 am: Up to 5x faster graphics.
10:26 am: 3x faster than the best-selling Windows laptop in its class, and faster than 98% of Windows laptops sold last year.

10:27 am: SSD up to 2x faster.
10:27 am: The new Air delivers all this performance without a fan. Completely silent.
10:27 am: 15 hours of wireless web browsing. 18 hours of video playback.

10:27 am: 2x battery life on video calls.
10:28 am: Longest battery life ever in a ‌MacBook Air‌.
10:28 am: New image signal processor helps improve FaceTime camera.
10:29 am: Starts at $999, starting at $899 for education users.



10:30 am: ‌M1‌ also coming to another Mac today
10:30 am: Mac mini!


10:32 am: Up to 3x faster CPU than previous quad-core Mini.

10:33 am: ‌Mac mini‌ is 1/10th the size of comparable PC in its price range, and 5x faster.

10:34 am: Ethernet, USB 4/Thunderbolt, HDMI 2.0, USB-A
10:34 am: ‌Mac mini‌ now starts at $699.
10:34 am: $100 lower than previous generation.


10:35 am: We're still not done...
10:36 am: 13-inch MacBook Pro


10:37 am: With ‌M1‌, the 13-inch MacBook Pro becomes way more powerful and way more pro. 8-core CPU delivers up to 2.8x faster performance.
10:37 am: Graphics delivers 5x faster GPU.
10:37 am: 3x faster than best-selling Windows laptop in its class.

10:38 am: Battery life delivers 17 hours of wireless web browsing, and 20 hours of video playback. Longest battery life ever in a Mac.
10:39 am: 4x as much code compiling on a single charge. Studio-quality three-mic array. And improvements in video calls.
10:39 am: Thunderbolt with USB 4 support.
10:40 am: Same 3-pound design.
10:40 am: Starts at $1299 and $1199 for education.




10:42 am: Energy consumption reduced by 60% when in active use.
10:42 am: "Exciting to reinvent three of our most popular and affordable Macs."
10:42 am: Order starting today, available next week. Big Sur available Thursday November 12.
10:42 am: Transition to ‌Apple Silicon‌ will have a profound impact on the Mac. This journey will take a couple of years to complete, but we're off to one heck of a start.
10:43 am: The boot up chime is back!

10:44 am: Tim: This truly is a huge day for the Mac, and a huge day for Apple.

10:45 am: At Apple, our mission is to create products that play a meaningful role in people's lives. 2020 has been a year unlike any other in so many ways.
10:45 am: We're looking forward to seeing what you do with these products.
10:45 am: Thank you for joining us, stay safe, stay well, and have a great day!
10:46 am: PC IS BACK
10:46 am: John Hodgman!

10:46 am: "Longer battery life? Just plug it in. I'm fast. I'm still fast. I still got it. I've always been there, I always will be. Fast. Oof. My battery is drained. I gotta go plug in."
10:47 am: And we're wrapped. Orders should open up soon!