App Recap: Magnet, Parcel, Unfold, and Major App Updates
In this week's App Recap, we've highlighted productivity app "Magnet," utility app "Parcel," and graphic app "Unfold" as three apps that are worth checking out. We've also compiled a list of apps that received major updates this week.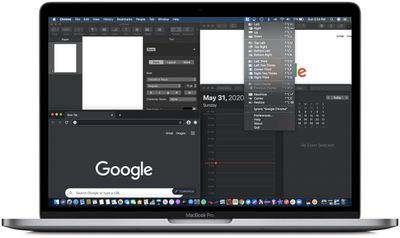 Apps to Check Out
Magnet (Mac, $1.99) - Magnet is a productivity app that helps to seamlessly organize open windows on a Mac by "snapping" windows into tiles. Dragging a window to the side of the screen allows for it to be sized to take up half of the screen, while dragging a window into a corner of the screen allows for it to be "snapped" into quarters. Magnet features several additional ways to organize windows, offers a menu bar icon, and supports keyboard shortcuts to help make multitasking much more efficient.
Parcel - Delivery Tracking (Mac & iOS, Free) - Parcel is a delivery tracking app that features a very simple and streamlined user interface. Upon downloading the app, users can simply add tracking information for over 300 delivery services, and the app will track all deliveries in an organized manner. Parcel also supports push notifications for both Mac and iOS devices, as well as customizable widgets for adding or viewing upcoming deliveries. Although the app is free to download, push notifications and tracking more than three deliveries at once requires a premium subscription that's priced at $2.99 per year.
Unfold - Story Templates (iOS, Free) - Unfold is a graphics app that allows users to create stories from over 200 templates. The editor consists of several text tools and unique stickers, and users can then export their stories to other platforms in high resolution. Unfold is free to download, but users looking to get the most out of the app can subscribe to Unfold+, which features access to all templates and fonts, exclusive access to new collections, and more. Unfold+ offers monthly and yearly subscriptions that are priced at $2.99 and $19.99 respectively.
App Updates
Apollo - Apollo, the popular Reddit client, was updated this week with improvements to the media viewing experience. In addition, the update added cursor support for iPad which works well with Reddit awards and Reddit Polls.
Heart Analyzer - Heart Analyzer was updated this week with a new dashboard, a new interface, its own dark mode, and more. The Apple Watch companion app was also refined with metrics for the week, LiveHR, and workout readouts as part of new heart rate chart complications.
Quibi - Quibi, a video app that features shows that are framed to fit phone screen and come in episodes of 10 minutes or less, was updated this week with AirPlay support. Quibi is also working to bring Chromecast support to its service in June.
Spend Stack - Finance and budgeting app Spend Stack this week announced support for importing Apple Card data directly into its app. Apple Card users are now able to take advantage of Spend Stack's budgeting and transaction monitoring tools without having to copy over the data manually into the app. In addition, the iPad version of the app has been optimized for cursor support. The update also features custom list currencies when traveling internationally, services subscription tracking, and more.

Tidal - Music streaming service Tidal this week announced Dolby Atmos support for Atmos-enabled devices like TVs, sound bars, speakers, and, notable for Apple users, the Apple TV 4K. The welcomed update brings more immersive sound when an Apple TV is paired with a Dolby Atmos soundbar or receiver and speakers.
Twitter - Twitter this week announced it has added the ability to schedule tweets using its web interface. Users also now have the ability to save draft tweets in the web app.
YouTube - YouTube this week announced a new Chapters feature that allows content creators to embed timestamps directly into the video progress bar. The feature now allows users to quickly skip to the bits that interest them.

0:00 We heard you and added Video Chapters.
0:30 You liked it.
1:00 Now it's official: Video Chapters are here to stay.
1:30 Creators, try Chapters by adding timestamps starting at 0:00 to your video description. Viewers, scrub to find exactly what you're looking for.
2:00 Enjoy! pic.twitter.com/bIHGsGVmyW — YouTube (@YouTube) May 28, 2020



YouTube Kids - The popular YouTube Kids app is now available on Apple TV, making it easier to access the platform's kid-friendly video content on bigger screens. YouTube Kids is compatible with both 4K and HD models of Apple TV, and it works with Siri.