Apple Reports 2Q 2020 Results: $11.2B Profit on $58.3B Revenue, All-Time Record for Services Revenue
Apple today announced financial results for the second fiscal quarter of 2020, which corresponds to the first calendar quarter of the year.
For the quarter, Apple posted revenue of $58.3 billion and net quarterly profit of $11.2 billion, or $2.55 per diluted share, compared to revenue of $58.0 billion and net quarterly profit of $11.6 billion, or $2.46 per diluted share, in the year-ago quarter.
Gross margin for the quarter was 38.4 percent, compared to 37.6 percent in the year-ago quarter, with international sales accounting for 62 percent of revenue. Apple also declared an increased quarterly dividend payment of $0.82 per share, up from $0.77. The dividend is payable on May 14 to shareholders of record as of May 11.
In addition to the increase in the dividend payment, Apple says it has authorized another $50 billion for share repurchases.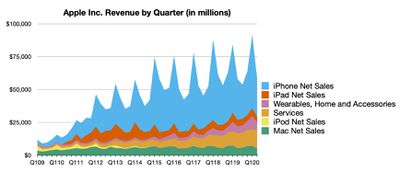 Apple in mid-February announced that it would not meet its previously announced financial guidance of $63–$67 billion in revenue for the March quarter due to the impact of the COVID-19 coronavirus, which at that time largely involved production and demand issues in China.
Apple did not issue revised guidance at the time, and the coronavirus epidemic of course quickly spread around the world, resulting in even more challenges for Apple as it closed its retail stores, told most of its employees to work from home, and experienced reduced consumer demand for many products amid economic uncertainty.
"Despite COVID-19's unprecedented global impact, we're proud to report that Apple grew for the quarter, driven by an all-time record in Services and a quarterly record for Wearables," said Tim Cook, Apple's CEO. "In this difficult environment, our users are depending on Apple products in renewed ways to stay connected, informed, creative, and productive. We feel motivated and inspired to not only keep meeting these needs in innovative ways, but to continue giving back to support the global response, from the tens of millions of face masks and custom-built face shields we've sent to medical professionals around the world, to the millions we've donated to organizations like Global Citizen and America's Food Fund."
Apple did not offer any guidance for the third quarter of fiscal 2020.


Apple will provide live streaming of its fiscal Q2 2020 financial results conference call at 2:00 PM Pacific, and MacRumors will update this story with coverage of the conference call highlights.
Apple earnings call recap ahead...
1:42 pm: Apple's stock price bounced briefly higher in after-hours trading following the earnings release, but has settled back to around its closing price for the regular session of the day.
1:57 pm: Apple has not provided revenue guidance for Q3 2020 amid the COVID-19 pandemic.
2:01 pm: Apple's earnings call should begin momentarily...
2:02 pm: Apple CEO Tim Cook and Apple CFO Luca Maestri participating in the call as usual.
2:04 pm: Tim: Good afternoon everyone. Thanks for joining us today. Hope you're staying safe and well. Apple today reports $58.3B revenue. Most challenging environment we've ever operated our business... we're proud to say Apple grew during the quarter.
2:04 pm: Tim: Apple is contending with COVID-19 since January. How we responded, what we've been inspired to do, tells a great story about Apple's durability. Also speaks to Apple's unmatched capacity to be creative, to always think long term, and forge ahead...
2:06 pm: Tim: Apple launched new products while sourcing masks and face shields for healthcare workers.
2:06 pm: Tim: Apple News reached 125M monthly active users. COVID-19 special coverage.
2:07 pm: Tim: We let customers skip Apple Card payments in March and April.
2:08 pm: Tim: Apple launched a COVID-19 symptom checking website and app. App has been installed ~2M times, website has had ~3M unique visitors.
2:09 pm: Tim: Apple has modified operations where appropriate, including retail stores. We're compensating retail employees normally despite store closures.
2:09 pm: Tim: While we felt some temporary supply constraints in February, production was back to usual by late March.
2:10 pm: Tim: Teachers are relying on our products/tech. We're deploying major orders of iPads in school districts around the world. Ontario, Canada; NYC; etc.
2:10 pm: Tim: Free 90-day trials for Final Cut Pro X and Logic Pro X.
2:11 pm: Tim: Medical professionals using Apple Watch to treat patients safely from a distance. ECG measurements for example.
2:12 pm: Tim: I don't think I can recall a quarter where I've been prouder of what we do/how we do it.
2:13 pm: Tim: We withdrew our Q2 2020 revenue guidance in February... during last three weeks of quarter, as virus spread globally and social distancing measures put in place worldwide, we saw downward pressure on demand. We will not be issuing guidance for the coming quarter.
2:15 pm: Tim: We can't say how many chapters are in this book for sure, but we can say the ending will be a good one.
2:15 pm: Tim: I hand things off to Luca.
2:16 pm: Luca: Revenue was $58.3B, up 1% YoY despite extreme circumstances of COVID-19 and FX headwinds.
2:16 pm: Luca: Installed base of active devices reached all-time high in all geographic segments.
2:17 pm: Luca: Services had strong 17% YoY growth. $13.3B revenue from services.
2:17 pm: Luca: 38.4% gross margin, flat sequentially.
2:17 pm: Luca: Products gross margin was 30.3%, decreasing 380 basis points sequentially due to loss of leverage and unfavorable mix. More pronounced drop due to COVID-19.
2:17 pm: Luca: 65.4% gross margin for services.
2:18 pm: Luca: Reported tax rate was 14.4% for quarter.
2:18 pm: Luca: Net income $11.2B. EPS of $2.55, up 4%.
2:18 pm: Luca: iPhone revenue of $29B, down 7% YoY. ‌iPhone‌ supply and demand were both affected by COVID-19 at some point during quarter.
2:19 pm: Luca: While we did see a slight elongation in our replacement cycle towards end of quarter, active installed base of ‌iPhone‌ reached all-time high.
2:20 pm: Luca: Well on our way of doubling our FY16 services revenue during FY20.
2:21 pm: Luca: Customer engagement in our ecosystem continues to grow strongly. Transacting and paid accounts reached new all-time high during March quarter. Paid accounts increased double-digits in all of Apple's geographic segments. >515M paid subscriptions. Up 125M YoY.
2:22 pm: Luca: Target of 600M paid subscriptions before end of calendar 2020.
2:22 pm: Luca: Apple Watch continues to extend its reach. Over 75% of customers purchasing Apple Watch around the world during the quarter were new to the product.
2:22 pm: Luca: Mac revenue was $5.4B. iPad revenue was $4.4B.
2:23 pm: Luca: Towards end of quarter, new iPad Pro launched. LiDAR Scanner for AR. Also a new MacBook Air with significantly improved performance at a lower price. We're very pleased with customer interest in both products.
2:24 pm: Luca: Enterprise markets have been working remotely... we've been helping transition our customers.
2:25 pm: Luca: Leading grocers around the world offer Apple Pay so customers can use contactless payments. As stores shift to become fulfillment centers for online orders, companies are leveraging apps.
2:26 pm: Luca: Our liquidity has not been an issue for us during this highly unusual financial market situation. Ended the quarter with $193B in cash + marketable securities. Net cash was $83B at end of quarter.
2:26 pm: Luca: Apple repurchased 64.7M AAPL shares during quarter.
2:27 pm: Luca: I'd like to provide color on June quarter. As Tim mentioned, given lack of visibility and certainty in near term, we will not be issuing guidance. Based on what we've seen in April and how we think things might play out, would like to provide insight on headwind/tailwinds.
2:27 pm: Luca: USD has appreciated recently against most currencies around the world. We expect this to impact our revenue by more than $1.5B on a YoY basis.
2:28 pm: Luca: ‌iPhone‌ and Wearables, we expect YoY revenue performance to worsen in June quarter relative to March quarter. ‌iPad‌ and Mac, we expect YoY revenue performance to improve.
2:30 pm: Luca: We are in the midst of developing our most exciting pipeline of products and services ever, while contributing over $350B to the US economy over five years.
2:30 pm: Luca: Our board has authorized $50B for share repurchases in addition to $40B remaining over current share repurchase plan. Board also authorized a 6% increase in quarterly dividend. 82 cent dividend payable on May 14, 2020 to shareholders of record as of May 11, 2020.
2:31 pm: Q&A session.
2:31 pm: Shannon Cross, Cross Research: Tim you talked about seeing some improvement in second half of April... can you talk more about that?
2:32 pm: Tim: If you look at China, we were having a really good January. Lockdowns started towards end of January. February we saw a steep decline in demand. We closed our stores in February. As lockdown completed in second half of February, we began to open stores on a staggered basis. From a demand point of view, we saw improvement in March over February. If you look where we are today, we've seen further improvement in April compared to March. That's China.
2:34 pm: Tim: If you look at the rest of the world, we were doing great in January. First 5 weeks of the quarter. We do believe that we were headed towards top end of our quarterly guidance. The next 5 weeks were spent reacting and getting supply chain back up in full force. The rest of world happened in March, shelter-in-place etc, last 3 weeks of quarter we saw sharp decline in demand. Early April started like the end of March, but in second half of April we've seen an uptick across the board. Not just related to a certain region or product.
2:34 pm: Tim: Part of it is due to our new products, part of it is due to stimulus programs taking effect in April, part of it is customers purchasing more devices to work from home...
2:35 pm: Cross: Luca, you talked about puts/takes in quarter, didn't really mention operating expenses. Can you talk about op. ex.?
2:36 pm: Luca: We manage the company for the long term. We know the core of the business is innovation/product and services development. We'll continue to invest in our pipeline. We're very excited about what we have in store. We're aware of the environment and we will manage tightly. We are making new investments in new services we launched recently. We purchased baseband business from Intel and we want to develop that.
2:37 pm: Wamsi Mohan, Bank of America: We are all appreciative of Apple's contribution during this pandemic. In past downturns, we've not really seen Apple pull back from investing, you've largely maintained new product introductions... but Apple can't do much in person right now, so how should we think about the cadence of new products in upcoming quarters?
2:38 pm: Tim: We're continuing to operate. We were able to launch and ship the new iPhone SE, the Magic Keyboard for ‌iPad Pro‌, and the new ‌MacBook Air‌. Business continues. New products are our lifeblood. We're continuing to work... everyone is getting used to work from home. In some areas of the company, people may be even more productive. In some areas, not as productive. It's mixed depending on what the roles are. As you can tell from what we did this quarter despite the environment, we have our head down and are working.
2:39 pm: Mohan: I know you're doing a lot with ‌Apple Card‌, financial programs...would you consider using the strength of your balance sheet to defer payments, or offering bundles?
2:39 pm: Tim: As you know, we launched the payment plan earlier on ‌Apple Card‌ for ‌iPhone‌. We're working on that for other products and you'll see something on that shortly.
2:40 pm: Tim: The trade-in programs are also fairly wide across the board... act as something great for the environment and to get entry price down. In terms of deferred payments, nothing to announce today. But access to ‌Apple Card‌ gives us more access to freedom/flexibility in US.
2:40 pm: Katy Huberty, Morgan Stanley: Tim, where do you see structural changes on back of this health crisis? New revenue streams at Apple? Past comments on health, AR, more areas of inspiration and creativity?
2:41 pm: Tim: I think there are things just from a great reminder of how important our products are for remote work. Pretty clear to me that where things will get a lot closer to normal than they are today... people are finding they can learn remotely. That trend will accelerate some. Also true about working remotely in some areas/jobs. I think we have significant solutions/products for all of those groups.
2:42 pm: Tim: On the health area, I gave some examples in my opening comments about ECG being used on Apple Watch. You can bet we're looking at other areas. We were already doing that. We viewed that area as a huge opportunity for the company and a way to help a lot of people. You will see us continue on that. I wouldn't say that the health door opened wider, it was already opened fairly wide.
2:42 pm: Huberty: $50B share repurchase authorization, any context on the thought process landing on that number? Does current landscape change Apple's view on merger & acquisition opportunities?
2:44 pm: Luca: If you look at our actual results, you see how much we actually do in terms of share repurchases. $50B is in addition to over $40B still remaining in share repurchase program. Total over $90B. Run rate for past several years is very adequate. We will provide an additional update a year from now. Nothing really has changed there. Nothing has changed on our approach for M&A. Very active over past several years. We purchase companies on a fairly regular basis to fill gaps in our portfolio, for hardware, software, and services...
2:44 pm: Amit Daryanani, Evercore: How did channel inventory look in March quarter?
2:45 pm: Tim: If you look at ‌iPhone‌ channel inventory during Q2, reduction of it was more than reduction in previous year. Not unusual that we reduce in Q2. If you look back, generally speaking, in first half of calendar year, we reduce channel inventories. In second half of calendar year, we raise channel inventories, I believe that will happen again this year.
2:46 pm: Daryanani: How do you view Apple's manufacturing strategy? Do you feel comfortable that supply chain is well situated to launch traditional fall products?
2:47 pm: Tim: Our products are truly made everywhere. I would focus on that vs. one element of manufacturing process which tends to get more visibility, which is the final assembly. We have some final assembly in the United States, in China as well. I'd have to conclude that if you look at the shock to the supply chain this quarter, for it to come back up so quickly, really demonstrates that it's durable and resilient. I feel good about where we are. That said, we're always looking at tweaks, it's just not something we talk about. We view it as confidential and competitive information. We will look to see what we learned from this and what we could change after we get totally out of this.
2:50 pm: Question about services... Luca says AppleCare revenue will be impacted by Apple Stores being closed. Advertising is also a headwind, such as App Store Search Ads.
2:50 pm: Question: Have you seen any downticks in products? Lower storage, lower end products? Due to rising unemployment?
2:51 pm: Tim: I haven't seen what you're asking. I have seen a strong customer response to ‌iPhone SE‌, which is our most affordable ‌iPhone‌. Those customers appear to be coming from wanting a smaller form factor with the latest technology, or coming from Android. ...As opposed to "buying down."
2:52 pm: Tim: Response to our top-of-the-line new ‌iPad Pro‌ has also been strong, so not seeing what you're alluding to, at least not at this point.
2:54 pm: Question about store traffic... Tim says store traffic is back to where it was in February in China, but isn't back to pre-pandemic level.
2:55 pm: Tim: I think that people like to be out and about... they just know that now is not the time to do that.
2:56 pm: Tim says the new ‌iPhone SE‌ is faster than the fastest Android smartphones.
2:57 pm: Question about ‌iPhone‌ pricing... Tim says Apple has always been about delivering the best product at a good price. We had an SE for a while... great to bring it back, it was a beloved product. We want to give people the best deal that we can while making the best product.
2:58 pm: Question about commodity pricing... Tim says NAND pricing increased slightly in March quarter, while DRAM and displays and other commodities declined. For the June quarter, we would expect NAND and DRAM pricing to remain at historically low prices.
2:58 pm: The conference call has ended.