5K LG UltraFine Display Now Unavailable From Apple in the U.S.
Apple is no longer offering the 5K LG UltraFine Display from the Apple Store in the United States, with the monitor now listed as "Sold Out" and unavailable for pickup in any retail location.
The 5K LG display was in stock and available to be shipped just recently, so the stock shortage happened within the last few days. The listing for the display has not been eliminated from Apple's site, so it's not entirely clear if Apple plans to restock the monitor or if Apple is done selling it for good.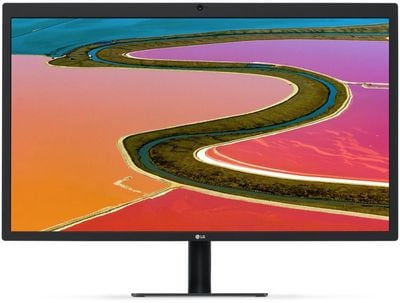 Apple last month removed the online listing for the 4K LG UltraFine Display, and prior to when it was pulled, the 4K monitor had been listed as "Sold Out" for some time, so Apple could be planning to remove the 5K monitor from the site in the near future as well.
The 4K and 5K UltraFine Displays were designed by LG in partnership with Apple and were created to be used with the 2016 13 and 15-inch MacBook Pro models, which supported Thunderbolt 3 for the first time.
The 27-inch 5K UltraFine Display featured a resolution of 5120 x 2880, P3 wide color gamut, and 85W of power delivery for charging a MacBook Pro. Apple was selling it for $1,299. The 27-inch 5K UltraFine display continues to be available from Best Buy, B&H Photo, and Amazon, and it is still listed on LG's website.
Apple is potentially phasing out the LG displays because they're several years old at this point and because there is a new Apple-branded display in the works. Apple is developing a high-end high-throughput modular Mac Pro and is said to be planning on a 31.6-inch 6K display to go with it.
The new display has been described as a high-end display aimed at Apple's pro user base, so it's likely to be expensive and may not be a suitable replacement for the 4K and 5K displays that are no longer available from Apple.