Apple Will Reportedly Launch Three OLED iPhones in 2020 Including Smaller 5.42-inch Model With Thinner Display
Apple plans to launch a trio of OLED iPhones next year that includes smaller and larger-sized models than the current crop of Apple's flagship smartphones, according to sources from Taiwan's supply chain.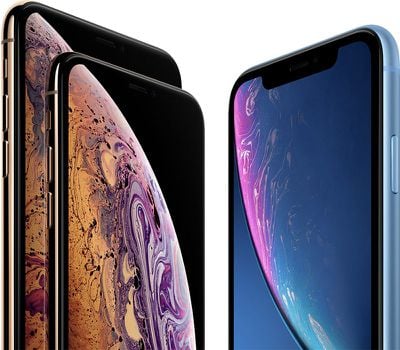 DigiTimes reports this morning that Apple will release three OLED iPhones in 2020 available in 5.42-, 6.06- and 6.67-inch sizes.
Meanwhile DigiTimes' sources indicate that, as expected, this year's three models will follow the screen technologies and sizes of 2018 iPhones; namely, two OLED models with 5.8-inch and 6.5-inch screens, and a 6.1-inch LCD model.
In a noteworthy tidbit coming out Taiwan's handset component supply chain, the smallest iPhone model coming in 2020 will reportedly include Samsung or LG touchscreen tech that will allow Apple to make the display of the phone thinner than on previous handsets.

Additionally, the 5.42-inch model to be released in 2020 may come with either Samsung Display's Y-Octa or LG Display's TOE touch technology, indicated the sources, noting that both touch solutions promises to trim down the display cost.

Y-Octa is an advanced flexible AMOLED display technology that removes the film substrate and allows the touch circuit to be directly patterned on the film's encapsulation layer, making the display thinner, indicated the sources.
According to ‌DigiTimes‌' sources, Samsung will maintain its dominance as the main OLED panel supplier for Apple next year, while it remains to be seen whether LG or BOE Technology can gain OLED panel orders from the company.
The same supply chain sources estimate that Apple will ship between 80 and 82 million iPhones in the first half of this year and around 180-190 million units for all of 2019.
Previous rumors suggest 2020 iPhones will feature triple-lens rear camera arrangements, improved photo capturing tools, and more powerful processors. Bloomberg has suggested it could be a prelude to an AR headset, and past rumors have indicated Apple could launch that device as early as 2020.