Live Apple Event Coverage: 'It's Show Time' [Keynote Ended]
Apple's "It's show time" event at the Steve Jobs Theater on the company's Apple Park campus begins at 10:00 a.m. Pacific Time (1 p.m. Eastern Time), and following several hardware announcements last week, we're expecting Apple to focus on services today.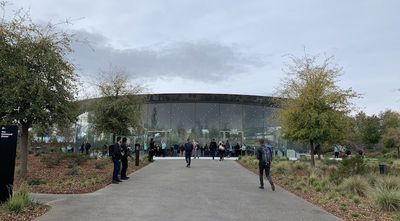 The two key services we're expecting to see unveiled today are a news and magazine subscription service and a new streaming television service that will ultimately include not only Apple's own original content but also allow users to easily subscribe to other services such as Starz, Showtime, and perhaps HBO.
Apple may also be planning to unveil several new Apple Pay features, including a rumored Apple-branded credit card issued in partnership with Goldman Sachs. Last-minute rumors have also suggested we could see something about a gaming-related subscription service.
Following the event, we should see the release of iOS 12.2, perhaps adding support for Apple's magazine and news service, as well as bringing Apple News to Canada, new Animoji characters, HomeKit TV support for third-party TVs, and more. Additional updates in the form of macOS 10.14.4, watchOS 5.2, and tvOS 12.2 are likely also coming today.
Apple is providing a live video stream on its website and via the Apple Events app on Apple TV.
In addition to Apple's video stream, we will be updating this article with live blog coverage—no need to refresh—and issuing Twitter updates through our @MacRumorsLive account as the keynote unfolds.
Highlights from the event and separate news stories regarding today's announcements will go out through our @MacRumors account.
Sign up for our newsletter to keep up with Apple news and rumors.
Keynote recap is ahead...

9:07 am: Members of the press and other guests have received their badges and are milling around the upper lobby of the Steve Jobs Theater.


9:22 am: Food selection for this event at Steve Jobs Theater! Photo via Joan E. Solsman.
9:27 am: Just waiting at this point. Members of the press should be let downstairs into the theater itself shortly.
9:29 am: Roku CEO Anthony Wood is at the Apple Event, according to Recode's Peter Kafka. MacRumors exclusively reported that Apple and Roku have held discussions about AirPlay 2 support. The Wall Street Journal also reported that the Roku platform may get an ‌Apple TV‌ app for video content.
9:39 am: Members of the press are now heading down into the theater.
9:43 am: The hands-on area at Steve Jobs Theater is emptier than usual based on a photo shared by Nilay Patel.


9:45 am: 15 minutes to go!
9:49 am: Lots of Hollywood actors/directors/producers on hand such as Tim Robbins, Hailee Steinfeld, Mark Duplass, and Ronald D. Moore, according to Matthew Panzarino.


10:01 am: The keynote is starting with an intro video!
10:02 am: Tim Cook on stage.
10:03 am: "As you can tell, today is going to be a very different kind of event!"


10:03 am: Services are "what today is all about."


10:06 am: Services need to be easy to use, have an uncompromising attention to detail, and designed to keep your personal information private and secure.
10:07 am: Today we're excited to extend our services even further, making them even more entertaining, even more useful, and even more informative...


10:07 am: Starting with ‌Apple News‌.
10:08 am: Over 5 billion articles read each month makes ‌Apple News‌ the #1 news app.
10:09 am: Today we're bringing magazines to ‌Apple News‌.


10:10 am: With amazing design and striking photography, in-depth journalism, magazines are iconic and a part of our culture. They follow and create the latest trends in fashion and style. They entertain. They educate us about the world we live in. They provide insights into science and technology. They go behind the scenes with exclusive interviews of our favorite artists. They cover the world of sport. They tell stories that give us perspective. All of these magazines come to life in a new service that we call ‌Apple News‌+
10:10 am: ‌Apple News‌+ will take ‌Apple News‌ to a "whole new level."


10:11 am: Apple is playing a video about the importance of journalism.
10:11 am: Showing magazines like Rolling Stone, Variety, TIME, National Geographic…


10:12 am: Vogue, Billboard, Popular Science, The New Yorker, Sports Illustrated, Fortune…
10:12 am: WIRED. The ‌Wall Street Journal‌.
10:14 am: GQ. Fast Company. Esquire. People. Food & Wine. Car and Driver. The Food Network Magazine.
10:15 am: ‌Apple News‌ app has same Top Stories, Trending Stories, and For You tabs. ‌Apple News‌+ adds magazines with animated covers, featured issues…


10:16 am: Very immersive design with full-screen images, infographics, table of contents.


10:17 am: A new News+ tab is split into a My Magazines section with categories such as Browse the Catalog, Featured, Business & Finance, and Travel, curated by ‌Apple News‌ editors.


10:18 am: Same experience on iPad.


10:19 am: Over 300 magazines. We spy a few others, including Golf Digest and The Hollywood Reporter.


10:21 am: ‌Apple News‌+ also includes The Los Angeles Times, TechCrunch, Vulture, theSkimm, The Highlight by Vox.


10:21 am: Apple doesn't allow advertisers to track you. "What you read in ‌Apple News‌ will not follow you across the web."


10:21 am: ‌Apple News‌+ is $9.99/month.
10:22 am: Family Sharing is no extra charge.


10:22 am: Each person in a family gets full access under the $9.99/month price. Likely up to six people.
10:22 am: ‌Apple News‌+ is available today on iOS and macOS. First month is free.


10:23 am: ‌Apple News‌+ is launching in both the US and Canada (English + French).
10:23 am: Toronto Star will be available on ‌Apple News‌+ in Canada.
10:24 am: Later this year, ‌Apple News‌+ will be launching in Australia and Europe, starting with the UK. The slide says Fall 2019.
10:24 am: Next up: ‌Apple Pay‌.


10:25 am: ‌Tim Cook‌ back on stage, says ‌Apple Pay‌ on target to surpass 10 billion transactions in 2019.


10:25 am: ‌Apple Pay‌ will be available in 40+ countries and regions by the end of 2019.
10:25 am: ‌Apple Pay‌ is coming to transit systems in Portland, Chicago, and NYC later this year.


10:26 am: We want to take the ‌Apple Pay‌ experience even further. We saw an opportunity to transform another fundamental method of payment, and that's the credit card.
10:27 am: We've learned a lot about credit cards, but there are some things that could be so much better, like simplifying applications, eliminating fees, lowering interest rates, offering a clear rewards program, and security and privacy.
10:27 am: We're going to do all of this and so much more, changing the entire credit card experience.
10:27 am: Today we're introducing a brand new service and we call it Apple Card.


10:27 am: ‌Apple Card‌ was created by Apple... to tell you all about it, we invite up ‌Apple Pay‌ VP Jennifer Bailey on stage.
10:28 am: ‌Apple Card‌ is designed for iPhone. You can sign up on ‌iPhone‌, don't have to wait days to get a card. Within minutes, you can get the card and start using it right away.
10:28 am: You can use it worldwide anywhere with ‌Apple Pay‌. In stores, in apps, and on the web. Available across all Apple devices.


10:28 am: ‌Apple Card‌ is stored in the Wallet app.
10:29 am: Shows how much you owe, where you spent, when payment is due…
10:29 am: You can send iMessages to Apple to update your address, review transactions, and more.
10:30 am: ‌Apple Card‌ uses machine learning and Apple Maps to provide easily recognizable transactions. No more confusing statement entries.


10:30 am: ‌Apple Card‌ automatically organizes and totals your purchases, so you can see how much you spent and exactly where you spent it with ‌Apple Maps‌. You can keep track of speeding by category such as food an drink, shopping, entertainment...
10:30 am: ‌Apple Card‌ shows you how your spending is trending, week over week or month over month.
10:31 am: Next up, rewards. With ‌Apple Card‌, we want you to get the most for your money. Every time you spend with ‌Apple Card‌, you get cash back and you get it every day. We call it Daily Cash.


10:32 am: When you're buying your morning coffee, shopping for groceries, or so forth, you get Daily Cash. Not a month from now, every day. Real cash to spend in stores, pay down your balance, send it to friends, or use in apps or on the web. Added to your ‌Apple Pay‌ Cash balance.


10:32 am: 2% Daily Cash when you use ‌Apple Pay‌.


10:32 am: 3% Daily Cash on purchases directly from Apple.


10:32 am: There is no daily limit for Daily Cash.
10:33 am: With ‌Apple Card‌, our goal is to help you save on interest. We start with a range of payment options.
10:33 am: We've added the flexibility to schedule more frequent payments.


10:34 am: ‌Apple Card‌ does not have late fees, annual fees, international fees, or over-limit fees. No fees.


10:34 am: Lower interest rates. No penalty interest rates, even if you miss a payment.


10:34 am: To create a credit card, you need a bank. We partnered with Goldman Sachs as the issuing bank of ‌Apple Card‌.
10:35 am: We're also excited to be working with MasterCard.
10:35 am: With MasterCard's global payment network, ‌Apple Card‌ will be accepted all over the world.


10:36 am: New level of privacy and security. Per-device credit card number is created, stored safely in the Secure Element, a special security chip used by ‌Apple Pay‌.
10:36 am: Every purchase is authenticated with Touch ID or Face ID.
10:36 am: Apple doesn't know what you bought, where you bought it, or how much you paid for it.
10:37 am: All tracking of spending and so forth is on-device, not on Apple's servers.
10:37 am: Goldman Sachs will never share or sell your data to third parties for marketing.


10:38 am: There is a physical ‌Apple Card‌ too. No card number. No CVV security code. No expiration date. No signature.


10:39 am: (That information is in the Wallet app.)


10:39 am: 1% Daily Cash for purchases with the physical, titanium ‌Apple Card‌.
10:39 am: ‌Apple Card‌ will be coming to the Wallet app in the US this summer.
10:40 am: ‌Tim Cook‌ back on stage. Next up: App Store.
10:40 am: ‌App Store‌ has become the largest gaming platform in the world.
10:41 am: 1 billion people have downloaded games from the ‌App Store‌. 300K games on ‌App Store‌. Free and paid.


10:42 am: Paid games haven't been as successful for developers due to free games.
10:42 am: New kind of service will solve this...Apple Arcade.


10:42 am: First game subscription service for mobile, desktop, and living room.


10:43 am: Partners include Disney, Sega, Lego, Cartoon Network, Konami, and many others…
10:44 am: Apple is playing a video about games and how ‌Apple Arcade‌ will help with discovery.
10:46 am: ‌Apple Arcade‌ will include access to 100+ new and exclusive games.


10:47 am: ‌Apple Arcade‌ will have a dedicated tab on the ‌App Store‌. A subscription will enable users to download and play any games available in the ‌Apple Arcade‌.


10:47 am: ‌Apple Arcade‌ supports ‌iPhone‌, ‌iPad‌, Mac, and ‌Apple TV‌. Every game will be playable offline. No internet connection required.
10:48 am: All ‌Apple Arcade‌ games will be all-you-can-play. All features, content, and updates will be included at no extra charge. No extra in-app purchases necessary.
10:48 am: ‌Apple Arcade‌ games cannot collect any data about the user without consent.


10:48 am: ‌Apple Arcade‌ games will be curated by Apple's team of ‌App Store‌ editors.
10:48 am: No ads.
10:49 am: More games will be added on a routine basis.
10:49 am: Apple now providing a sneak peek of some of the games coming to ‌Apple Arcade‌…


10:50 am: ‌Apple Arcade‌ will be available in Fall 2019 in 150+ countries/regions. Pricing and more details to come (not disclosed).
10:50 am: Next up: TV.
10:52 am: Our vision for the ‌Apple TV‌ app is to bring together your favorite shows, movies, sports, and news and make them available on all of your devices.
10:52 am: Spend less time looking for something to watch and more time enjoying it.
10:53 am: Spectrum, DirecTV, Optimum, Hulu, PlayStation Vue, FuboTV all accessible through the ‌Apple TV‌ app.
10:53 am: For some of us, the big bundle is more than we need. So, we designed a new TV experience. Only pay for what you want. All in one app.
10:53 am: On demand. Ad-free. Online or offline. Family Sharing.


10:54 am: All of this is part of a new feature called "‌Apple TV‌ channels" within the ‌Apple TV‌ app.


10:55 am: CBS All Access, Starz, Showtime, HBO, Nickelodeon, Mubi, The History Channel Vault, Comedy Central Now, and more…




10:57 am: No more bouncing between apps. All of those channels are available right within the revamped ‌Apple TV‌ app.
10:59 am: Nothing else to set up.


11:02 am: ‌Apple TV‌ Channels is available via tvOS/iOS software update in May.


11:02 am: ‌Apple TV‌ app is also coming to the Mac this fall.
11:02 am: And to smart TVs!
11:03 am: Samsung this spring, followed by LG, Sony, and Vizio.


11:03 am: Also Roku and Amazon Fire TV players.


11:03 am: ‌Apple TV‌ app is expanding to 100+ countries/regions.
11:04 am: ‌Tim Cook‌ back on stage, looks like Apple's original content is up next…
11:04 am: Apple TV+


11:05 am: ‌Apple TV+‌ is headed by Jamie Erlicht and Zack Van Amburg.
11:06 am: ‌Apple TV+‌ is "dedicated to the best stories ever told."


11:08 am: A video is playing. Hey look, it's J.J. Abrams, Steven Spielberg, and M. Night Shyamalan!
11:09 am: Reese Witherspoon, Jennifer Aniston!
11:10 am: The video is going over the attention to detail that goes into filmmaking/production.


11:13 am: Steven Spielberg is on stage talking about the TV series Amazing Stories.
11:14 am: Spielberg is partnering with Apple to reboot Amazing Stories.
11:15 am: Reese Witherspoon and Jennifer Aniston on stage now!


11:15 am: They will be starring in The Morning Show.


11:16 am: Steve Carell pops out from left stage…


11:21 am: Next up was a preview of the Apple series "See" starring Jason Momoa and Alfre Woodard.


11:25 am: On stage now is comedian and actor Kumail Nanjiani from Silicon Valley, The Big Sick... He is behind the Apple's upcoming half-hour anthology series "Little America."
11:26 am: We hope Little America will help the American viewer understand that there is no such thing as the "other." Only "us."
11:27 am: Next up, Sesame Street!


11:30 am: Big Bird from Sesame Street is on stage. Apple is partnering up with Sesame Workshop to create a range of programming for children.


11:32 am: Next up on stage are J.J. Abrams and Sara Bareilles, who are the executive producers of Apple's upcoming half-hour comedy-drama series called "Little Voices."
11:35 am: Many more series coming to ‌Apple TV+‌ from many more directors/producers/actors…
11:37 am: Apple's original shows and movies will be available via ‌Apple TV+‌ in the new ‌Apple TV‌ app.


11:37 am: ‌Apple TV+‌ is ad-free, subscription based. Online and offline. Coming this fall in 100+ countries.


11:39 am: ‌Tim Cook‌ says Apple has one more remarkable story to share.
11:40 am: (P.S. We didn't get pricing for ‌Apple TV+‌ yet.)
11:40 am: That last storyteller is Oprah Winfrey!


11:41 am: One More Thing? Oprah More Thing?
11:43 am: Oprah says she is proud to be part of ‌Apple TV+‌ to create positive change through compelling conversations with newsmakers, leaders, artists, people of all walks of life.
11:45 am: Oprah has two documentaries in the works, one about sexual harassment in the workplace called Toxic Labor.


11:47 am: ‌Tim Cook‌ back on stage. "What a fun morning!"
11:48 am: ‌Tim Cook‌ invites all Apple employees in attendance to stand up for a round of applause.
11:49 am: Thank you and goodbye!


11:50 am: Stay tuned to MacRumors for continued coverage of Apple's announcements.