Qualcomm 'Running Out' of Time to Win 5G Modem Orders in 2020 iPhones Amid Legal Battle With Apple
Qualcomm may be running out of time if it wants to supply Apple with 5G modems for its 2020 iPhones as some rumors suggest.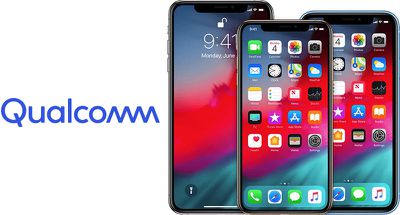 In a research note today, analysts at investment bank Barclays said that while they originally thought Qualcomm had an opportunity to supply the 5G modems to Apple, they now believe that time "seems to be running out" unless the two companies can settle their bitter legal battle in the next few weeks.
Back in November, it was reported that Apple will tap Intel as its 5G modem supplier instead, but Barclays analysts believe that the modem design for 2020 iPhones "needs to be set now," and that the expected late 2019 availability of Intel's first consumer 5G modem "does not work with Apple's timeline."
Apple recently testified that it held conversations with Samsung and MediaTek as potential alternative suppliers, but it's unclear if those companies would be able to meet Apple's production, performance, and cost demands.
Apple is also reportedly working on its own cellular modems, but research and development appears to be in the early stages.
Last week, Intel confirmed that it expects the first consumer products embedded with its 5G chips to be released in 2020, the same year Apple is rumored to release its first 5G-enabled iPhone, enabling faster data speeds.