T-Mobile Won't Make Serious Push Into 5G Until Second Half of 2019
T-Mobile won't be making a serious push into launching and promoting its 5G network until the second half of 2019, T-Mobile CTO Neville Ray said in an interview shared by CNET today.
The carrier had initially planned to promote 5G in the first half of 2019, but it is delaying that rollout because smartphones able to take advantage of its 5G network won't be available until later.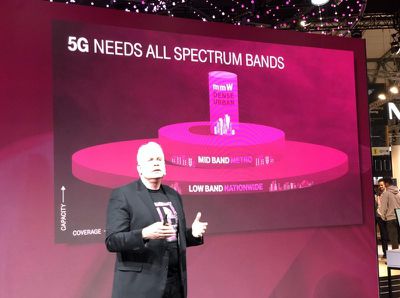 Image via CNET


According to Ray, T-Mobile had hoped that smartphone makers and chip manufacturers would have 5G devices ready to use the lower-band 600 megahertz spectrum that will power much of its 5G network, but that hasn't quite happened. The company instead plans to "go big" with 5G later in 2019.
The 5G version of the Galaxy S10 from Samsung, which will come in April, offers millimeter wave support compatible with Verizon, AT&T, and Sprint, but not T-Mobile. T-Mobile is deploying millimeter wave, but coverage at the moment is "too minimal for the company to promote."
T-Mobile is planning to use the 600MHz spectrum to power most of its 5G network because while it offers slower peak speeds, it provides better coverage than the millimeter wave spectrum that Verizon and AT&T are currently focusing on more heavily.
Early 5G devices like the Galaxy S10 5G will use millimeter wave spectrum. T-Mobile plans to sell the Galaxy S10 5G, but given that its millimeter wave deployment is so limited at this time, Ray is not sure the company will promote Samsung's newest smartphone.
CNET's original story suggested T-Mobile was delaying its 5G launch entirely, but Ray says that is not true. On Twitter, Ray clarified that 5G will still start rolling out in the first half of 2019, but that it will get "more meaningful" in the second half of the year when there are actual devices that can take advantage of the 600MHz 5G spectrum.
Sorry, Roger. That's wrong. We've always said we'd launch when phones are available and they will be in H1. H2 is just when it gets more meaningful ... but there's no delay and no change of plans. — Neville (@NevilleRay) February 25, 2019
The network differences put T-Mobile a bit behind other cellular companies. AT&T has
rolled out 5G
in 12 cities, Verizon has a
5G home broadband service
in a limited number of cities, and Sprint is planning to
launch its 5G network
in May.
T-Mobile isn't worried about AT&T and Verizon having an edge in the race to deploy 5G just because millimeter wave spectrum has such a limited range. "You can't go to a US consumer and charge them a big premium and it works on three street corners," Ray told CNET.
Full 5G rollout with faster overall speeds will require carriers to offer 5G connectivity across multiple spectrums, with the fastest, millimeter wave, limited to dense urban areas. AT&T is also planning to offer 5G on low-band spectrum starting in 2019, with nationwide coverage planned for 2020.
For Apple users, the 2019 rollout of 5G means little because there won't be iPhones able to use 5G networks until at least 2020. Rumors have suggested Apple won't introduce a 5G-capable iPhone in 2019, and Intel recently confirmed that its 5G hardware won't be in consumer products until 2020. Apple is currently using Intel's modem chips in its ‌iPhone‌ lineup due to an ongoing legal spat with Qualcomm.