Verizon's 5G home broadband service is today launching in parts of Indianapolis, Houston, Los Angeles, and Sacramento, Verizon announced this morning.
Verizon began accepting pre-orders for the 5G Home service on Thursday, September 13, and customers who signed up will now be able to access their 5G connections.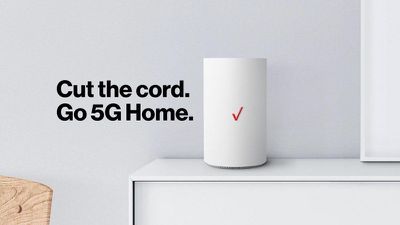 "The world's first commercial 5G service is here," said Ronan Dunne, President, Verizon Wireless. "We've formed incredible partnerships with many of the world's leading technology companies, the international technical standards bodies, public officials, developers and our own customers to drive the 5G ecosystem forward, faster than most had predicted. And now, actual customers. It's been an incredible journey...and we're just at the starting line."
New Verizon customers were provided with the option to receive a free Apple TV 4K in lieu of a traditional cable box, along with free YouTube TV service for three months.
5G Home is built on Verizon's Ultra Wideband 5G network and it is the first commercial 5G service to launch in the United States.
Verizon's 5G internet service will be priced at $50 per month for customers who are also Verizon Wireless customers, and $70 per month for those who are not already Verizon Wireless customers.
The monthly fee includes all taxes and other fees, and there are no hardware charges or annual contract. According to Verizon, 5G Home customers will see typical network speeds of around 300Mb/s and depending on location, peak speeds of nearly 1 Gig. There are no data caps.
Following the initial rollout to Houston, Indianapolis, Los Angeles, and Sacramento, Verizon plans to rapidly expand its coverage area. Customers can visit the 5G Home website to receive updates on when the service will be available in their area.