AT&T's First Mobile 5G Service Will Be Available in 12 Cities Starting Friday
AT&T today announced that it has launched its first mobile 5G service in parts of 12 cities across the United States, but 5G connectivity won't be available until Friday, when its 5G device launches.
5G connectivity has rolled out in Atlanta, Georgia; Charlotte, North Carolina; Houston, Texas; Dallas, Texas; Indianapolis, Indiana; Jacksonville, Florida; Louisville, Kentucky; Oklahoma City, Oklahoma; New Orleans, Louisiana; Raleigh, North Carolina; San Antonio, Texas; and Waco, Texas.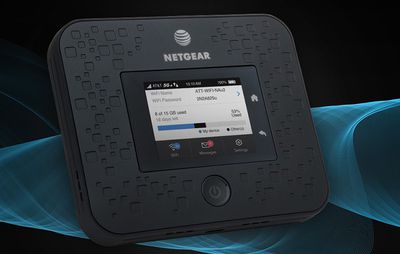 In these areas, customers who sign up as early adopters will be able to use the 5G service with a Netgear Nighthawk 5G Mobile Hotspot. AT&T's 5G offering provides 5G connectivity speeds using mmWave spectrum, which is faster than LTE.
AT&T plans to start out with a small, limited launch in dense urban areas where mmWave works best, but promises that customers will see enhancements in "coverage, speeds and devices" over time. AT&T president Andre Fuetsch says that the company is "ready to learn fast and continually iterate" in the coming months.
During the first half of 2019, AT&T plans to expand its mobile 5G coverage to parts of additional cities that include Las Vegas, Los Angeles, Nashville, Orlando, San Diego, San Francisco, and San Jose.
AT&T's Nighthawk Mobile 5G Hotspot plus 5GB of data will be available to "select businesses and consumers" at no cost for at least 90 days. Starting in the spring, customers will be able to get the device for $499 upfront and 15GB of data for $70 per month on a compatible plan.
The first Android smartphones able to take advantage of 5G networks are expected to come out in 2019, but rumors suggest Apple will not adopt support for 5G networks until at least 2020, giving the new technology time to mature.
Along with AT&T, other carriers are embracing 5G technology. Verizon, for example, launched its 5G home broadband service in October, with mobile 5G service to follow.