Italy Fining Apple 10M Euros for 'Dishonest Commercial Practices' Related to iPhone Throttling
Nearly one year after reports began circling about Apple's throttling of older iPhones with degraded batteries, Italy's antitrust authority is now fining Apple 10 million euros (about $11.5 million USD) for "planned obsolescence" of its smartphones (via The Korea Herald). The fine on Apple follows Italy's investigation into iPhone battery slowdowns that began back in January, and the Italian authority is also fining Samsung $5.7 million for similar reasons.
In a statement, the Italian authority said that "Apple and Samsung implemented dishonest commercial practices" with their respective smartphones, thanks to operating system updates that "caused serious malfunctions and significantly reduced performance, thus accelerating phones' substitution."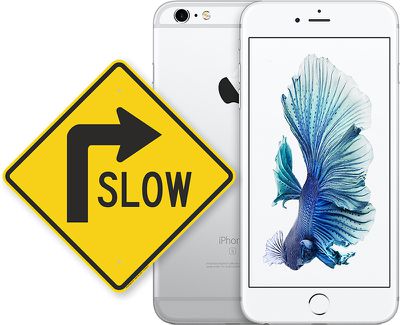 This is the definition of planned obsolescence, which Apple has refuted numerous times in the past. Most recently, Apple's VP of marketing Greg Joswiak called the idea of planned obsolescence "the craziest thinking in the world."
According to Reuters, Apple was fined more than Samsung because it failed to give customers clear information about how to maintain or eventually replace smartphone batteries.

The anti-trust body said in a statement that some Apple and Samsung firmware updates "had caused serious dysfunctions and reduced performance significantly, thereby accelerating the process of replacing them".

It added the two firms had not provided clients adequate information about the impact of the new software "or any means of restoring the original functionality of the products".
When the reports began circulating in December 2017, claims were made that Apple was deliberately slowing down older iPhones that weren't operating at peak battery performance. In a response, Apple said it was aiming to smooth out the high power draw peaks that can result in shutdowns and other problems in older devices so that its customers had "the best experience."
Eventually, it was discovered that Apple quietly implemented a power management feature into iOS 10.2.1 that prevents older iPhones from shutting down during times of peak power draw, which rolled out in January 2017. Because the feature was not widely publicized until the accusations against Apple took place, many customers felt deceived by the company. In response, Apple apologized for not better explaining its actions and now offers $29 battery replacements for the iPhone 6 and later until the end of the year. On January 1, 2019, battery replacements will cost $49.
Furthermore, iOS 11.3 launched in the spring with detailed information about battery health so that customers can know if the state of their battery is impacting processor performance. With the update, the power management feature can also be turned off.
Over the course of the year, an increasing amount of countries and customers have investigated or sued Apple over "secretly throttling" older iPhones. In the spring, Apple faced more than 60 class action lawsuits over the incident, and these eventually became consolidated in one courtroom in the U.S. District Court for Northern California.
In an earnings call over the summer, Apple CEO Tim Cook explained that Apple has never done an internal analysis on how many people have bought a battery replacement instead of purchasing a new iPhone, because that statistic wasn't a factor in their decision to offer the discounted batteries. "It was never about that for us," said Cook. "It was about doing something great for the user. Treat users and customers well and you have a good business over time. That's how we look at that."