Apple Makes $29 Battery Replacements Available Immediately for iPhone 6 and Newer
Apple today announced it is making its reduced $29 battery replacements available immediately for iPhone 6 and all newer models.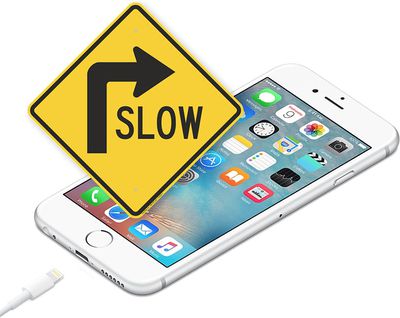 Apple previously said it would offer the cheaper battery replacements in late January, but it has removed that timeframe from its letter to customers, and has confirmed immediate availability in a statement to TechCrunch.
We expected to need more time to be ready, but we are happy to offer our customers the lower pricing right away. Initial supplies of some replacement batteries may be limited.
Apple normally charges $79 for out-of-warranty iPhone battery replacements, but it reduced the price by $50 following a wave of controversy over its process of dynamically managing the peak performance of some older iPhone models with degraded batteries to prevent unexpected shutdowns.
Given a lack of nuance in some mainstream coverage, many headlines have fueled speculation that Apple artificially slows down older iPhones to drive customers to upgrade to newer models, but the actual issue was Apple's lack of transparency about the power management changes it made starting in iOS 10.2.1.
When it released iOS 10.2.1 in February, Apple only vaguely said it made "improvements" to reduce occurrences of unexpected shutdowns. It only chose to explain that the changes it made may result in temporary slowdowns on some older iPhone models with degraded batteries after controversy recently reignited.
The issue came into the spotlight in early December after a Reddit user claimed that his iPhone's performance significantly increased after replacing the device's battery. Soon after, analysis of iPhone 6s benchmarks visualized an apparent link between lower performance and degraded battery health.
Apple responded by noting the power management process is a "feature" rolled out to iPhone 6, iPhone 6 Plus, iPhone 6s, iPhone 6s Plus, iPhone 7, iPhone 7 Plus, and iPhone SE, but since it didn't fully communicate this change, some iPhone users may not have realized all they needed was a new battery.
Apple said it will release an iOS update in early 2018 with new features that give users more visibility into the health of their iPhone's battery, so they can see for themselves if its condition is affecting performance. It's unclear if Apple will ever let customers opt out of the power management process.
Apple said the cheaper iPhone battery replacements will be available worldwide through December 2018. The $29 fee applies to the United States, with prices varying in other countries based on exchange rates.
To initiate the battery replacement process, we recommend contacting Apple Support by phone, online chat, email, or Twitter, or scheduling a Genius Bar appointment at an Apple Store with the Apple Support app. You can also inquire about a battery replacement with select Apple Authorized Service Providers.