Jony Ive on Apple Watch Series 4: 'Every Bone in My Body Tells Me This is Very Significant'
Apple's chief designer, Jony Ive, recently discussed this week's reveal of the Apple Watch Series 4 with The Washington Post, stating that "Every bone in my body tells me this is very significant."
Ive's comment references new health-related features in the Apple Watch Series 4, including the ability to detect if you've fallen down and a new feature that lets you take an ECG measurement -- the first time that's been possible in a wrist-worn device. In the interview, the designer further states that the new watch "will be a more marked tipping point in understanding and adoption of the product."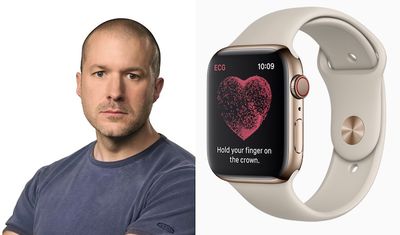 According to Ive, Apple plans to focus on further separating the Apple Watch from the iPhone in the future, in addition to increasing the reliability of internet and cellular connectivity.

Ive won't give away how Apple wearables could spiral beyond the watch, though company watchers expect an augmented reality device could be in the works. He hints that the watch, on the other hand, could evolve in the years to come.

"The clues for the future are when you can have a high degree of confidence that you personally are connected to the Net — not your phone, you," said Ive. Sporting a new watch with a white rubberized band, Ive said the gadget has helped him lessen his dependence on his phone.
Ive says that he became "zealous" about the Apple Watch following the thousands of user letters sent to the company, in which people describe how the wearable saved their life. These life-saving Apple Watch stories have grown frequent in the years since Apple debuted the Apple Watch in 2015, with many referencing the device's ability to pick up on abnormal heart patterns and others using the Apple Watch's emergency 911 feature.

"I'm so zealous about the watch because I see it as making a material difference to people's quality of life and actually their ability to be alive," Ive said.
Ive also mentions that the increased display area of Apple Watch Series 4 is beneficial to users who want to reduce the screen time on their iPhones. Ive says that while the Series 4 displays are bigger, they aren't so expansive that you'll become sucked into a social media spiral.

"The screen size isn't so expansive that you somehow feel you'll fill every minute browsing whatever you browse, whether it's your social media, " said Ive. He added: "It addresses that functional imperative of being able to be in touch. "
We've got plenty of other Apple Watch Series 4 coverage for those looking for more information on the device, including an announcement post, hands-on, breakdown of every Series 4 collection, and comparison to the Series 3. Those interested will be able to pre-order Apple Watch Series 4 -- as well as the iPhone XS and XS Max -- beginning at 12:01 a.m. PDT on September 14.