76-Year-Old Gaston D'Aquino Latest to Say Apple Watch Saved His Life
Gaston D'Aquino says the Apple Watch saved his life. By sharing his story, he hopes it can help save the lives of others too.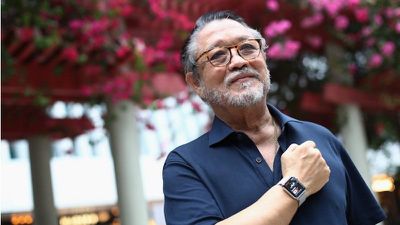 Photo Credit: South China Morning Post
According to the
South China Morning Post
, the 76-year-old was sitting at church when his Apple Watch alerted him to his elevated heart rate. Having read similar stories before, he went directly to a local hospital.
"I told the doctor I don't know why I'm here, but my watch tells me I have an elevated heart rate," said D'Aquino. "He says, 'Are you feeling anything?' I said no, I feel fine, I'm feeling all right, nothing's wrong."
After an electrocardiograph machine indicated something was wrong, doctors conducted tests and discovered that two out of his three main coronary arteries were completely blocked, with the third 90 percent blocked. Of course, that means he was at risk of suffering a potentially fatal heart attack.
D'Aquino said he had visited a cardiologist before, who had prescribed him daily medication for diabetes, high cholesterol, and high blood pressure, but there was never any indication that there were any deeper issues.


After the doctors shared the test results with him, D'Aquino quickly agreed to have an angioplasty, a procedure to restore blood flow to the heart by implanting tiny stents in clogged or blocked arteries. He was sent home the following day and said "it went well and I'm feeling much, much better."
"Having a new lease of life is a good thing," he said. "You wake up the next morning and you look around you, everything looks more beautiful. It's a great feeling; you're on a high for a few days. That feeling is something special."
As a self-professed Apple fan, D'Aquino sent an email to Apple CEO Tim Cook in early April. In recounting his story, he noted that "this was the first time that my watch alert had ever gone off, but I was not feeling anything, no dizziness or pain" and added that "in short, I was a walking time bomb."
"Please continue promoting the use of the Apple Watch for anyone with cardiac problems. I lost a cousin two weeks ago to a massive heart attack, and if he had an Apple Watch, he might have had the same opportunity I got – to live."
Cook said he was "so glad" to hear that D'Aquino is doing well now. "I appreciate you taking the time to share your story. It inspires us to keep pushing."
D'Aquino's situation might have been different had it not been for the Apple Watch's ability to detect an elevated heart rate, introduced in watchOS 4. When enabled, the feature notifies the wearer if their heart rate remains above a chosen beats per minute while they appear to have been inactive for a period of 10 minutes.
On all Apple Watch Series 1 or newer models, users can turn on heart rate notifications when they first open the Heart Rate app, or at any time later:
Open the Apple Watch app on a paired iPhone.

Tap the My Watch tab, then tap Heart Rate.

Tap Elevated Heart Rate, then choose a BPM.
If you have any family, friends, or know of anyone else with an Apple Watch, remind them to enable this potentially life saving feature. For people like D'Aquino and Deanna Recktenwald, it has given them a new lease on life.